Can I ask Home Depot to cut my wood?
I'm seriously considering making this twisty side table that I fell in love with here on Hometalk (By Chasing A Dream), but cutting the wood is a bit too ambitious for me.
I was wondering if I can simply buy the wood at Home Depot and give them the cut list. Will they cut it for me? Has anyone done that?
Here's her incredible how-to, btw: https://www.hometalk.com/10464990/diy-twisty-side-table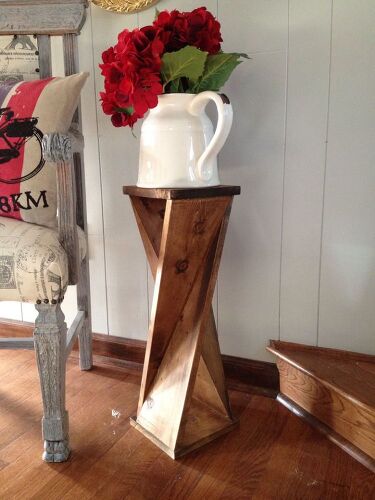 Awesome table. Yes I believe they will still cut the wood for you. Just an FYI as there are not to many enthusiastic associates anymore (like the old days) PS I use to work there I would recommend you calling ahead and speak only to a manager before going just in case.

I have had no luck with Home Depot cutting wood for me. Lowes was not much more helpful. One store wanted to be helpful but their machine was broken. The other store a manager agreed to do it because I wasn't asking for too much but the guy who was cutting it was a pain in the bootie. Wishing you luck that you find a store with customer focused service!

I know at Lowes they have told me they will make 4 cuts free, anything after that they charge. I've never had them cut more than that so I don't know if it's a reasonable cost. I've also only ever had them cut basic straight lines (usually to cut a large piece down so I can fit it in my van). Following this to see what happens!

Ladies dont be so negative. Trust me that is a no win situation.You need to realize where ever you go these associates do not care. Its up to us to make situations possible.

Yes they will cut anything for you. Just go and ask, I have had it done, Rona does it, as well. All the big box stores do. That is how they get customers in and how they keep them coming back, and another thing, if you have a smaller lumber yard, maybe you can make friends with them in case you ever need other things done for other projects, and then they will be able to assist you more better and not like an idiot but like a peer like you are. Just make sure you have the markings of where you want the wood cut with chalk, exactly the right amount, and measure it from the bottom so you are cutting the correct amount off. Good Luck in this project.

@Theresa, not all the big box stores have the ability to cut wood. Menard's doesn't. They are located all over the Midwest. We personally don't care for them. Their return policy is horrible and their customer service is lacking even though they have plenty of clerks crowded around "service" desks through out the store. When we can't find something at HoDe or Ls we do stop in and have recently found a clerk that is willing to pull themselves away from the service desk. Many people like them though as they are always busy.

Miriam, even though we have a wood work shop in our basement we have plywood cut all the time at our local HoDe stores. We do so because of a neck injury. Long story, short version. I was helping guide wood from other side of the table saw and strained my neck. Big time. They will not make cross cuts even if they are right angles of the other cuts. My guess on the reason would be so they are not overwhelmed with folks having them make all the cuts in any given project. So if you are buying a piece of wood, if they are not busy and have someone available to take the time, they'll make any number of cuts you need as long as they are all in one direction. We have never been charged for any cuts even when we said we'd be happy to pay for them. The problem for you is, they don't have the equipment or jig that Chasing a Dream used to make her double angled cut.

I have worked for both companies and they will cut wood for you however they are only set up to cut length and width. The angle cut for this project isn't something they are set up to do. Do you have a neighbor or friend that does woodwork? Maybe they can assist? It really isn't a novice cut on a saw table.

If you ask a sympathetic manager (which may be hard to find!) they may set you up with someone to do your cuts for free. My husband works at HD and was tasked with making 100 little wooden crates for wedding reception decor- all the bride and groom had to pay for was the wood.

@That's awesome Christine. We have always had great help at HoDe. Granted we have never asked for much when it comes to cutting other than the number of straight cuts, but we are known well at the two closest locations to us. Many of the old timers remember us from when we were building our home. The designers in the kitchen department used to tease us about being the couple with the weird kitchen.

I have always had them cut my wood, Actually they just cut a large piece of beadboard paneling for me yesterday. I'm really shocked how many people have had bad service because they have never said no when I have asked at any my local stores.

I was told at my local HD in Hayward, CA, that the first two cuts are free, but any cuts after that, they would charge a small fee. I dont recall the exact price, but i do recall that whatever the amount was, it was minimal & insignificant, worth the $, especially if you dont have the means of doing it yourself. Time is $, right? Plus, it's a whole lot easier hauling that wood around & back to wherever its final destination to work on will be, after the cuts are made in store. Happy woodworking to ya!

They will cut the wood for you... sometimes it doesn't come out straight so be aware of that. On a side note: consider taking a class and learning how to use saws... YES, they are scary (a little fear of them is healthy) and even scarier because most of these toold are made for men with the upper body strength to control them... but not all. Ryobi makes a lighter circular that felt pretty good to me when I picked it up. It was a touch smaller too which is good because I have smaller hands. When I took a natural building class last year they taught us how to use some tools. All 13 people were women in the 5 week course and we felt so empowered!

They won't do mitre cuts. And I was just told at Lowes that they had quit doing project cuts. They will only cut the lumber so it will fit in your car. If HD still cuts, I'll be doing my project shopping there from now on.

Miriam - You totally should! And... you CAN do it. Ultimately, being able to use power tools etc. requires an understanding of how they work, how they move, what makes them act out and listening for the sounds and feeling that, tool safety and how your body interacts with that tool. In martial arts they teach that every weapon becomes an extension of yourself. Same with tools. You learn to adjust your body position, weight, etc. as you work with the tool. AND, you don't need to start off cutting a plywood sheet in half. Start with a 1X2 and cut one foot pieces off as you learn or whatever your instructor recommends. When I started, I was terrified! Now, I am confident and instead of cutting with the tool farthest away, I'm confident in cutting normally. I found one thing is this... if you pick up a tool and it doesn't FEEL safe, get help from an instructor or put the tool down and know it's not the right weight, etc. or you need more practice... Eleanor Roosevelt sad: "You must do the things you think you cannot do" I think you should go for it if you want it! :-)

Really depends on the store personnel at both Home Depot & Lowes, time of day and season. You have a better chance if it is a slow time of day and not during an sale or holiday. As a norm they don't do small cuts less then 12". By the way love the table.

Ask a friend, a friend's husband or wife, or a neighbor that you know has a table saw and does some small building projects. I have a neighbor who is always looking for a project and has gladly put some projects together for me. He knows I can do it myself but when I ask for help he does it for me.....

I asked one of the other big box stores/lumber-hardware stores if they would cut for me so it would fit in my car and they said too many people asked them to cut then changed their minds or complained it was wrong when they gave the wrong measurements, so they don't anymore.

This table is amazing, @Miriam I - My oldest son was making a project for one of his courses and Home Depot did make the cuts for him but not the angled cuts and their measurements were off a bit so we had to redo several of the pieces ourselves.

Miriam, in the HD's or Lowes I've visited (OH, NC, VA, FL and TX) I have always seen signs indicating that they WILL cut your wood for you, but that they only make 2 cuts for free, after that it costs you between $.50 to $1.50 per cut. Another possibility is to go during the day - when the "older generation" is working - and try to find someone over say 30 who works in the lumber area. Explain your situation to them, and ask them if - the store won't allow them to cut it there - they would be interested in making a few extra $$ after work. Many of them have the tools at home and some will be wiling to meet you at the store after their shift - so you can buy the wood - then they will take the wood home with them to do the cutting, the you can meet with them the next day to pick up.

Yes, they will cut the wood for you. As long as you have the measurement for them. They will charge you 50 cents or more per cut. Good luck.

My local Lowes does. I can't remember what they charge but I've never paid over a dollar. I have everything but a table saw so I only have them do it if I need something ripped perfectly at 90*.

I am so sorry .. but we do not have an Menard's here in Canada! I thought I was being helpful. As I said in my reply, MOST... big box stores are helpful, and I also said, to check them out, meaning their work. It is up to each and every individual to be the responsible Adult. Do not forget, once again, I said up front, I am a Canadian, we have different policies in Canada and support in our stores. Our clerks are very helpful, and I would suggest being a responsible Adult and going at a time when the clerks would not be busy, and go to the ones that know what they are doing. Don't ask ones that don't. But, I only gave my opinion because she asked for it. Not to be criticized by anyone. Thank you. Have a wonderful day everyone. I don't think I will give my opinion any more.

Don't hold yourself to your last sentence there - i didnt actually see that response as being critical to you, maybe correcting aspect seemed as such? & look at the 3 marks that said what u posted was actually helpful. Keep on putting stuff out there, dont get discouraged by it. Thanks for sharing what u have so far... :-)

Is there a 'family owned' lumber yard in your town? We have one here and I can even call in my cuts now that they know me and I just pick them up. Maybe slightly higher, yet they assist with types of wood, screws, nails or whatever I am up to that visit. They cut any wood any size or shape while I wait. I also like the idea of keeping my money local.

I was going to mention, Home Depot always charges for the whole piece of lumber, no matter what I cut off. So, instead of paying for just the wood I receive, I am charged for the whole piece. Take it all home, you paid for it. Maybe it can be used later. One reason I started going to our local family owned lumber yard. PREV
NEXT