I took old carpet off basement stairs and now I need advice badly!
There is no overhang or whatever that is that is on the top of each stairs...tread? And, there is this ugly black stuff on most of the stairs....and, the second step from the bottom has a post or something that was cut out....there's also the ugly paneling on one side and it looks like something on the other....any advice for how to make this look better but with as little cost involved as possible? Thanks.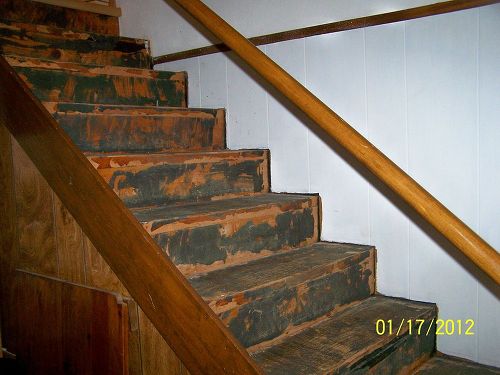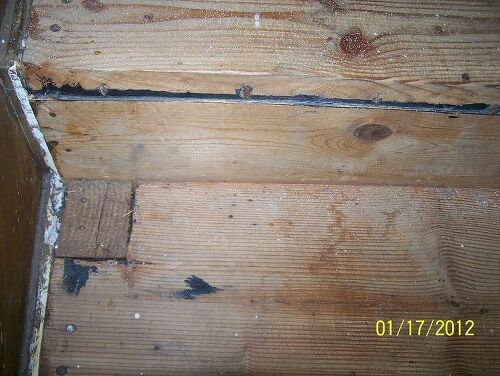 In my opinion, your best bet is to recarpet the stairs.. looks like you need to redo the basement.. wood panel wall thats painted over are from the mid 80s early 90s sorry no disrespect

No disrespect taken...I know what you mean....Our kitchen and entire basement are in bad need of a remodel....Husband is not a handyman and I attempt things before he will...lol So, in your opinion you think the wall should come down first? Put dry wall there or what? The entire basement has an outdated carpet throughout...it is finished...was just trying to get stairway done first since the carpet was so bad on them. I really thought it would be nice to leave them without carpet but, didnt realize they were so bad until I pulled off all the old....(sigh)

@Walls Treat Studio/Kass....Yes I think the black stuff is the glue/backing from the carpet that was on them.

If no carpet tack strips were present when you picked the carpet up. Then I would guess that it was glued down

The "normal way" to dress up stairs is to lay hardwood "treads" and risers This process begins at the bottom with the first riser being installed. Then the first tread, this process repeats until your done. http://www.homedepot.com/Building-Materials/h_d1/N-5yc1vZaqns/R-202018664/h_d2/ProductDisplay?langId=-1&storeId=10051&catalogId=10053

I just posted pics of my basement staircase remodel in another thread. You can see a pic here: http://cdn.hometalk.com/resources/user_media/max/850x450/img_9239jpg_22144efd6509a3ff939946d0498b8f91.jpg and here is the blog entry with more info: http://diyshowoff.com/2011/12/pretty-painted-stairs-by-beth-unskinny-boppy.html Mine didn't have glue on them, though. They were stapled, so it was much easier to handle. Could you try sanding off the glue with an orbital sander and some heavy duty sand paper? If you can remove the black stuff, painting them would be and easy fix. I personally love the "cottage" look of the paneling painted white. I would paint the railing to match and continue the white paint down the lower part of the stairs as well. That might start a trend in your house, so be prepared! LOL Here is a great home tour of a house that has similar paneling to yours painted white. Beautiful! http://theletteredcottage.net/our-house/

Jerrod, there were carpet tacks that I pried out...this black stuff was still under it all...didnt seem to act as a glue but maybe at one time it was.

Here is a better pic of their room with paneling before and afters: http://theletteredcottage.net/flor-floor-tile/

http://southernhospitalityblog.com/the-down-dirty-on-the-stair-project/ Another great DIY painted stair project done by Rhoda at Southern Hospitality blog- She did all this by herself, too!

Thank you for your pics Beth B. My biggest dilemma still is...since none of my stairs seem to have an overhang (tread)? on them....each stair is shaped like a box, do I just pain them or try and buy treads for each? If I do buy treads, do I need risers? I'm pretty confused about how to tackle these stairs...Another problem is the paneling on both sides....do I tear that out before attempting the stairs??? I guess I can always just sand and repaint the stairs...as they are and recarpet....leaving with no overhanging tread...the way they were in the first place.

If you add new treads on top of the existing ones it's going to raise the height of each step so your top and bottom steps will be higher than normal and might cause a trip hazard. Something to consider. But on the other hand, new treads will cover the horizontal cracks where the paneling is coming down the wall and meeting the stair. You could fill in the vertical cracks with a piece of quarter round if you're not able to cut a stair riser for the trim piece. If you're DIYing this by yourself and rip out the paneling what are you going to put in it's place? Sheetrock? I think I would paint them all one color and then tack down a pretty runner, or recarpet them and call it a day. :) That seems like less work, honestly.

I did a quick sketch for you on how to make these stairs look new again. First off. The black stuff on the riser is the foam backing left over from a carpet. Most likely an old indoor outdoor one. These come with a black foam padding that quite often sticks to the surface in which it was applied when it was first installed. In any case, simply scrape and clean it off. Before you begin to make any improvements to these steps you need to prep them properly for the new finishes to be applied. You need to be sure that the steps are properly secured. That the risers and the step treads that are currently there are tight and fastened well to each other. If not take your time and pre-drill holes in them and using a counter sink. Install new screws to assure that the treads will not move. Once that is done, you need to fix and paint the stringers. These are the long boards that run from the basement to the top on each side of the stairs. Scrape and paint them well. Use putty in holes and do a good job as it will be much harder to finish these once the next job is undertaken. Higher end laminate floors offer stair finish products. They provide risers, tread materials, bull nose trims. Bull nose is the rounded edge that your currently missing on these on site built steps. I provided a sketch in the photo of the side view of what your going to need to do to make the job look professional. The riser needs to go in first. If you notice it does not go from the top of the old tread it has a gap of just the correct thickness of the new stair tread your going to purchase. It is cut to length so it fits from side to side between the two stringers. It should come flush to the top of the older step. Carefully glue and finish nail this into place. Do this on every tread riser. You can use the flooring laminate as the same as the stair tread, or you can purchase pine boards and simply paint them. Once done you then install the stair treads. Carefully measure from the back of the step, under the existing new riser to the front of the new riser on the step below. You then fit the new laminate floor cutting the width of the very last board so it fits tight. The bull nose will overhang against the new riser while the step will slip under the the other riser. The sketch will show you what I mean. Using a good quality flooring adhesive glue the new steps into place. If you use a wood laminate you could use small finishing nails and then use a good quality matching putty to hide the nail holes. But the glue must be used so the new bull nose does not move or cause the new stair treads to squeak. Here is a link from lumber LIquidators on the several bull nose types they offer. Using a laminate type makes the surface overlay much thinner so it does not raise the step much more then 3/8 of in inch. This link below will show you in a bit more detail what I explained to you. perhaps even better. http://www.laminate-flooring-installed.com/installing-laminate-flooring-on-stairs.html

Stair cut on how the new tread covering should be applied.

Just ran across this on pinterest and thought it might help you: http://prudentprojects.blogspot.com/2011/03/those-pesky-osb-stairs.html

Beth, love the look of the stairs that were painted and beadboard used! I am only wondering how they werent slippery after being painted with the oil paint? I really think me and my 12 yr old might try to do this with our stairs!!

Shirley, I love the natural wood. Lots of work but what if you sanded them down then clear coated them with PLAYBOX sand thrown into the clear coat. We did this with paint in a trailer and the non skid is great.

Connie....Do you have any pics of the final product done that way?? I've never heard of it...Also, what about the box shape of the stairs? Doesnt it need to have a tread with an overhang?? I think these are the rough construction that was left that way when the house was originally built...they just had an indoor/outdoor carpet over them.

http://www.sherwin-williams.com/pro/products/hc_sharkgrip/ We used this on our stairs and they are SUPER slip resistant. Highly recommend. PREV
NEXT