Has anyone painted vinyl Windows? If so how did it adhere and how has it kept? Does it chip easily or does it scratch the paint when you open Windows? I really want to paint my woodwork but I am nervous bc of the vinyl insert windows! Will the cold mater? I live in MN.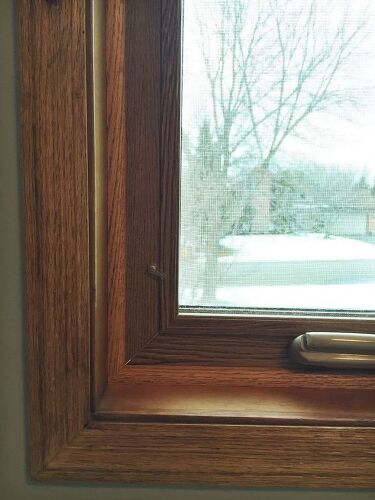 Looks to me like you could paint the trim and into the space up to the vinyl window itself. Sure you'll have darker window trim with lighter trim(maybe you're thinking white?) but it'll look fine. Sometimes it even enhances the view out the windows. Here are some examples found doing a google search (sources were Pinterest, blogs, etc. )

Personally unless you do not like the color I would leave it be.Painting vinyl could be more of a problem that you may not want to tackle.From the picture it looks fine.

Which portion of the window do you want to paint...the part that cranks out or the woodwork framing? You mention both...not sure which one you mean. I live in MN also. I don't know how you would paint the vinyl window insert...sounds like a big job!

Hello there! You sure can paint vinly! Just look for vinly safe paint. Vinly siding is painted all of the time. Just remeber that some outdoor paint is not meant to be used inside. Check with a paint store. Keep in mind that painting a window might void it's warranty too. I found this online for you too. Good Luck! http://www.stanekwindows.com/how-to-paint-vin... PREV
NEXT