Armstrong Exquisite Vinyl Plank Flooring- Good, Bad, Ugly?
Anyone have experience with this type of product? We are trying to cover about 2100 square feet of a botched sheet vinyl installation in an open area of a church. Wondering about the durability and slickness of this product. I know laminate is slick when wet. I'm assuming since this is an LVT it won't be as slippery. I'm also concerned about buckling over time since it is a wide open area. See floorplan attached - hatched area will be replaced with this product.
Thoughts?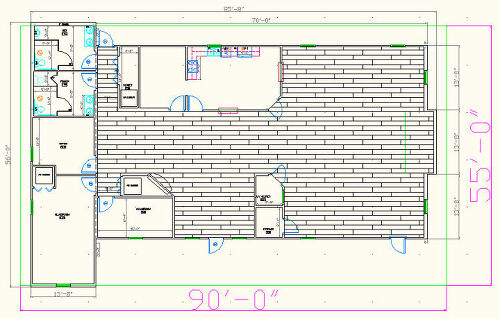 As this is an adhesive backed product, the existing floor MUST be perfectly attached to the subfloor or you are looking for problems. How "blotched" is the sheet vinyl. Additionally, if the sheet vinyl has an embossed pattern, it will show that pattern thru the new floor. That was a major complaint from many customers when I ran the flooring dept at a big box retailer. I would strongly recommend a laminate "floating"floor.

Hmm.. I was under the impression that the Armstrong Exquisite is a floating floor similar to Konecto. I will investigate further. I've used a glue-down LVT before so I would agree that the sub-floor must be perfect in that case. I was told this Exquisite is a floating floor, though, so it would only attach to itself. I will investigate further. Thanks for the input.

I laid a bunch of the Traffic Master Allure...I think these products a very similar. The traffic master stuff I used was very easy to lay and has held up well http://www.homedepot.com/webapp/wcs/stores/servlet/ProductDisplay?productId=100609202&storeId=10051&langId=-1&catalogId=10053&ci_src=14110944&ci_sku=100609202&cm_mmc=shopping-_-googlebase-_-D23X-_-100609202

I may have spoken too soon,,,,,I think the adhesive is only where the planks meet each other, and it is therefore a "floating" floor. I still feel that the sub-floor should be in perfect shape. Again, how "blotched" is the existing floor??? Gary

This is an easy to use product, I have laid rooms by myself in a few hours. It cuts with a straight edge and box cutter/exacto knife. It must go onto a flat surface but as long as the floor is flat, it will go down. I know a person who put this in a vet's office and she loves it!! If it can take that, it should hold up well in the church. It looks nice going down and if you take care, don't rush it, you can do it yourself. Just be sure to read the directions. This is MUCH easier than laminate flooring. There are some really good videos on youtube that show exactly how to do this.

This product is extremely durable and proven in my wife's hair salon. it is waterproof and handles traffic very well. Also easy to install.

I used the Traffic Master Allure. but it was locked in place without adhesive. So far, so good, but it was in a small area. It looks surprisingly good.

I know that vinyl wood-look planks are being used in high traffic areas in such places as big box stores, and hospitals. I have them in my kitchen and LOVE them.. easy to clean, look beautiful ( a friend had to touch them to make sure it wasn't wood) and can be used in kitchens and baths where water may be a problem. Easy to install, too.

I think the vinyl planks would be a good choice, but get the snap-together kind instead of the ones with adhesive. I've heard that sometimes there are problems with the adhesive ones peeling up, and I haven't had that with the snap-together kind, which is a floating floor that you can install over any reasonable level hard floor.

Are you planning on trying to put them down OVER poorly laid vinyl sheet flooring? I would recommend taking that up and cleaning the glue off the floor. I use the lock in place planks in my rental properties. I think that as long as you don't flood them they will not come up. I had mine professionally installed. Looks just like wood and damp mops like a dream the tenants tell me. Great for homes with animals.

I have it in large area.. LOVE IT. no problems in 3 years. My son tells me that the hospital in which he works used vinyl planks in all rooms and hallways.. they love it.. it's durable, not slippery, cleans up easily.. and LOOKS GREAT. I've notice in in large stores, too..

I've used TrafficMaster Allure with the sticky strips, but it does not hold up under intense Southern exposure. If you ask for info on temps it can handle, the information will tell you this. The store clerks, not so much. HOWEVER, TrafficMaster now has a click-together product that is water-resistant and one that is water-PROOF. The latter has a life-time residential warranty. You might also want to check the thickness of each color pattern.....

My sisters church uses it in their hall/reception area. The room is very large and gets loads of traffic. It looks so good I needed to touch it to verify it was not wood and it cleans up quite well. PREV
NEXT