Any suggestions for my yard?
I am in search for native plants and bushes and totally maintenance free. At this point I pay for someone to mow and weed wack WEEDS ONLY! I've decided to plant into the ground many of the potted plants I have. I also want to find shells for mulch and paths but don't know where to get it dumped from locally. I'm trying to figure out weather or not and how to get some privacy. I think I'll just get a short fence of sorts to hide the hitch, 'cause I hate it!
It's really just a blank canvas ...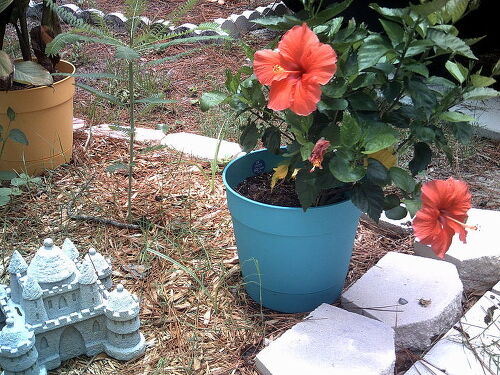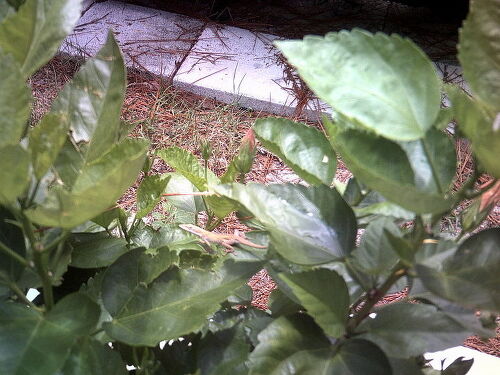 I suggest either digging up the lawn or just burying it in several layers of newspaper, then adding your mulch (which any local landscaping supplier should be able to deliver). Here is a list of low-maintenance plants (many are native) for your area: http://www.miamidade.gov/planzone/pdf/ifas_list.pdf

Pat, is it the lack of privacy that bothers you most? What are you looking to achieve by making changes? I'm asking because based on that we could probably give you better feedback :)

that is a beautiful hibiscus you have that could be planted and grow 6 ft high and 6 ft wide so allow for that space if the desert rose (which is beautiful) is in a pot I'd leave it --when we get these FL frosts they are sensitive(lost mine) in a pot you can bring it in--I would get areca palm and plant then along your porch posts to soften and provide privacy--they are often $6 on sale at home depot or lowes in the summer-then I would kill the weekds and laydown newspaper or plastic and then uses you pavers for a path into your yard from your entrance cheapest mulch is cypress for between the pavers- them from the areca palms which would be the tallest plants -I would start to acquire crotons, or ixora and make them the next layer into your yard to the left there and then another row of plants that grow shorter after that (maybe crown of thorns $4 at home depot constant flowers) I 'd put a bench or stool at the end of the short path and more arecas next to your neighbors house for an enclosed garden that would become private in about 3 years---hope that makes sense-oh and 1 4x8 sheet of that white lattice cut in half would hide that hitch and then grow an allamanda vine on it Ti plants are also great and usually have 3 plants in 1 at home depot--you can cut off pieces of them and make more too!

Pat, I commend your interest in going native, but please be aware that very few plants, natives included, are truly maintenance-free. At a minimum, you are going to have to commit to regular watering to get them started. Also, please get a soil test before making any plant decisions. If your soil in Titusville is anything like mine in New Smyrna, it is likely to be highly alkaline. Using crushed shells as mulch is only going to compound that. (Near me, crushed shells are available from one of our mulch suppliers.) If you're looking for a fast-growing native to create privacy in a sunny situation, one plant you might want to consider is wax myrtle (Myrica cerifera). Any of the "stoppers" would also make a good screen, but they are considerably slower growing. An excellent source for natives that is fairly near you is Maple Street Natives in Melbourne. They really know their stuff and would be able to provide you with very good advice for your specific area. Even though it's a hike for me, I am going to make a trip down there myself on Monday to pick up some marlberry (Ardisia escallonioides), which would make a great screen if you have a shady situation.

I'm still learning. I really should get the soil tested. I was told the soil (sand) was acidy(?) because it's been buried in pine needles forever. 6 trees were just cut down and I hope 2 more go too. I started trying to get the aloe and snake plants (?) out of these huge black ugly heavy pots. The desert rose didn't make it and I did pick up an areca palm. It looks like I might be able to split it half... should I?? I really appreciate all your help. I'm trying to re-do all my gardening from NY to FL and have spent to much money to go no where, so it's good to ask people that have made FL gardening work. Thank you

Pat, there's no way to know what your soil pH is without a test. I have sand under a pine and mine came back 7.7. The snake plant and aloe will be happy be happy out of the pots and in the ground. You can probably easily divide your areca if you want more of them.

another thing an old guy that worked at kmart garden center told me--in FL if you buy a bag of the cheapest manure or compost and plant your new plants in that combined with the sand anything will grow in Fl--I did grow climbling rose bushes in Jensen Beach with that method--3plants per bag

last year I did do newspaper, manure and top soil and miracle grow garden soil in sections and have a bag of manure left to use. Those pots are so root bond that I feel like I was digging ditches this morning from trying to get them out! But I am excited to get moving with all your help.

@ Miriam I want it all. I have these pots that have sat here for longer than I've lived here and last year potted plants that I know would do better in the ground. I'm looking to make beds and paths and will try to use the areca palms for some screening on the side of the patio. I have thought about hanging outdoor fabric panels but that is down the road. This is our planting season so I am trying to plant what I can physically (disabled) and financially (broke) Eventually I'd love to have the patio screened in. Meanwhile I am getting great advice from Douglas and Ann, who I can't thank enough.

Pat, keep your eye out for local plant sales. This is the time of year for them and you'll get great prices. The Volusia County Master Gardener plant sale will be April 21 at the fairgrounds and there will be people lined up at 6 a.m. waiting to get in and buy.

you're right if you don't get the root of the weeds they;ll just come back in our climate====just do it by sections so you don't wear yourself out--it will be very cute and tropical when you're done have seen other trailor homes done like this in FL and you can really create something pretty --can't stress the Ti plants enough--the color will make it tropical better than any flowers that are hard to maintain in FL and you can make more with cuttings over time

Is this a Ti plant?? It is now 3 separate plants that I could move to spread it out. I don't know what the other is but it's spreading long branches out. Should I cut it back to be bushier?

The purple plants are Hawaiian Ti Plant, Red Sister. You can move them now and split them just be sure to get as much of the root system as you can. The variegated bush is an Arbicola-Trinette, Sheffelara. You can cut them back now to promote new and denser growth.

You don't have much grass, so I would spray with vinegar with a bit of dawn to make it stick(lots of different recipes on pinterest), then cover with thick layer of newspaperwet it down let it do its job. This should kill off the grass and smother any seeds in the ground. For weeds, weed wack and do the same thing. Leave the newspaper and cover with mulch (looks nicer) Then plant native flowers, enjoy butterflies. PREV
NEXT