Any suggestions for my yard?
I am in search for native plants and bushes and totally maintenance free. At this point I pay for someone to mow and weed wack WEEDS ONLY! I've decided to plant into the ground many of the potted plants I have. I also want to find shells for mulch and paths but don't know where to get it dumped from locally. I'm trying to figure out weather or not and how to get some privacy. I think I'll just get a short fence of sorts to hide the hitch, 'cause I hate it!
It's really just a blank canvas ...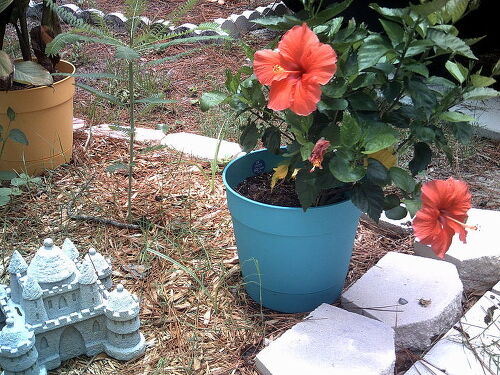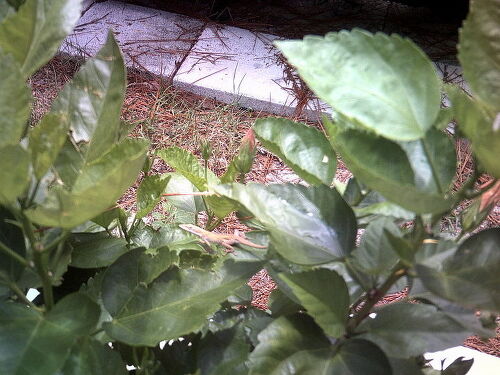 last year I did do newspaper, manure and top soil and miracle grow garden soil in sections and have a bag of manure left to use. Those pots are so root bond that I feel like I was digging ditches this morning from trying to get them out! But I am excited to get moving with all your help.

@ Miriam I want it all. I have these pots that have sat here for longer than I've lived here and last year potted plants that I know would do better in the ground. I'm looking to make beds and paths and will try to use the areca palms for some screening on the side of the patio. I have thought about hanging outdoor fabric panels but that is down the road. This is our planting season so I am trying to plant what I can physically (disabled) and financially (broke) Eventually I'd love to have the patio screened in. Meanwhile I am getting great advice from Douglas and Ann, who I can't thank enough.

Pat, keep your eye out for local plant sales. This is the time of year for them and you'll get great prices. The Volusia County Master Gardener plant sale will be April 21 at the fairgrounds and there will be people lined up at 6 a.m. waiting to get in and buy.

you're right if you don't get the root of the weeds they;ll just come back in our climate====just do it by sections so you don't wear yourself out--it will be very cute and tropical when you're done have seen other trailor homes done like this in FL and you can really create something pretty --can't stress the Ti plants enough--the color will make it tropical better than any flowers that are hard to maintain in FL and you can make more with cuttings over time

Is this a Ti plant?? It is now 3 separate plants that I could move to spread it out. I don't know what the other is but it's spreading long branches out. Should I cut it back to be bushier?

The purple plants are Hawaiian Ti Plant, Red Sister. You can move them now and split them just be sure to get as much of the root system as you can. The variegated bush is an Arbicola-Trinette, Sheffelara. You can cut them back now to promote new and denser growth.

You don't have much grass, so I would spray with vinegar with a bit of dawn to make it stick(lots of different recipes on pinterest), then cover with thick layer of newspaperwet it down let it do its job. This should kill off the grass and smother any seeds in the ground. For weeds, weed wack and do the same thing. Leave the newspaper and cover with mulch (looks nicer) Then plant native flowers, enjoy butterflies. PREV
NEXT