Can I use wall paint on old, finished wooden furniture?
I have an old laquered dresser and an old wooden twin bed that I want to repaint for my son's 3rd birthday.
I bought some teal and lime paint from the mis-tint rack at Lowe's, intending on using it on the walls. I also wanted to use it on the furniture so it all matches, but I want to make sure that it is going to stick. I have read about sanding and priming it first, but I would love to know if there is any way I can get around this step without buying any other special paint?
I will try to post a pic later when I get home of the bed. I dont have one right now.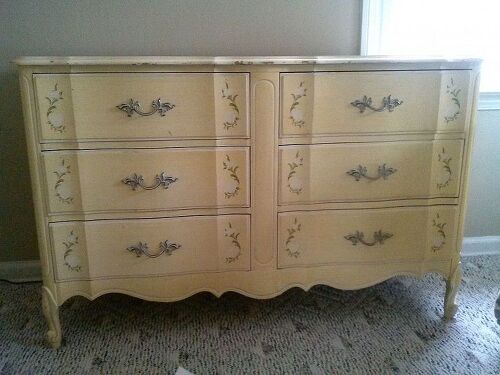 You can skip the sanding and priming step, but I am not sure you will be very pleased with the results. I have seen on Hometalk that a lot of people are using milk paint on dressers and bed frames. You don't have to do any other steps, just paint over the existing finish and it dries in about 20 minutes. You can distress it too. You should be able to find the recipe fairly easily.

I have used wall paint on furniture but have sanded first. I did skip the priming and it turned out fine. A mouse sander works really nice for sanding easily.

Have you considered using Chalk Paint® decorative paint by Annie Sloan? No sanding, stripping or priming. Lots of colors and cool finishes. One quart covers 150 sf. So easy and water clean up. Plus a bit of Soft Clear Wax - and gorgeous.

I've painted a lot of furniture...don't skip the sanding or priming with latex paint...you'll be sorry. If you don't want to do that, try chalk or milk paint. There is a great shop in Williamston, MI called Bungalow 47...they sell both types of paint and can give you great advice.

Just lightly sand with a fine grit paper, and use a spray primer (easier than painting it on) if you want to use latex paint. I turned an old dresser into an apothecary cabinet using partial cans of latex I bought from the Habitat for Humanity Restore. If you want to age it a bit after painting (a latex paint can end up looking a bit juvenile on furniture), just sand a little more after painting and then stain or glaze over the paint, which will darken it a bit and leave the stain/glaze in the nooks and crannies, and will instantly age the piece.

Yes, you can certainly use the latex paint (that's all I use to paint my furniture) but there are a couple things you should do to help ensure your paint sticks well. A lot of people (including the other HT members who have commented before me) will insist it is absolutely necessary for you to sand furniture before painting but I'm going to tell you from personal experience I have found that is not true if the furniture's existing finish is smooth and in pretty good shape. Even if the finish is shiny, it is not necessary to sand. I am not a professional but I have painted probably no less than 30 pieces of furniture in the past 6 years for my previous and current homes and I only sanded ONE of those pieces before I painted it. (The finish on that piece was all bubbly and rough.) I absolutely hate sanding so before I ever painted my first piece of furniture, I did quite a bit of internet research and found a way to get excellent, long-lasting results with NO sanding. The substitute for sanding is a product called "liquid sandpaper" or "deglosser." You can find it in any hardware store. I personally like Klean Strip Sander-Deglosser. When you wipe your furniture down with it, it cleans off any dirt and old grunge but more importantly, it leaves some "tooth" for your primer to grip to. After using the liquid sandpaper, I apply a good quality primer. I do highly recommend not skipping the priming step. (A quart of primer should be more than enough to do this dresser and the twin bed--you'll be applying only 1 or 2 thin coats.) Whether you elect to sand your furniture first, or skip the sanding and use de-glosser, priming helps the paint adhere and helps fill in any little imperfections in the surface to provide a nice base for your final paint finish. (Much like using a base coat before you apply nail polish helps your polish stick and go on smoother and more even.) Primer will also help cover up those designs on the drawers so you won't have to use as much paint to get good coverage. My primer of choice use to be the Zinsser Bullseye 123 but a couple years ago I tried the Valspar Multi-purpose Latex Primer (in the blue can and sold at Lowes) and I like it even better than the Zinsser. It's tough as nails! After applying a couple thin coats of primer and letting it dry well, I apply several thin coats of interior latex paint in the color of my choice. A final coat of clear polyurethane is optional but since you plan to use the dresser for your toddler son, it might be advisable--at least on the dresser--for extra protection in case he decides to run his little cars or trucks across it. Don't be intimidated. Painting furniture is not hard. If you take your time, apply thin coats, and allow your primer and paint to thoroughly dry between coats, you should get very good results. Good luck and happy painting!

I would first ask what the furniture is made of? Wood? Does it have laminate on it? Varnish? There are lots and lots of recipes for "chalk" paint, I call mine Paris paint as not to infringe on Annie Sloan and her wonderful creation. I use plaster of paris in mine anyway. Mine works so wonderfully!!! All I do is repair any dings with wood putty, fill any holes that need filled, clean the piece very well and I dont have to sand or use primer. I love that you bought the paint that you did. Alot of people pass up that type, but Ive had great luck with the mis mixed paints! Have fun!

Please be careful when using Plaster of Paris. It is classified as a Hazardous material and can get into your lungs and/or burn your skin. http://www.pembinatrails.ca/wsh/Hazard%20Alerts/HAZARD%20ALERT%20-%20Plaster%20of%20Paris.pdf . Unsanded grout is a better choice for mixing your own chalk paint and works the same.

I have a dresser very similar to this one and my husband painted it for me with white enamel paint...it turned out beautiful..I put green glass knobs on it and the chest that matches it...

Good luck on your project, all I want to add is , even if you opt not to sand etc, do use the deglosser,Or clean with tsp or something. I could never stand the thought of dirty piece under the "new" paint! ha!

Kathleen, I was a furniture painting newbie, so my husband got me started. (He does fine woodworking). He kept hammering into me that 90% of the quality of the finished product is determined by what you do before you put ANY paint onto the item. :D Sanding, filling, sanding, priming, sanding, etc are what makes things look professional. And yes, even distressing can look professional! When you're putting on distressing, think about where it would naturally occur - where would hands grab something? Where would shoes bang into an object, or a person knock into it when walking by? Distressing places on furniture which get very light use often make them look haphazard. Our eyes pick it up, even if we can't verbalize what's wrong with it. Also? A little goes a VERY long way. :D

It's all finished! I didnt have as much time as I would have liked, so I used the sander/deglosser on everything. I used it 3 times on the top of the dresser AND sanded it and it still was really smooth. I am a little worried about that. I primed the top of the dresser and side table and the entire bed (lots of other colors were on it and I wasnt sure about the coverage of the paint I was going to be using). I also sanded in between layers of paint to make sure it was smooth (and because I was doing it outside and plantlife kept landing on the surfaces). I will post pics later, we are putting it all together for my son's birthday party tonight. Thanks again everyone for your suggestions and tips! :)

As I understand it, the deglosser's primary purpose is to clean off any grunge that might prevent your primer and paint from sticking and leave behind a tacky "film" (for lack of a better word) for your primer to cling to. From that standpoint, it probably wasn't necessary for you to use the liquid sandpaper more than just once but if you sanded between coats of paint and it didn't peel or sand off, it should probably be fine. Latex paint takes a while to really cure well so I'd still try to be somewhat gentle with these pieces (especially the tops) for a couple weeks until it has a chance to harden. Looking forward to seeing pictures. And happy birthday to your little guy! Three is such a great age!

@Becci Birtles Brewster We are all so anxious to see it finished..please hurry with the photos! Aren't digital cameras just the cat's meow? tada and you have pictures! Really want to see this!

All in all, I am glad my first furniture project was my toddler son's furniture... it wont be the end of the world if it does get scratched... which it will. I learned a lot from it!! And I appreciated everyone's input and suggestions :)

dont mind the ugly wall color, we are going to be moveing a wall here and there to make a couple of bedrooms bigger soon, so we decided to wait on the walls.

As you can see the dresser is a little spotty from the spray sealer we used. Wont use that again..

I don't like to sand either lol. What I do is paint the first layer with chalk paint (I use chalk paint on all my furniture as a primer instead of sanding...). Chalk paint makes the surface pretty rough and allows any top coat to stick! To make chalk paint I add grout to the paint. You can add it to white paint as a primer or add it to the final coat if you want a distressed look (I'd Google how to paint with chalk paint if you've never done this before). After the first layer of chalk paint is on, I quickly sand it down to smooth it out (the grout in the chalk paint can make it gritty) Then I add my final coat :) here is a few photos of furniture I've done using my own chalk paint. Their is premade chalk paint by Annie Sloan but it is pricey. Good luck! P.S. Here's a helpful link on DIY chalk paint http://salvagedinspirations.com/best-homemade-chalk-paint-recipes/

Bright and cheerful! Perfect for a toddler. :) Within the past day or two, I just commented on another HT member's post that I don't ever attempt to use primer, paint (or sealer) from the aerosol cans on furniture because I find the spray too inconsistent, which makes it extremely difficult for me to get a smooth and even coat. I think the aerosol paint products are better suited for projects with smaller surface areas, or items where the final results are not as important or won't be noticed as much. For example, I just used spray paint to change the color of some plastic plant pots for my porch. They will be subjected to the sun and weather, and be filled with dirt, so I wasn't concerned about achieving a perfect finish. I also used spray primer and paint on my ironing board so the frame would color coordinate with a new ironing board cover. Again, I didn't care if the legs were a bit splotchy. No one will be looking that close at my ironing board and I can certainly guarantee no one will be using it except me! ;)

Using wall paint on furniture might not give an elegant look. There are conventional liquid paints or else power wood coatings like at http://www.decoralamerica.com. These coatings give an excellent texture to your furniture, also very durable and versatile.

I, myself clean the piece with a good cleaner, actually 409. to remove grease, wax and furniture polish. I use wood filler for any scratches or dings. Then paint with a regular primer. It's cheaper than paint. Then I spend a little more on a good indoor paint, usually semi gloss, but that is just my preference. You can ;use a gloss if you prefer a very shiny piece. And if in doubt a piece will hold up to everyday wear and tear, perhaps apply a coat of poly to make sure.

Hi Beccles I love your dresser it's so pretty, like Lynn I wash the pieces with sugar soap to remove grease, wax etc, Then use Bullseye 1-2-3 primer by Zinsser it's an American product which can you can add water to without compromising the finish. Allow to dry and paint with an Eggshell paint, ensuring all the handles are removed first and any filling done prior to painting you will have an excellent hard wearing finish. It is such a beautiful piece it deserves to be treated with care, good luck. PREV
NEXT