ICK! What to do with the brick on this house?
Looking for suggestions on repairing this brick and then after that .... Paint? Stain? So many ugly flaws and no clue what to do. Masonry is deffo not my forte but there has to be some sort of great DIY solution to this aside from paying 257437575 bajillion dollars to have it re-surfaced professionally.... any thoughts? A lot of the brick has been eroded from years of neglect. Curious how you might cover them over and look alright - Labour and hardwork are no issues .... just looking for a decent product or idea. Thanks so much!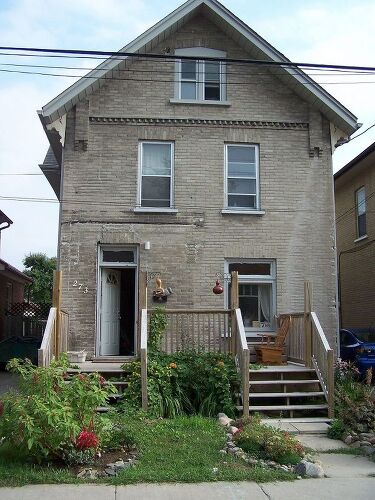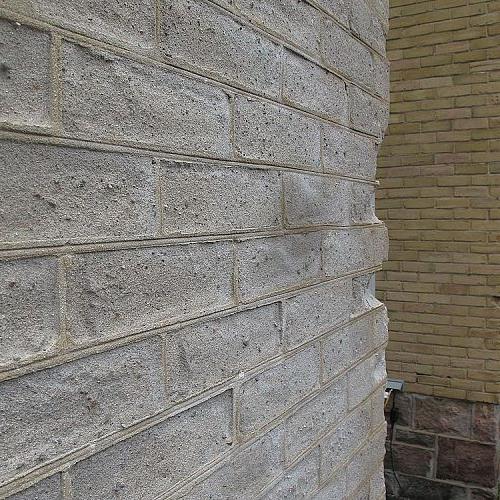 Well, if you don't like the brick you can always paint it using a masonry safe paint. I'd look to fill in that horizintal gap above the door with some spare bricks if you can find them. I'd also dress up the entry way with some nice trim work to wrap around the door.. should make it looks more substantial. Good luck!

I'd paint it brick red and then add a porch and roof.. to cover gap put porch all the way as is but only one set of stairs...

I actually like the colour of the brick, it just needs some punching up to make it look better. I'd paint the door a vibrant yellow/orange and add shutters in the same yellow to the windows. The deck could be painted as well in a fun colour. Spray paint the house numbers in black as well. Here is the yellow I'm talking about http://pinterest.com/pin/105553184989231729/ Have fun with it!

And here is a link to a DIY site on how to fix crumbling mortar http://www.planitdiy.com/how-to/painting-decor/exterior-brick-mortar-repair-2/

Stained glass in the gap above the windows. Punch up the doors and add shutters like the above commenter mentioned. Get rid of the stair case that leads to the door and extend the railing

I agree with Anne I love the color of the brick and the charm it has as is, I'd just add other things like the shutters or large molding around the windows and as John said dress up the entry with trim, I'd go with large trim!!

I too love the color and the aged look of this building. Colorful shutters and a colorful front door would do wonders. Paint the mailbox and the chair on the porch to match. If you don't like the faulty brick around the door, you could construct a trellis and plant a vine on it.

Definitely one stair way, Paint the dental shaped bricks a contrasting color, roof line over the door, which could extend outwards a bit. And I agree with the others about the stained glass , shutters and panting the deck.

I think the brick is a good color also. I agree with shutters. Chop off those 4x4 posts sticking up. Paint the railings. Consider a pretty awning over the door as an alternative to a porch roof. Some neighbors here have a rounded black awning over their door and it's SO charming. If you want to fill the crack over the door use Quikcrete and get the brick color matched so you can paint in the area. While the Quikcrete is wet, make impressions to match the brick pattern as much as possible. Once the rest is spruced up, it probably won't be noticeable.

I would use a product called 'Allguard'. It's an exterior coating that goes on like paint (roll it) and the added bonus is it will prevent further deterioration to the brickwork from water/freeze/thaw cycles. It comes in a lot of colors (3,000 I think) and makes a building look like new. We have used it on high end condominiums (my husband's an exterior renovation contractor) and it can make even the most run-down exterior look amazing. Add some shutters (and def. do something about the deck/porch) and it will look absolutely beautiful. I have used it on 2 homes we've renoed. HIGHLY recommend it. If you need any more data, just ask. I believe it's an American product, but it's available in Canada too.

I'd add a different railing too. ;) Black wrought iron would really give it a punch with all of the other suggestions made.

I would paint the brick, then in a contrast colour put shutters around the windows and a pedamnet around the door to make it stand out. It is lossed in the brick and the windows. the double entry to the deck can make it confusing as to where the front door is. I love this old Victorian look

Well before you go about changing colors & stuff, let me recommend you find a really good mason to fix any issues & give it a good cleaning - burying an issue won't make it go away & could make it worse You may also want to see if they can redo that area around the door to make it blend in better whether you decide to paint it or not because as it is, it will always stand out Just remember, as soon as you start down the paint or stain arena, there is no going back & the required maintenance required goes up

Thanks everyone for the comments so far! Main thing is the bricks are deteriorating and need something to fix them up ... if you look along the far right edge - you can see how bad it is. That was from a lack of eaves trough for so long. So deffo need to find something to fix that up. The porch is another issue - the 2 sets of stairs were built so the mailman had a nice flow for walking up and over when he delivers mail lol. I know, strange, but kind I guess!? AND main issue - there is a grandfathered clause, when the porch came down, nothing was allowed to be rebuilt that was attached to the house, so a roof is a no go .....

You might be able to work the "historical angle" clearly there was a porch, perhaps some type of overhang roof thingy over the front door could be added. Not a full porch but a simple portico to keep the rain off you head while you fetch out your house keys..the deck on the other hand is just weird. I would flip sidewalk to the door side and just have the single set of steps.

maybe your local historical home society would have the inside track on the masonry work? I'm sure those folks have seen it all in the home restoration department. :) good luck keep us updated!

Put the porch back on and make the deck with one set of stairs. The side with the window make it the outdoor seating area. I agree with KMS Woodworks.

I love the brick! Looks like there was a wooden porch supported by large corbels above the door, explains the difference in color on the brick facing. I would go with a Federal Blue wood porch and corbels, with touches of a cheery yellow, painting the landing and rails the same.

Love the original colour - if you can't re- build the covered porch - try a pergola at the same height that it was before- that isn't attached to the building just the deck :) - Need to add height to make it more formal entrance. You can hang planters in the summer and lights in the winter. a few planters with tall cedars or boxwood on each side of a Bright Gypsy Red Door :), Remove the stairs by the door and add to the existing railing to create a lovely deck. Plant a Red Japanese Maple in a Planter by the window :)

What if you added a freestanding pergola over the porch deck? That would give you a break in the wall of brick without attaching anything to the structure. Win-win!!

it depends on your budget. I would build a roof over the two bottom doors, and place a 36" railing to create a balcony then I would replace two upper window with French doors, and place stucco on top of the bricks.

@Jasmin I think @SLS Construction Solutions is right.You need a professional opinion on the mason work, or you could eventually end up with water leaking into the house and bricks falling off. Once you have that assessed and any problems fixed, you could consider putting some siding up to the level where the overhang used to be. This might be a diy project (I know how talented you are) and there are many carefree sidings available, some might even go with the period of the house. The brick above this area looks ok to me, but then I am not looking from it from a birds eye view. If you want something to protect you on the deck there are all kinds of gazebos available. We just erected one that is permanent with a metal roof - loving it. Do remember to update us with pics - I am always impressed with your work :)

I have no clue but I love the possibility of this- and hope you'll keep us updated through the work.

Hello from a Canadian living in Florida... the color of the brick is fine but this house obviously had a porch built over the door at one point.. it needs to be replaced and get rid of the stairs on the right side..one set of stairs is enough and that would make more room to make a nice porch... then but up some shutters and paint the door & shutters a nice bright color.>>> as for the corner brick it can be replaced with some found bricks of the same color.. Good luck with your project. It has so much potential.

I love painted brick, so if you really dislike the color, you might look into that. Try googling painted brick houses before and after.

Paint it white..then sand off some to give it a more over all distressed look. Then paint the trim a dark gray and the Door a green, put some shutters up and flower boxes. It would look really cute, clean without losing its charm. Oh and the porch only needs one set of steps...taking one set off by the window you could have a nice place for a chair and table...

I agree with some of the others... 1 set of steps. A covered front porch the length of the front would be beautiful and add an outdoor room! Love the color. If the brick is too difficult to make pretty again, choose a similar color. It will be an easier job to paint! Big chairs, fun fabrics, potted plants and flowers, cup of coffee or glass of iced tea!

PAINT IT!! So many beautiful colors to choose from, soft tones of yellow would look good with your white window frames...I'd change the outside light to something from an antique mall, then paint that wonderful door Teaberry Red! PREV
NEXT