Can anyone tell me what this is growing in the center of my Hosta?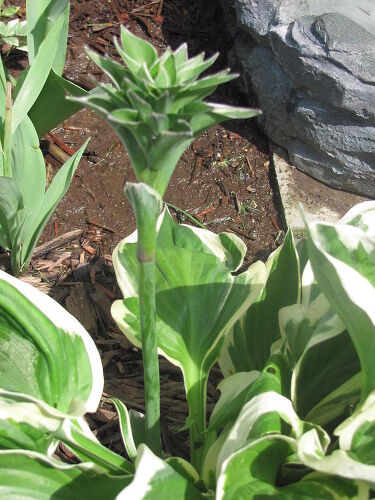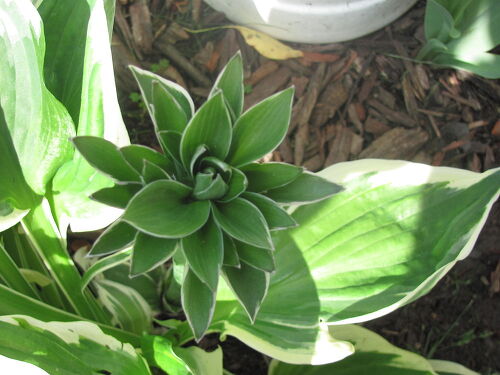 Its just the plant. Mine do it too. I thought it was the flower but I cant remember what mine do exactly.

Yes I see hostas that look like that all over the neighborhood. I believe that's the way some are bred to grow

It is the way the Hosta "blooms". It is really healthy when it does this. When the blooms starts dying cut it down because iot takes a lot out of the when this happens. Every plant blooms in someway or another.

um,. my hosta plants bloom every year, but they don't look like this. They get a thin stem with purple flowers.

Yes it is part of the plant I have several hosta that look just like that and they eventually produce a flower.

its the flower that grows in the middle on a mature hosta, this only happens once a season, a pretty white flower :D

It is very unusual to me. I sold zillions of hosta and the bloom was always a tall stem with white fragrant flowers facing down. Who knows!

Wow - be sure to take a pix when it blooms. I've got a gazillion hostas (anyone want any?) and none of them have ever produced anything like this.

I haven't ever seen a hosta do this before - it is not a flower stalk. Hosta flowers are smallish, bell shaped flowers that grow on long scapes rising from the center of the plant. I am more concerned about what appears to be some discoloration and rippling on the leaves of your hosta, although from the photo it is hard to see exactly what is going on. I would encourage you to check out this website on a relatively new hosta disease that has become quite prevalent around the country and look closely at your leaves. http://ohioline.osu.edu/hyg-fact/3000/pdf/3069.pdf If there is any question that this might be Hosta Virus x, you might want to ask your local land grant university to test it for you.

it's a new plant. sometimes they shoot upwards instead of underground on tubers. you could cut it, like you would an indoor plant and root it. if you use a really good soil, and "dip" the end of the cutting in a root stimulator, it will flourish just like the mother plant. they will sometimes do this if the mother plant is overcrowded.

its part of the hosta - I have a hosta that does this - for some reason I want to say sombrero - bought it a few years ago when I saw it was a "sun" hosta rather than the normal shady varieties.

I think the term is secondary fasciation. It is an aberration that usually occurs with stress, such as if the plant gets hit with the cold when it is trying to come out, it thinks it dying and sends up a second shoot. PREV
NEXT