I recently used Wet & Forget on some wood siding and haven't seen results, yet. I sprayed it on the house about a month ago and wanted to see if I should give it more time or do a second spraying. Thanks for your help. BTW, based on everyone's response I wanted to post before & after pics either here or on my sight (www.homerepairtutor.com).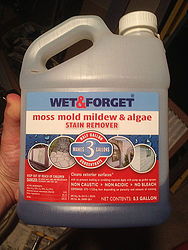 Just use benzalkonium chloride , otherwise known as pool algaecide...it is 1/4 of the cost of wet & forget

W&F apply early morning or late evening when evaporation is slower and no rain for 4 to 5 hrs Product works great call company for information - they are very helpful and informative

I applied wet and forget on my vinyl deck which is reddish in color. it left white streaks and it will not come off. My deck looks terrible with these whitish marks all over. What can I do to get them off?

Hi - I'm from New Zealand where this product was formulated from what I understand. You can safely flag it. It is an oxygenated cleaner: the oxygen binds to the mould/grime and weakens its hold, and subsequent rain eases it away. But that's what nappy/clothes powders do too. I've used both Wet & Forget and Hit the Deck on decks and pavement and compared it to products here called Vanish or Nappy San and Sard (which come in powder form as well). All the latter did better. Save your money and buy nappy cleaners like this, put 500 grams in a 7 litre sprayer and hit your deck with it when it is dissolved. You get exactly the same result but better for five bucks here. Do it when its dry (Wet and Forget used to say any time of year but they have changed their tune on this, now saying the wood should be bone dry). I apply it after dusk so it doesn't dry out as quick and the crystals soak into the deck well. Result: Cleaner deck after every rain and no scrubbing. You'll get three times the coverage or more and a better clean for your dollar. I'm really disappointed in the Wet & Forget product because it is VERY expensive here and the coverage wasn't as promised even after I used it as per instructions. When I called they just said I wasn't using it properly. Go with a nappy soaker.

I had a flooding rain water in the basement what can I use on the wood framing? Wet and indoor I have been working with. The customer service people told me to try it. IT is working pretty well especially on odors. But, still some mold and mildew on the wood.can you help? I like your product s. JOhn

I use Wet & Forget Shower Spray (

http://www.wetandforget.co.uk/prod_list.asp?catid=2&Name=Wet)

to remove any grime from soapsuds to prevent mould. It's really easy to use as you just have to spray it on problem areas and rinse before you take a shower. I've been using it for about 8 months now and it did take a while but the grouting looks brand new! I'd maybe give it some extra time or reapply a light coat. PREV
NEXT