I recently used Wet & Forget on some wood siding and haven't seen results, yet. I sprayed it on the house about a month ago and wanted to see if I should give it more time or do a second spraying. Thanks for your help. BTW, based on everyone's response I wanted to post before & after pics either here or on my sight (www.homerepairtutor.com).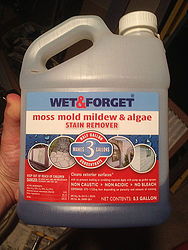 I have been using the cleaning products from Penofin (I am one of three "penofin pros" in the state of colorado.) I just started a "demonstration" set yesterday using some old cedar fencing. I'll get pics this weekend after it drys out. I'm doing a progressive spread.....before...cleaner...brightener...oil.

Kathy, Thanks for your reply. I spayed it on wood siding that always gets dirty over the winter. The siding is still dirty after a month and unfortunately I cannot wait for the product to work. Have you used Wet & Forget?

I used it last Fall. Paid big bucks for it, but this Spring I just about killed myself, trying to finish what the product DID NOT DO. It used it on a deck. I con not recommend it, sorry.

No worries Rose. Thanks for letting me know your experience with the product. This is great feedback because other people won't waste their money on it if it doesn't work.

It may kill mildew but not remove it. My experience has been that any wood conditioners need to be power washed off to remove the discolored, decayed layer of wood on the top. So the question is, forget about what??

i used it and I still have mildew everywhere. The color changed to grey, but the mildew did not go away. I sprayed it on with a pump sprayer and the drift killed the grass under where I was spraying. I am still waiting to see what is going to happen. I am afraid you will not be able to wet and forget. It needs some elbow grease, a brush, and some water to rid the mildew. Wet and forget is not the way it works.

Elbow grease is much needed when you use this product. I wore out a stiff bristled brush, and almost kinked my back. It was hard work and still looks bad. As a matter of fact, I am seriously contemplating having the deck sanded and just stained. That will also be a pain, but hopefully if a mildew retardant stain/finish is used I'll be able to enjoy my decks - since I have three of them. The stuff didn't work, not in sun or partial shade. Save your $$.

No I havent used this product but my husband got some deck cleaner this spring...... suppose to just spray on but it did nothing at all and we had to scrub off the mildew anyway. I could have saved the cash and used dish soap with a little bleach.

Thanks Kathy and Nancy for your feedback. It's been a mixed review for Wet & Forget. It has worked for some people and others would probably like their money back.

I was a skeptic until I decided to test it last fall. Here in Virginia Beach it is pretty normal with the high humidity to get algea/mildew on the north side or your house. The directions say you have to spray it on and then be patient...it doesn't work overnight....but about a month later, I noticed it working. It works very well in killing the moss/mold/mildew and algea....that is all I wanted it to do. I never expected it to remove the stains/build-up without some physical assistance; i.e.: pressure washing or brushing... because that doesn't make sense. The most impressive part of the product is after 8 months, the algea/mildew has not come back. Again, you have to be patient and it is not going to remove the stain or "dead" algea/mildew. It depends upon the rain to do that. It even says on the directions that the elements (wind/rain) will slowly wash off the stain; if the surface is not exposed to direct rainfall or it is vertical, assistance may be required to remove the stains. This is not "genie in a bottle"... but it worked great for me for what I wanted/needed it to do. Tim

Hewitt, Thanks for your comment. My goal is to also eliminate mold/mildew from coming back. I will try to apply a second time and scrub the residue off. I'll be interested to see what happens as time moves forward. If we don't get anymore mildew or mold then I would consider the application a success.

Wet & Forget may take some time to work, but the product contains no bleach and is non caustic and non acidic. The cleaning process is very gentle and you don't need to scrub or power wash. However, if you're looking to speed up the process, agitating the surface and making sure the surface is getting frequent rain (if not receiving rainfall, simulate by spraying the surface with water from the hose) will improve cleaning time. Lack of rainfall and improper application will give abnormal results.

Wet & Forget used to clean moss, mold, mildew, algae, and lichen off of headstones. Before and after

Thanks Wet & Forget for the nice explanation. I've been really happy with the results thus far. I've used it on our patio and a wood siding.

Sorry to hear that Vicki. I was skeptical myself but after letting it work for a few months on both our patio and siding I've been super happy with the results. Admittedly I had to scrub the grime and dirt off the siding first. But since Wet N Forget has been on it there seems to be no trace of dirt coming back.

Hi Vicki, I work at Wet & Forget and I'd like to hear more about your application process so I can figure out why you had undesirable results.

@Mark Would you be able to share a photo of the growth that's on your wood patio? Is it moss? Most organic growths such as moss, mold, mildew or algae are easily taken care of with Wet & Forget. By spraying the entire surface you're going to disinfect the area of the spores and remove the contamination. The action of the wind and the rain is going to remove the dead growth.

Moss on roof

thanks for posting this. I heard about this stuff and wondered what and how it did. The commercials I heard do say that it takes time. We have cedar siding with brick facing about 4 ft up. Is it really expensive? I haven't seen it in the stores.

Hi June! Yes, Wet & Forget does remove the stains. So no need to use bleach! Any further questions please let us know!

I have used this product on cleaning cemetery gravestones, which are very tough to clean, and found that it works. It takes time, however -- a month or longer. This may be the "holy grail" product we have been looking for!

I tried W&F and am very satisfied. I live in Charleston, SC and next to woods. I get a lot of mold on the north side of my vinyl siding and this year (4 year old house) I got mold on the south side toward the woods. I tried a popular siding cleaner and mold eliminator and it seemed to work a couple of years ago but it stopped working. What I love about Wet and Forget is that you don't rinse it off, so it continues to stay wet for hours if you apply it near dusk. I could not believe the results. The mold on the siding was gone and my moldy looking concrete patio was also green free after less than a week. I will definitely stick with this product.

I have used it on my windsor rock retaining wall and it works beautifully. Takes all of the black stains out, it is on the north side of the house. I have also used it on a natural rock retaining wall and also worked beautifully. Works on siding on house too. Did not do a good job on my cedar fence, ended up pressure washing.

Recent bought some for the first time for vinyl siding mildew. Followed the directions (5 to 1 water to solution ratio), and sprayed the north side of my house. The next day I checked to see if I had wasted my money. I was surprised to see all the mildew GONE. This product sure beats wasting all the water and time of using a power washer. This stuff is terrific. I highly recommend it.

I live in so fl in HOA. Must keep roof clean..tried this product (purchased from Costco) eight months ago..roof is spotless and I just had it reapplied. Normally, I have to have roof pressure washed at least every ten months. Now have sprayed two concrete patios and large pavers..so far so good! Great product!!! PREV
NEXT