Does anyone know much about this plant (Euphorbia Cyparissias)?
I found some information on Google which states) When broken, cypress spurge, like all spurges, emits a milky sap. Other sources allege that the milky juice of the plant is toxic and causes irritations on contact with the skin.The sap may also irritate the eyes, mouth, and gastro-intestinal tract). I know they sell it in our nurseries here in California. I really love it as it's very attractive and fills in the back area but concerned about the toxicity of the plant.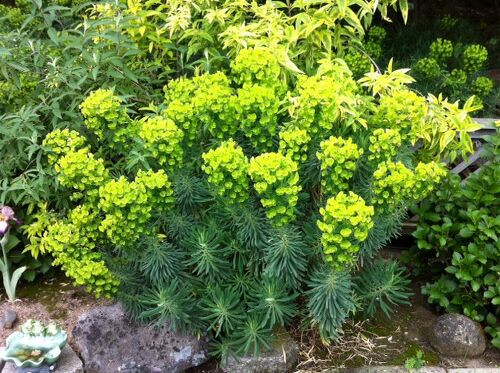 Its toxic if eaten. The sap is an irritant. I wouldnt have it around kids or animals. Always wear gloves. Pretty though.

I grow several different kinds next to the street. Numerous kids and dogs passing by have never given it a second look.

Some of the euphorbias will re-seed quite well. We have had volunteers appear over 20 feet away from the parent plant. I liken this to Cleome, which is nice, but it can reseed rapidly.

Love euphorbias, just wear gloves if you are working with it. I have not had a reaction to the sap, it is white and sticky. My dog never bothers it and he likes to eat grass.

It is an Euphorbia Spurge Plant. I have many of these growing in an around my optunia cactus hardy for this area. They will spread by roots popping up everywhere and are good border plants that has the yellow blooms as shown in photo

We had a cow who enjoyed a snack of rhubarb leaves (also toxic) but would'nt touch my Euphorbia right next to it. The roots will repel gophers and moles if you're troubled by them.

I cant stand these plants because of the sap. Also when the flowers go to seed you can end up with a million plants.

This is a terrible invasive that will grow through almost any ground cover, taking it over. Although lovely when in bloom, they look terrible after bloom. I would say NEVER plant this.

I grow a couple of types of these Euphorbia. The sap is an irritant to the skin etc, but only present if you cut into the plant. Just brushing past the plant shouldn't cause a problem. I deadhead the plants after flowering, using gloves and bin the flowers. If the plant's getting too wide I trim the entire stems off at the base. They are great textural plants. I've not had any problems with them.

I bought a summer cabin home with one growing out front. The first year, I was told by a local gardener that it had sent her to the hospital. She didn't know about the sap. So I trimmed it to half its size, wearing pants, long sleeves and gloves. Next year, no trim. This year, when I went for the summer, it had flowered and tripl in size. I cut it back and am looking for a pro to remove it. The roots must be 8' across as the plant is 4' wide!

I had 3 and they did not survive the Texas Panhandle harsh summer. We watered, but they shriveled up and died. Maybe more fitting for milder climes along the coast. PREV
NEXT