I need some advise on what I can do to improve the looks of my house. I need door, window and landscape suggestions. The house will remain white as I am on a budget. But the roof will be replaced this year and I can change the color of the shutters. I do like the black and white but the door has be puzzled. There is a white wood crown molding trim around the outside of the door.. not the black trim, that is the storm door., not sure if I should paint it white or black and then the door white or black.. or some other color. I really love the awnings on the house.. but some family and some friends think I should have them taken off. Myself, I love the retro look of them. I'm just stuck on some details.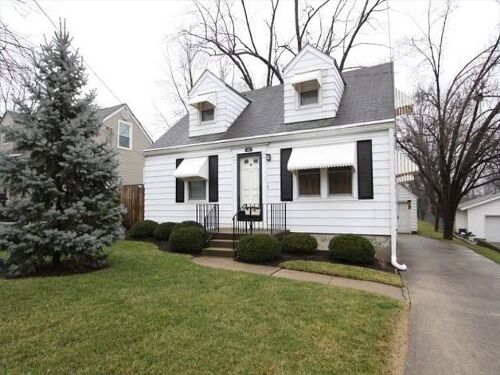 Also.. I will be replacing the storm and entrance door to a new full glass storm and something with a frosted glass window on the entrance.

I have a similar house but my cape cod is from the 40s and i have green shutters. You could definately paint your shutters a different color and then paint the door the same color too. In my opinion I would also take down the awnings and add some flower boxes under your first floor windows. Those things would be fairly easy to do and you would get some color and texture from the plants in the window boxes without having to spend a lot of money.

I am neutral on the awnings--can take 'em or leave 'em, but if you like them, keep them. (They would look cute painted in black & white stripes.) I do like Jennifer's idea of window boxes but if you go that route, I think the awnings should come down. I like the gray on the roof so when you replace it, I would go gray again. I really like the black shutters. They provide a nice crisp contrast against the white so I would leave them black and paint your doors (both the storm door and solid door) a bright, fun color--a color that makes you happy. You have endless choices with your black & white combo. Maybe add a large pot of flowers or greenery on the porch to the right or left of the door. As far as the trim around the door, I didn't even notice it at first. If you want to highlight it, paint it black or whatever color you chose for your door. If you want to down-play it, keep it white. It is a really cute house. In my humble opinion, all it needs is a splash of a pretty 3rd color.

Our house was built in the fifties too. Similar style without the dormers. I love lots of interior light, but my husband insisted that we keep our awnings for energy efficiency in the summer heat. So, we painted them a nice color from white to burgundy to pop off of the neutral house color. Maybe a deep blue? That made a HUGE difference for us. I say keep the shutters the color they are and paint your awnings and front door a different color. We have a white roof and it is awful! I wish we had a charcoal grey. I think window boxes sound like a great idea too. Some landscaping would really improve the curb appeal too. Color and height against the house to contrast with the white siding.

I like the awnings and think that window boxes would look charming with them.....you will have to adjust your plantings to the light they receive and water them though. Also, why not creat a cottage garden on both sides of your front walk? Talk about a blast of color and energy. Surely you can find friends and family willing to share some of their perennials and seeds are inexpensive.

Shutters OR awning, but not both on same window. Having both is redundant, kind of like wearing sneakers over boots! (Even though your shutters are decorative, IF they were functional, then the purpose would be to close them for shade, which is not possible with awning.). I like the retro look of the awnings, but you need to consider if you need/want the shade or more light in your home. The molding around door is lovely, contrast color paint would show it off! Good luck, and please post the after photos.

In my humble opinion, there is nothing more classic than a white Cape Cod with black roof and shutters. For the door, I would suggest a bright red, yellow or even black (although that would be boring). Keep the shutters and lose the awnings to give the house a "lighter" feel. But if hubby is insisting on keeping them, then I would remove the shutters and paint the awnings black. Someone mentioned it was too much to have both and I agree. Your house is gorgeous! It just needs some colourful plantings and a bit more presence to bring it to life.

I would put on a front porch. Then make the walkway up to the door a meandering path of flowers and plants. I would put an archway at the driveway side of the walkway. I would definately scrap both the awnings and the shutters - or find some imaginative thing to do with the shutters - these ladies on Hometalk could help you with that. The front door has to be painted red and coach lights on either side to welcome visitors. ...

My cape cod has a full covered front porch, it gives it a little bit of a country feel. The window are the originals and are about almost to the floor, I have seen others where the windows are all the way to the floor. You could add a lot of character just by getting rid of the shrubs and planting a cottage garden.

I would be tempted to get rid of the awnings, but that is a pure aesthetic reaction. You have to weigh the other pro's and con's. I would be tempted to pop your front door with a punch of color. Pinterest is a great place to look at door colors. If you keep the awning, maybe you can tie the door and awnings with the same color. I read budget, and I take that very seriously. I have been looking at some pictures where they extend the sidewalk with a perpendicular brick border to widen and brighten the walkway. We did some brick work. We had some antique pavers but when I needed more bricks, I was able to salvage them (for free) from our local tree and rubble dump. Craig's List is another possible resource. I agree with others who are suggesting a softer and less formal plantings.

Oh, and amen to window boxes. I am assuming this is a sunny side, so look for drought tolerant, heat lovers.

I like the idea of color. But to update the look, I would remove the awnings from the window and cover the porch, either with a awning (less expensive) or actually frame in a covering to protect you and visitors from the elements. Potted plants would be an immediate and less expensive way of adding color. I like the idea of the archway at the driveway side of the walkway. Your house presents so many opportunities.

I've lived here on Cape Cod for 34 years. My suggestions are to put up shutters on the upstairs gable windows... half width, add your window boxes, paint the trim around the front door the same sharp black as the others and paint your door any color you'd like to make the whole thing pop. Cute house! Good luck!

get a roof for free by your insurance company. Chances are you have storm damage but are unaware of it. Insurance companies are aging fr roof replacements in every state. Us the money you had ushered fr new roof and put it into pant or something

Oh my goodness.. such wonderful thoughts and idea's for this little house of mine. I feel the same as most of you do about the awnings and shutters. And I have too thought about window box's with cottage garden. But I needed to hear it from others. As far as DH.. there is none. All by myself on this project. Taking the shutters down, putting up window box's and a cottage garden I can do. As far as the roof Georgia, I have four quotes and no storm damage. But the roof quotes are all under 4k. Not bad. Thanks again everyone! Would love to hear more suggestions.

The more I look at your photo, I realize if you remove the awnings, the front of your house (especially the lower half) is going to look very flat since you have no overhang over the porch. The awnings at least provide some dimension and interest. Black and white stripe is crisp and classic so I found several photos of B&W stripe awnings to give you a visual idea of what your awnings might look like painted. If I knew how to use Photoshop, I would add them to the photo of your house. Maybe another HT member can do that for you. (Also love Gaie's suggestion of half width shutters on upstairs windows! Great idea!)

classic black & white awning

Black & white awnings add visual interest. A pop of color on the door would be fabulous!

Shari.. That is a great idea! Thanks for posting pictures for a visual. I really like the house that has the awnings only at the bottom windows. Now there is a great thought. It may take some heavy off the house and allow me to have the awning look with less weight. Stripes are really cute too. Not sure why but it gives my a real coastal feel to the home. Kind of cafe on the beach feel to it. Thanks again for exploring this idea.! Love the pics.. thanks again!

I would also go with a portico of some kind...it would mimic the dormers to some degree. Some narrow shutters on the dormers would also tie things together. Personally I think the awnings are a bit out of character for the style.

You are most welcome! I'm such a visual person so pictures always help me a lot. If this were my house, I couldn't be out there fast enough painting black stripes on those awnings! lol. :)

Paint the door red/burgundy and trim black. Shutters and awnings also should match. I like the black and white strips of awnings with black shutters. The upstairs trim around the windows should be black. The door will make the front pop. The rest is just compliments the front. If the budget permits, I would level the front lawn and place the steps at the driveway. Take the picture of the front of your house and color the door and awnings and trim to see these changes before you proceed with changes. This will give you ideas you never knew you had.

I would paint the front door fire engine red. And hang a flag over the front door. I think that if you could put window boxes with seasonal planting such as red geraniums in the summer, pansies in the spring (or bulbs planted in the past fall for the following spring), mums in the fall, etc. It would warm it up a bit. To me it just seems stark and formal. Not that stark and formal is bad it just isn't my taste. Until you're sure cut out pictures in magazines and collect them into a folder to see what you afre really attracted to.

I would keep the shutters... Black is good, but add a nice red paint to the front door. I'd also paint, or change the storm door to white. I'd remove the monstrous hedges from the edge of the stoop and add some brightly colored flowers in their places. Also, some flower boxes are a must under the windows. Be sure they are the same size as the windows, with some ivy or other greenery hanging down, & bright flowers within. If you can afford to change the railings, I'd add a nice white vinyl railing from Lowes.

I so wish we had awnings on our house down here in Florida. I too love classic white with black, but the door would look great if painted red. if you have the funds I would replace your door with one with more glass. Have fun!!

I always recommend a different color for the front door to make it pop...it does not necessarily have to match your shutters. If you choose to keep the black, for example, go Red! Another good trick would be to paint stripes on the awnings. They are making a comeback! Let your family know they are so retro that they are "New" again! Just tape the size and width of each and go for it. You might also consider a smaller shutter for the dormer windows. A little color in the flowers beds, a great house number next to the door...even an old fashioned mailbox as a fun "accessory" could all work...if I knew where Middletown was I would come and help! (just kidding) Good luck with all that and remember to post the "after" pictures! Sallie

Cape cod reminiscent of water? How about a blue trim on the shutters and front door and on some trim. A wooden letter box on a post painted to match. A nice flagstone path to the front door.

Oh, Red door, definitely. If you love the awnings, keep them or you'll regret taking them down. Pick up the red in the garden and dormer flower boxes with geraniums. The black and white is such a classic look, and your home is in such good condition, it won't take much to make it sparkle. The foundation plantings are almost too formal for the house, you might try to brighten them up with a border of annuals.

I knew it was a good idea to post this on here. I have wanted to for a while now but was a little afraid of some that say things that are so mean. So far all of you have been so helpful in helping me with what I need to do. Now I just need to get busy and start the makeover. I will be sure to post after pictures once the job is complete. I'm shooting to have it done by fall. So keep the idea's coming and I will post again end of summer. Thanks again to all of you for a wonderful response. Getting excited to see my house come together. PREV
NEXT