Modge Podge vs White Glue
I'm pretty cheap (and don't have a craft store handy). Can I use watered down white glue in place of Modge Podge? I'm revamping a table by adding a larger plywood top, and am going to cover it with old hymn book pages.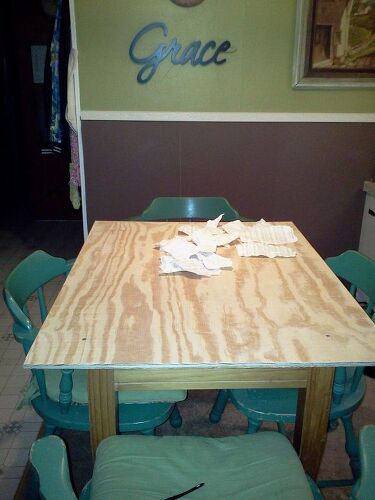 Car not available this week, and to get to WallyWorld I'd definitely need one. Besides, I try to avoid that place. ;-)

Nancy, I tend to avoid WalMart, too (due to my own views on the company), but sometimes it's necessary. If you are a member of Amazon Prime, you can get free shipping on lots of stuff, including ModPodge in the Gallon size. I find lots of crafty stuff, along with other necessities, so the yearly fee is worth it for me. :)

Amazon Prime is something I really should do, because not only would it save on shipping, it would also save on the actual cost of products, in my experience. Just another thing to do... ;-)

I use a mixture of about 2/3rds white glue (like Elmers) and 1/3 water. I always use a water based polyurethane sealer over the top. On a table I would probably use 5 or 6 coats of the sealer just to make sure everything is waterproof and it makes clean up easy since you can wipe the table down with a damp sponge. You can also wax over the polyurethane to give it a nice polished finish. P.S. I grew up in Bedford Mass.

I never did get this table made. Turns out I we inherited my mil's mcm gray formica table. And then we moved! Now that I think of it, this table base is now covered with a 24x46" piece of plywood, primed for another project that didn't happen, and covered with a table cloth until I get the bug to cover the top with something more permanent. One can never tell about me!

I lived at 107 Springs Road Nancy, it was one of the farmhouses built before the Revolutionary War. Bedford was a wonderful sleepy little town when I was there. I am sure its changed but I hope you enjoy it. PREV
NEXT