Antique Trunk/Coffee Table with Annie Sloan Chalk Paint
I have been asking about readers opinions about Annie Sloan Chalk Paint lately. I am not a huge fan of chalk paint but the reason is because I don't find it a good paint to do "fine" painting in. By "fine" painting, I mean a smooth finish with an even sheen and minimal brush marks. However, rather than sound like a hater of Annie Sloan, I decided I would do a piece with her red emperor's silk. I tinted the clear wax with my own tints to get it the exact colour I wanted. And, yes, I really did obsessively paint around all that brass hardware. The legs are painted black with my custom red glaze on them. Hubbie says its finished and to leave it alone. I'm not so sure. The only question I have is: should I add brass or bronze paint to the bottom of the feet to tie them in with the top? Or would you leave it as is?
Jacqui
www.portaverdestudio.com
www.facebook.com/portaverdestudio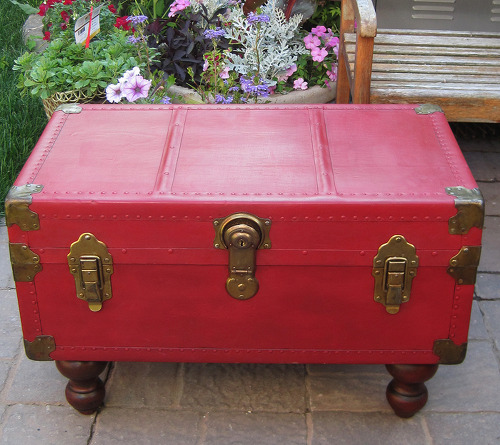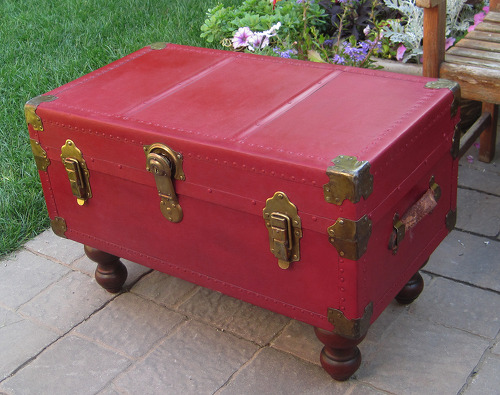 My first thought was to leave it alone. Though I like your idea, I personally don't think it's necessary. That being said, I rarely take advise from anyone when I have a gut feeling that something more needs to be done to a piece I'm working on. I may however walk away from it for a day or two and see if I still feel the same way when I next see it. Do you have a before photo? I'd love to see it if you do. It sure is gorgeous now.

Looks great - love the Emperor Red and your application. I have taken classes with Annie Sloan - and Chalk Paint is not meant to be glossy or smooth. Inherently it is not uniform. In fact, she applied some of her projects with a pounching motion to add even more uneven coverage. This is just the way she does it - and since she designed the paint - it is standard on her pieces. However, there were some people that used chalk paint for fine canvas work! So, there you go. Either way is fine, but you will have a harder time hoping it will behave like a artist's oil or acrylic paint, when it doesn't have that leveling effect naturally.

wow! great job detailing all that hardware! i like the idea of antiqued brass feet. i feel it would give it a finished look (although your hub's is right - it really does look great just as you have it). so pretty!

Leave the feet ~ it will be too fussy with gold/brass. It is wonderful as it is, I love the repurposing of lovely vintage pieces, if I were to do anything to the legs, I would consider a bit of distressing. You have done a splendid job! (...and this coming from someone who has the Peanuts Christmas nativity for a profile picture ~ you may not want to consider my thoughts after all.)

Very nice piece! To answer your conundrum, I would leave the feet as is. However, I may have painted the hardware the same as the feet, glaze and all and then lightly distress the hardware letting the brass peak out just a bit. I've been playing with ASCP for some time. I've used it thick, letting it sit out in the air to thicken, and I've also thinned it with water for a smooth, even buttery finish, creating a perfect base for decorative/fine painting. Great Job!

Hi Patty, I tried a sample of the Annie Sloan paint on the hardware to glaze it and it didn't stick. I know it says you can paint metal with it but I beg to differ. It won't stand up to heavy use such as opening and closing. I could have sanded it and gave it an oil glaze but I decided to leave it. Thanks for your kind feedback!

I love love this piece! don't change a thing! I have a question though? How did you attach the feet to the trunk? I have a trunk & have been planning to do this project but am not sure how to attach the feet? Any answers would be great! thanks

Hi Nancy, we always use a thick wood board in the interior to ensure that it's stable. We cut the wood to size, wrap it in batten and then staple a nice material to it so it looks finished. Then we drill holes to attach leg plates into the wood. Most furniture legs are too long to fit in the leg plates so we cut the screws on them and then file back the threads so they'll screw in nicely. We strip, prime and paint the interior too. Here is the interior of a metal trunk that we did so you have a better idea.

I agree with most of the other commenters, it looks great as is. Now I might just have to pull an old trunk out of my basement too...

Love it as is. That said, I always take everything into consideration, it does help with the decision

I have so many hours into it that I'm not feeling like working on it anymore. Maybe the best thing to do is to leave it as is for now and see if something strikes me in the future. The legs are easily removed to work on. I will have to post a before and after pic of them and the trunk. The wooden legs were chewed to bits.

Your chest is absolutely beautiful, but to address your initial concern about chalk paint, no it is not really ideal for fine painting or achieving a smooth looking finish. The main benefits of chalk paint are in it's abilities for distressing and layering of colours to make a piece appear aged.

Hi Grannygunson, I've used it a few times now and I like it ok for the application it's made for. I don't ever think I will be a huge fan since I find it quite limiting but it has it's purpose. I was also unhappy with the coverage for this piece. It took almost 5 coats over brown! I could have gotten opaque coverage using paint by the Canadian company Sico and a Benjamin Moore red that would definitely cover in 3 coats, possibly 2 coats over brown. I did not have the Annie Sloan watered down either. It would have been much quicker to do in a different acrylic paint with an oil poly over it. The waxing was pretty time-consuming and I'm not looking forward to doing it again for this piece. All that being said, it was an easy paint to use and great for beginners to get nice antiqued effects. To each their own!

I think it looks fine, might have been able to eliminate a couple of coats had you used a flat primer on the trunk...but the idea of chalk paint is to look rustic and old, the trunk looks great as is..

@Porta Verde Studio Nice job! I like someone who is as obsessive as I am LOL! I'd do what Becky suggested-Follow your gut. ;) If it were my gut, I'd leave the feet just as they are. Please show the before pic? I'd love to see what you started with. xo

I think your chest coffee table is extraordinary. Such a great idea to add the legs. It looks great the way it is but I personally would like a little of the brass tint to the legs to tie it all in. If you did not like it, you could always paint over in black once again!

Hi Jacqui, did you do anything to the brass? I have a trunk but the brass has quite a bit of rust and I'm not sure how to handle that. Any advice?

Hi Frankie, I didn't do anything to the brass other than clean it up a bit. If you have rust on your brass, then it's probably brass plate over another metal like tin. Use some WD-40 to spray it with, let it sit awhile, then while it's still wet, use super fine steel wool and gently rub it to remove the rust. Do this before you paint and then neutralize the WD-40 with some mineral spirits to make sure that it doesn't resist the paint. Good luck!

Sia@south47th, here is the link to the before and after for the repair on the wooden legs: http://www.hometalk.com/1870383/the-dog-chewed-the-wooden-furniture-leg-despair-and-repair

I love the way it looks! You did a fantastic job! So glad you didn't distress it! As for the hinges, etc. it looks great this way but if you feel you'd like them repainted, do it! It would look awesome that way also. Sometimes,on wooden feet on a piece, if they'e not too bad, I just polish them with OLD ENGLISH Dark Furniture Polish and the results are great! Just a thought.....thanks for sharing this, grat job!

I would paint them the same brass colour as the pieces to bring it all together. You did a great job. I also have an ugly green beat up trunk that I'm going to redo. My plan is to put wheels on the bottom and decoupage the inside for interest. The outside is still forming in my mind. I'm turnig it into a coffee table which will have storage. I'm even considering putting a removable shelf in it. I love what you did. It looks great! I keep hearing about milk paint, but I'm not sure what it is and what's the big deal about it? Can anyone explain it to me?

Hi Sherry, it's actually chalk paint but I've painted plenty of these trunks with oil and acrylic. With a quick sanding and a coat of primer, both of these paints will do a great job. Decoupage sounds like a great idea. If you want to put casters on the bottom, make sure that the bottom of the trunk is thick enough to support them. If not, you can add a plywood board to screw the casters through. Please post pics and if you have any questions, let me know. PREV
NEXT