What would you do?.....Paint or Slipcover?
I have this lovely wing love seat that I'm wanting to make-over. What would you do? I do not know how to sew so I'd either have to make a no-sew slipcover or have one made or I've thought about painting it with chalk paint!! I'd love to get your ideas!!! You can read more at http://twelveoaksmanor.com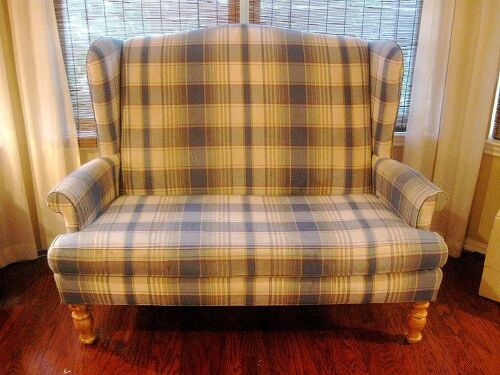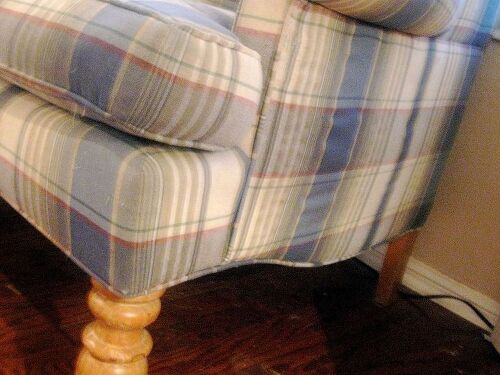 I guess it all depends on getting the right info on painting it and feeling confident enough to give it a go! I have never painted upholstery - I would be concerned about ruining it if the piece looked good like this. I imagine it depends how much the piece cost you and whether you mind taking the risk. I suppose if it did not come out very well, then you can go the slipcover idea to cover it anyway. From that perspective, I guess it is worth a try with the paint! There is always the chance you paint it and it looks fantastic!!

Thanks @Carole!! The piece was on $35 and although it is in good shape I'm kinda leaning towards painting for the reasons you stated. If I don't like it, I can always slipcover then but I think it would be fun to try something different! Thanks for responding!!~~Angela

Whatever you decide I am sure it will turn out great! Be sure to post again when you have made it over!

Paint - I did a plaid upholstered wing back chair and painted it cream. Check it out here - http://www.hometalk.com/738342/diy-painted-upholstered-chair I love it and it has held up well. Plus you are right, you can always slip cover over it if you don't like it :)

Thanks, @Rustic Crafts & Chic Decor - Renee! I love how your chair turned out. I think I'll definitely try it!

Angela, did you see what @Jill F did with ASCP? http://www.hometalk.com/1886359/you-can-paint-a-vinyl-upholstered-chair-with-as-chalk-paint

No, @Miriam I , I had not seen that!! Thank you for sharing!! @Jill F , your chair turned out fabulous!!! Now, I think I'm definitely convinced!!! Thank you, ladies!!! :)

I also don't sew yet but have bought a sewing machine determined to learn how to sew.It's interesting you've decided to paint fabric,I'm not that brave and would buy a slipcover then get some cute throw pillows.My couch has detatched cushions so I'm learning to sew to make new cushion covers because I want to be able to cushion covers I can take off wash dry and put back on without worrying if they're going to shrink.

@Leslie F Good for you! I've sewed since I was ten and am so glad. I also want to share with all the new sewers - buy a used machine!! They are plentiful, cheap and very high quality. I bought my my 'new' machine at Goodwill (by the pound store) paid $10 and it is in a beautiful wood cabinet. Amazing!

Angela - if you haven't already read about painting fabric upholstery with ASCP I've read several places to use water - wet the fabric with a spray bottle is what Annie said I believe. you can thin the paint too and do several thin coats to get the coverage you want. Using the wax when you are finished painting makes the finish just amazing. Buff as you go - small sections at a time!

Don't get caught up on the painting of fabric!!! I did it and it was such a mistake. Everyone posts these great pictures of their work (from far away might I add) and makes you fall in love with this easy idea. Up close the furniture looks horrible and you will never ever get that paint soft. It is like sitting on the stickiest and hardest vinyl ever created. Plus, if you ever decide to reupholster it the fabric is virtually impossible to pull off since it was painted. Remember, a person will never get themselves in trouble by doing things the right way- taking short cuts is not the right way. Jill, I've seen your pictures (and your project looks fab) and you are the first to do it with chalk paint, but to be honest that wax is sure to come off on someone's pants while sitting in it.

@ I recently purchased a stencil from cuttingedgestencils.com and I plan to use it to paint an accent wall in my master bedroom. However, they have all these ideas on the website for ways to use their stencils- including fabric!! Maybe you could paint it AND make it look slipcovered! Good luck on whatever you decide :)

If you're planning on keeping that chair for years and years you might consider having it re-Upholstered. I think it would be worth the investment. You could always look up "how to upholster furniture."

@Kimmothy - I really don't think the wax is going to come off on someone. It honestly feels like leather and isn't sticky at all. And I'm not the first to do the waxed finish - it's been done over and over with great results. You buff the wax as soon as you put it on so there is no residue and the finish is awesome. You are entitled to your opinion - not trying to change your mind - but I want to put it out here for anyone wanting to try this - it really does work, it really does look great, and it feels great too.

Angela, don't know if you have painted this yet but the do make a fabric spray paint!!! It doesn't make the material stiff after its painted. Here is the link. You can even do rugs!!!! http://www.sprayitnew.com/?gclid=CKKXsM-vi7kCFSdk7AodQEYAag

I have the exact same chair that I bought at a thrift store in elizabethtown, KY and we have named it "the damn chair" because it wouldn't fit up the stairs into our loft that I had originally bought it for. But after several moves due to my husband being in the military and we've settled in Alabama. I'm excited to finally reupholster it (it has good bones ). I'm very interested to see how yours will turn out with the paint. Looking forward to your pics and I will try to share mine when finished.

I would try the paint first. If you don't love it, you are only out the cost of the paint and then you could get it recovered. A win, win. Love the shape of the chair.

Wow.. What a amazing slipcover paint! It's look real and beautiful. I will definitely try to paint this type of slipcover. I would like to decorate my living room with different slipcover sofas. In recent month i made a slipcover chair at Reyna's Fast and Reliable Custom Upholstery which is best service provider for slipcover in US. PREV
NEXT