Two Trees in One. Should I leave it alone?
The tree on the right has a pine tree that grafted itself on top of the other tree, a Dwarf Alberta. I was going to separate them, but they seem to be doing okay. Isn't it funny looking? The blue spruce was from a school sale several years ago and has done well.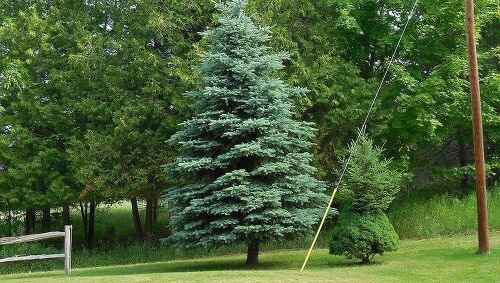 The lower tree looks more like a cedar. Thuja do not grow like that. They are more columnar. The pine on top will eventually topple and break at the graft because the two trees grow differently. Interesting though.

Wow. Interesting! I'd prune it, but not too much - in case that particular kind is sensitive to too much being taken off. Perhaps in a similar shape to the tall one.

The lower shrub looks like an Alberta Spruce and the upper one looks to be another type of spruce. It is hard to tell in the picture. I would trim the bottom bush to look more like a skirt or a ball so that the top spruce stands out more. It is a cool looking combo.

This is a great article to explain the phenomenon of REVERSION. http://msue.anr.msu.edu/news/understanding_tree_reversions

I would separate these 2 before they get too much larger. I agree the top tree will eventually break off and it's the most beautiful. I don't have any idea how they can be separated though....do you see roots on the top one?

From the photo, the top tree looks like it might be a fir?? If you want to keep it, you might try pruning all the branches off the bottom plant, so the top plant looks like it has a trunk that was limbed (lower branches removed). Whatever you do with it though, it might not ever be a strong wooded tree. ~M

Barbara Thomas, No roots. I remember grafting with sphagnum moss and a plastic bag tied around it to root a plant, but I thought it was interesting to leave and see what happened. I agree this is a fir pine and not even a blue spruce, as next to it. The other is not a cedar as we have several of those on the river. The lower one is an Alberta Spruce. It came back from brown and ugly in the cooler weather. It is just a "junk tree" I suppose. If it starts to break off I will do something. Thanks for all of the comments.

you could call a tree trimming place and see what they recommend and maybe have them trim it I have a tree trimmer coming over tomorrow to look at two of mine but he said it would be better to wait til the weather cools down before he will trim them..

@Karen - Looks like it has the potential to be someone very beautiful with a little bit of pruning, but it's up to you. :) @Linda - Love the comment, and so very true. :)

Are the grafted trees going to interfere with that beautiful Blue Spruce? Since there is a chance the top of the grafted trees might break off, I would watch to make sure the Blue on has plenty of room...and take down the others if they become a problem.

The tree on the top is actually a spruce tree. Do you want 2 different trees in one plant? If no decide which tree you want most. If yes then do you want to make a topiary out of it. Spruce trees take well to trimming but not so well to harsh pruning, If it were me I would keep the spruce and get rid of the lower tree by hard pruning or shape it to look like a pot for the spruce tree. Spruce tree will grow to about 50'. Good luck

The top tree should be shaped into a nice xmas tree shape and harvested for xmas. then the other tree could grow on unfettered.

I'm not going to be any help at all, but I have an opinion -sort of. Doesn't everyone? I think that you should do as others have suggested with a LITTLE bit of pruning and shaping for now. Trimming the alberta to look like a pot on the bottom sounds kind of neat to me, and maybe just trimming the spruce on top to keep it's nice shape. And then, enjoy & show off your UNIQUE creation! Because, let's face it, how many other people have a tree that looks like that? Not too many, I'm thinking! Eventually it probably will break off or something, but why not enjoy it for what it is right now?

@Rhonda, I see what you mean about a witches broom in Donna's info. It's too cute to get rid of and I like the creativity of the pot idea. It seems very secure and stable on top. I won't be around for 50 feet people, so I am going to watch and learn. Watch and enjoy and maybe do a little trimming, but the Alberta is brown underneath. I suppose it will green up after it is trimmed? Yeah? I watered it last weekend and it has rained. We are not always up at the cabin where it is located, so it is what it is.

@Susan Duvall ~ I had thought just that same thing. Christmas tree. If it starts to break off, I will harvest it for just that if we are up in December.

You should move the smaller tree. You do this in winter or spring. Dig around the roots first, then let it sit in the ground for a week or so before the move. Stop pruning it. That little tree looks beautiful when left to be it's original self, that pruning looks bad.

We as people do lots of wild things with nature, grafting, combing plants, animals people.....you should let Mother Nature alone....it looks AWESOME.

You have a "sport". It's when a cultivar reverts back to the original species normal growth characteristics. If you want to keep your dwarf cultivar you need to cut it off at the point of reversion.

Why not just ask someone from a tree farm or a nursery and see what they think.? I like the way it looks but every ones right the two trees need seperated.

The link Donna Dixon gave in her comment was very informative. It does indeed look like your cultivar is reverting back to a standard growth pattern. Very fascinating stuff. Thanks for sharing.

I would let it be and see what nature decides should be done. That look is really too special to destroy. PREV
NEXT