Privacy Screen Keeps Blowing Over in the Wind
I recently purchased this privacy screen from Lowes. Less than a week after I purchased the screen I found it split in two after a windy evening. I can't seem to find a solution to acomodate the width of each panel (20"). The 2nd photo is one I found either on HomeTalk or Pinterest (or both) when I was searching for possible solutions. The issue is it is difficult to find a large enough base and not take up to0 much of the patio space (prime real estate). Here is the complete post: http://imnotatrophywife.com/2013/07/the-wind-blew-up-our-new-privacy-screen.html. Taking Suggestions!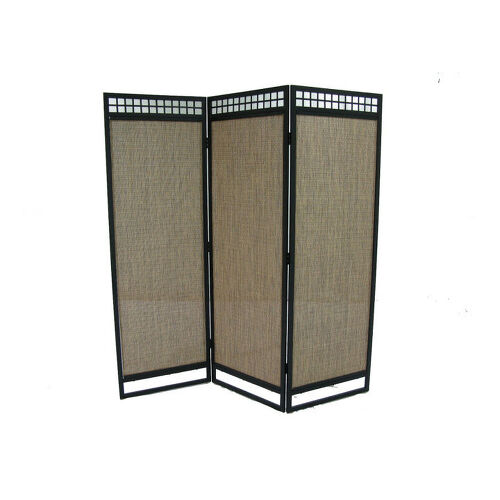 I bought the same privacy screen about 3 years ago, & it still looks like new. I have mine on the deck, up against the railing & I just use bungie cords to hold it up against the railing. Works great. This screen also comes with holes at the bottom, so you can screw it to the deck.

Are you placing it on ground or concrete or wood? To stabilize on the ground set some posts with concrete and attach it to the posts. If it is on concrete or wood use some brackets and bracing

Note the privacy fence on this deck. http://www.archhomeimprovements.com/photos/decks/254 Something similar can be done on the ground.

Maybe the Backing Material is not letting the airflow enough. Definitely need to weigh down the base with concrete or make extended spiked feet you can insert into the ground or weigh down with flower pots, etc. As for the backing if the original does not let airflow maybe it could be replaced with Burlap, or a simple lace. . even left open and allow a vine plant to grow up thru the design? I am sure there are many fixes you can do to save the screen and make it work for you.

Just read a post where they hung the panels on chain, eyehooks, and S hooks. Is that a possibility for you? PREV
NEXT