Does anyone have any insight to landscaping?
We are just about finished installing a recycled brick patio and path under our grape arbor/gazebo. I've only landscaped small easy areas and this area has me nervous. I want it to be beautiful and practical. Any ideas? Should I do this myself or hire out? Any idea on an estimate or how a landscape designer or contractor charges in addition to materials? By the hour? By size? Can you tell by looking at the size if it's going to be thousands of dollars or something more affordable? There is a few feet on either side of the path as well as on the outer edge of each side of the grape arbor. Do I do mulch or stones or plants? It's mostly shaded and we're in western PA. In the fall, I'll have to blow leaves from an oak tree out of area as well as falling grapes/leaves. With my inexperience, I don't want to waste money. Any advice is appreciated!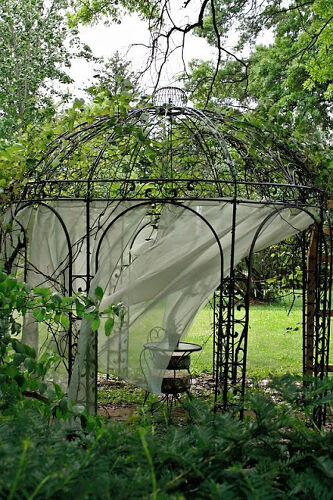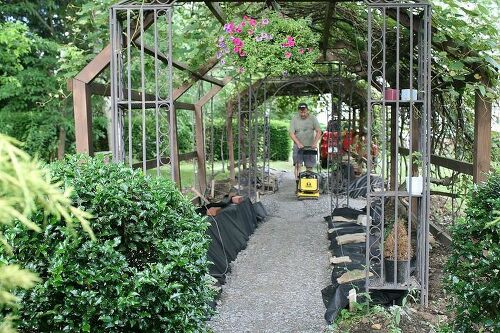 We've gotten a plan drawn up by a landscaper at a nursery. The plan is free but then they expect you to purchase the plants from them (which makes sense). Then we just did the labor ourselves. Seemed worth the extra money that a nursery charges for their plants/flowers plus their was a guarantee if they died within a certain time period (1 yr maybe).

Thanks, Rebecca. That sounds like a great deal - I'd shop at the place that supplied the plan and do the work myself. I think it's the "plan" that overwhelms me the most.

It looks great we did something similar for a customer a few years ago. If you are looking at cost. Stone mulch will cost more in the beginning but is cheaper then wood mulch in the long run as you will not need to replace it every or every other year. Consider low grow ground cover as an option, some you can walk on and it might take a couple years to fill in but it would look awesome. Also what ever you do, don't forget the edging. It holds everything in place so you don't have mulch or stone or even ground cover in the grass. Don't go cheap on it, the aluminum lasts the longest and doesn't get eaten by the weed whacker.

Thanks, Christina! I am leaning more towards stone because of the maintenance. Ground cover would be awesome but again, I'd need professional direction. Yes...we have the supplies for edging already. :)

Take a few pictures into your local nursery and have them help you. We have people do that at our nursery all the time and we show them options on what will work in an area. That way you have say and can see what you like

We used the "bark rock" along our driveway where we planted a row of lavender. It has been great for drainage and keeping the plants moist, but we do get weeds where the landscaping fabric and the concrete meet. Also, the rock is a pain to clean out, especially at the end of the season with all the leaves and junk that accumulate. I like our garden beds with real mulch/bark. At least I can rake it all out and start fresh every spring. The rock gets hard water deposits on it from rain and watering that give a white cast to them too which is annoying to me. If you have falling leaves in the area, I would strongly suggest something that you can just rake out.

It looks to me like you have the hardest, and most expensive, part done already. I think groundcover in the area near the walk would be easy, inexpensive and beautiful. It would create a soft transition and embrace the walkway. Beautiful work!

I would plant hostas and mulch around them. They do so well in the shade and their leaves are beautiful and full. They would cover up the ground when they spread out, hopefully that would cut back on weeds. I mixed asiatic lillies in with mine, so i get the full leaves of the hostas , then random tall flowers coming up among them in mid summer.

I agree with Alana. You've done the hardest part already! I'd plan some hostas, ferns and hardy fuchsias in those flower beds. None of them require a lot of maintenance or plant experience. Then you can relax and enjoy the beauy!

I would actually do plants instead of stone/mulch only becasue you will never be able to get all the rotted grapes out of the stone/mulch. Plants have a greater chance of maybe hiding some of that. I would plant some boxwood in a variety of colors so that you have some greenery during the winter time there as well but it would also be low maintenance all year round.

Take it from a pro.Hire a pro. This job will most likely require a 3-4 person crew,with about a 24-32 time frame for completion.You may want to reconcider grape vines.They really don't take to kindly to the metal frame.

You really have done the hardest work already. I am preferential to hostas and ground cover myself because I think it would look more natural and is easy upkeep once it is established, but it depends on the feeling you want. Here are a few things to consider - the ground cover can be planted through your barrier fabric to reduce weeds, but you will need to water the plantings. Is the black fabric heavy or can moisture seep through? Did you plan to leave the black fabric in place? Cutting circles in the black fabric and planting in the circles is one solution. If you go with mulch, it does break down so you will need to consider topping it up yearly. My experience with mulch (which I do have in my foundation beds) is that it does get into the grass even with an edging especially when we blow leaves in the fall. This might not be a big issue but it can get a little messy unless you are careful. On rocks - when we bought our house it had white marble chips in all the foundation beds. The chips were discolored and expensive to top up. We tried to remove them by sifting them out, but the work was very difficult. We ended up removing as many as we could (it looked like we got most of them) then added soil, etc. We still turn up marble chips when we are trying to plant in our beds. I know I probably didn't help much but you do need to consider the overall look you are going for.

@Vivian S - thanks Vivian! Very helpful. Your experience is exactly what I want to avoid - the dead leaves/grapes/dirt in the stones or mulch. The more I hear, the more I think I'd prefer the ground cover. The fabric doesn't have to stay. It just kept the weeds in check while working on the path and patio.

You have done the hardest most expensive part (which looks great by the way)--mulch and add groundcovers or climbing plants etc. Then if you ever want to do any more hardscaping you can always move mulch and go at it.

This is absolutely Beautiful! If you do it yourself, there will be a greater sense of pride for many years to come!

My suggestion: My husband and I suggest the following; You have a great start with the brick, on the ousides we would suggest half evergreen plants to give you color all year(using spring, summer and fall shrubs, keep them to a size that works with your space) hostas and a created spot(with ie: stone mushrooms, bird bath/small water feature, animals etc. then fabric the area tight on the edges and top the garden with mexican red rock(or something similar) to accent the brick, the final touch would be low voltage lighting. Enjoy your new garden, Cheers Georgie & Brian :0)

Wow, if you can do the walkway and patio, I'm sure you'll be able to do the rest too! This looks great! Landscaping can be costly to hire someone so I say do it yourself. I would put down some fresh topsoil and just mulch the area first to see how that looks. That might enough. Then as someone else suggested, go visit a nursery and check out the plants. I like plants like azaleas and rhodedendens - they stay green, bloom in the Spring and can be kept trimmed to fit the size of the area. Hostas also add a lot and are perennials (come back each year) and don't require a lot maintenance. You could also add in some bulbs and/or annual flowers for color. I would keep it simple and easy. The area is very nice and doesn't look like it needs much.

I agree with the comments that you have done the most difficult part. Enjoy putting your personal touch by selecting the plants. Recently a suggestion that I have found helpful as I build a new bed this year is to select different leaf shapes not only color . I agree.

you did a great job! The brickway looks great! and like many said above, you did the hardest most expensive part (btw.....what did you use to hold the bricks in place?) I would go with what some of the others said about ground cover and hostas...these plants would fill in the area very nicely and best of all low maintenance. ;-)

Thanks, everyone! I just never have much luck with plants for some reason so I guess that's why it's so intimidating. I don't want to spend $$$ on plants only to kill them. lol

Beautiful job!! I think I'd plant whatever plants do well in your area---flowers always make tings look nice!

@Mary C lol! It's the things that die (like plants) that is intimidating me. And I just don't really know what I want to do here...rocks or plants. I was thinking rocks would be less maintenance but seems like I was wrong and plants would be less maintenance. I just want it to be done and pretty before winter. lol! Thanks, Mary!

do it yourself and save! plant herbs like rosemary and lavender, there are varieties you can get that are perennials, as well as any other herbs you would want, just put them in pots up and down as the others would be annuals. you could also plant some veggies!!

Colorful seasonal perennial plantings unless you enjoy bedding annuals also. To keep traffic from treading onto and or through the topiaries or shrubbery and a variance of large rocks. Keeps traffic from so readily breaking through and damaging any of the plantings. Protects the various perennials and thus you won't need as many either. The various rocks or "boulders" can have different colors lending color throughout the winter. I would match or contrast the rocks to the plantings and the paving stones. I did this sort of thing in two different places. The various size rocks either were convenient stepping stones themselves as well as protecting determined traffic. At one place some determined young adults used them and eventually quit cutting through altogether as the stones were such a variance. In the winter bedding edges were beautiful and the summer added backdrops to different plantings.

If you enjoy the work do it yourself. Keep in mind drainage and watering if your at this point include a watering system. saves water and time. Id add in a few roses and ark the design up to really make the height stunning. Check your light hours for best use of plantings.. Good luck!!

You should be able to ask the extension office near you for advise on plants the deal with in city environments, root zone and the like for perennials or shrubs. Your annuals will depend on lighting so hope for lots of sunny hours for best color...

One thing I love is your pathway! The best advice the wife of a landscape contractor and nursery owner is to get a book with ideas for your zone. The library has many to choose from. There a small so many ideas and beautiful landscapes to browse. Most of all, plant in tune with your taste, your soil,, your sun and shade areas and your watering abilities. Also consider the amount of time you want to spend maintaining your landscape. You could easily run drip irrigation for your plant area, it would be easy to hide under stone mulch! I used stone mulch for a bed of daylillies and boy did they thrive! The best thing about stone mulch is that its super easy to weed, never needs turned over or raked, and it never wears out! have fun!!! PREV
NEXT