what color to paint my dining room and kitchen
I have painted my kitchen five times in two months and I want to finally get some ideas, so maybe this will be the last time I have to paint or awhile. My dining room and kitchen are open into each other since we took out most of the wall. I am painting my cabinets white and putting board batten below the chair railing in the dining room. I have also attached a picture of the fabric for window treatments. All suggestions welcomed.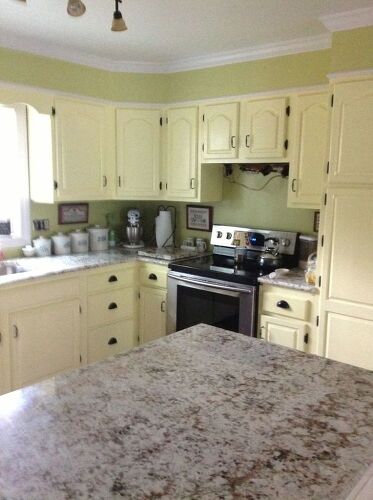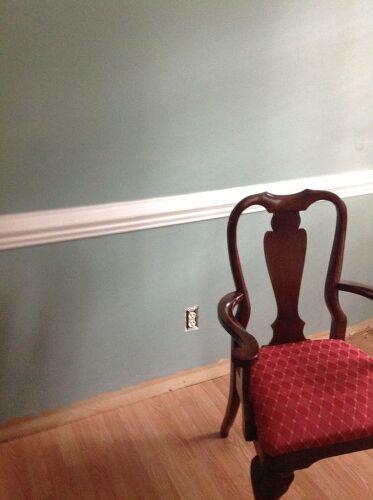 I think if you are planning to paint the cabinets - you should do that first and see what you think. The blue and green you have already look like they could look great up against the white finishes. (Sorry, I know you had wanted a paint color!) - My other suggestion was to try to tie in the red/darkish pink from the chairs and curtains - but I tend to lean on the cool side of the color wheel (green and blue).

like the white, don't like the handles on the doors (drawers are nice). maybe a 'heavier' door pull. how about no cupboard doors? or painting the frames on the doors a darker shade of what is on the walls. not much help. I have open shelving instead of cupboards. second kitchen I have done this to and love it. I don't mind a little clutter showing, easy to see what I need to buy at the grocery and gives the kitchen an open feel (very little kitchen, only 12X12. my last one was 22X20!) good luck

I actually like the colors you have now on the walls and the fabric for the window treatments. I think a DARK espresso color on your cabinets would look better than the white. Then replace drawer pulls and cabinet door hardware with something else that you think you would like. Sorry. Not what you had in mind. Just throwing my 25 cents in! Good luck to you! Hope you'll post pics of your final results!

I think one of the problems is that the granite seems to stand alone against all the colors...and it takes up a lot of space in the room. I don't mind the darker hardware as it does actually match a color in the granite. To make the colors stand out I would see if you have a little piece of the granite and take it with you when looking for a color and if you're wanting something that matches both the window treatments and the hardware and the granite...take them all with you. The granite seems on the cool side...and the colors on the warm side. Also remember you can do a different color on the base cabinets than you do on the upper cabinets. There are usually some really good consultants at the professional paint stores. Doesn't mean you always have to buy your paint and stuff there but they can at least help you choose something that would bring all of this together.

We might need a little more information. Do you want to keep the color in the dining room and add a different color in the kitchen? Are you planning a different 'white' for the cabinets we see in the picture? It appears that your backsplash in the kitchen is a green? If you want to stay with a green, take a look at Ben Moore - Coastal Fog. Light, neutral and seems to go with both warm and cool colors. Love your window treatment fabric!

I guess I'm confused. All of the colours you have now, go with your great fabric selection and flow together nicely with your 'open concept'.

Thanks, everyone, some good ideas. To clarify some ?'s. I like the green and I like the teal, but not together. The green seems to bright against the teal and then the teal seems to blah next to the green. I guess I am trying to play it safe and I want it be he the WOW factor in my downstairs. I had chocolate brown lower cabinets and white upper cabinets at my other house and I loved them, but I was trying for a different look. How about a different color for my cabinets? I am over thinking this I know.....

@Cyndi Moore Tippett How about using a muted teal for the lower cabs, (this would tie the two teals together, yet not be matchy, matchy). Then a brighter white (or color that matches the lightest hue in your beautiful granite) for the upper cabs, with a brushed stainless subway tile back-splash that goes with the granite and ties your appliances in as well?

Darker lower cabs in a grey/teal. Photo is from House Beautiful.

Brushed Stainless Subway Tile. Photo is not mine

Cyndi - My suggestion, - do one wall in red, the color of the chair, they say red stimulates the appetite. Do the other walls in cream/off white, do the kitchen yellow (one or two shades up from cream) and use the green as the back-splash. Blue is for bedrooms (soothes and relaxes). They all go well with the white chair rail, and should also with the white cabinets. Good luck:)

I like the Espresso color or a creamy ivory/beige for the top of the cabinets. I like it all the way it is.

Make the cabinets white like the trim. Use a neutral taupe on the walls that will blend with your granite and also some of the branches in the fabric. It is difficult to recommend a color from a computer since every screen reads color differently. But I am thinking something like SW 7038 Tony Taupe or SW 7037 Balanced beige. That will allow you to use the teal and green as accents rather than a dominant color in the spaces.

Pull one of the colors that you like best out of your drapes, if you have any extra material take a sample with you to match it up. I myself love the teal or the pink and teal is hot right now. You could do both leave the the chair rail pink and walls in teal or vise versa.

Why don't you try chalk painting the bottom cabinets in the bright teal/turquoise color. You can tint that paint to any shade of teal to dark turq. and the wax over brings such dimension to whatever you are painting. Of course, if you go this route, try painting on a board until you get the color you want. Annie Sloan paints. You can get some great ideas on her site too. I understand this type of paint is quite durable. Just a suggestion. I'm dying to try some chalk paint myself!!

@Cyndi why not save time and money, just leave it all the same but try painting just the panel shape in all the top cabinets..either pick a color from your curtain material OR use the color from the other wall. The black handles and pulls bring in your stove and granite tones. I would also pick colors from the curtain and buy some kitchen decor to place around bring everything together.

I would do two colors - Espresso/Chocolate brown for the bottom cabinets and for the island, and white for the upper cabinets. it will match almost all the styles and colors and it will do Wow with your chocolate brown and white at your other house

Thank you everyone for your wonderful suggestions. I think I know what I am going to do and you all helped me decide. I will post pictures when I am finished with this project. That's what I love about Hometalk....helps those of us with "decorator brain cramps". :)

There looks to be a really pretty soft blue in the fabric. I would paint your walls that color and I love that you are going to paint the cabinets white. You could use the coral as your accent colors for accessories. This will look great when complete, and no more painting after that!

First....love your fabric!! Since you are going with white cabinets, a creamy brown on the wall would make them pop and pull out the brown in your fabric. The blue in your dining room would look good beside it. Can't wait to see pictures when you finish.

I'd pick the SMALL 1 cup size samples on any color you THINK you may use.. saves a lot of time and money... I'd to the section below the railing then get the paint colors..

I love bold color so...BEHR makes a great "retro avocado" color that would pop against the white. Since you will have so much white in there, a deep color won't be overwhelming and this color would look great with your fabric!

I would go with a pale buttery yellow. Benjamin Moore has some really beautiful ones in their historic colour line of paints. White cupboards, and the pop of colour on those drapes with yellow walls would be fresh, sunny, and cheerie.

I really like Brenda's colour suggestions. Although your cabinets are nice cream that works with the hardware, it fights with the countertops. If those are staying, I would consider painting them a soft white, like SW Alabaster and glaze in the cracks with Asphaltum Antique Solution available at Lowes. I know it's painful, but switch out the hardware with stainless steel and clean up the look with hidden hinges.

@Cindi Moore Tippett: Beautiful fabric for your window treatments and like everyone has said grab your favorites from there and go for it!

I would paint the cupboards, and the walls in the kitchen and dining room a light sand colour and give all the trims a mild antique appearance. I think that colour would compliment both the kitchen and dining room. Hope you find the colour that agrees with you the best.

The beautiful granite in the kitchen is lost with the present colors. What about a color on the walls in a tone that is in the granite to bring out its beauty, maybe a pale green with more yellow in it. Perhaps as one poster said, paint the bottom cabinets in a very dark brown color. The kitchen will take on a custom look. As for the dining room walls, my suggestion would be to change them to more of an apple green shade to match the beautiful drapery material you have selected. That particular shade of green is a happy one.

Thanks, everyone, WOW! I knew I could count on you to give me some wonderful suggestions. I think I have decided about the wall color and have been painting my cabinets white for two days now. Will post pictures when my kitchen/dining room is complete. PREV
NEXT