I'm looking for ideas for reusing an old container
Does anyone have any ideas of how to reuse this?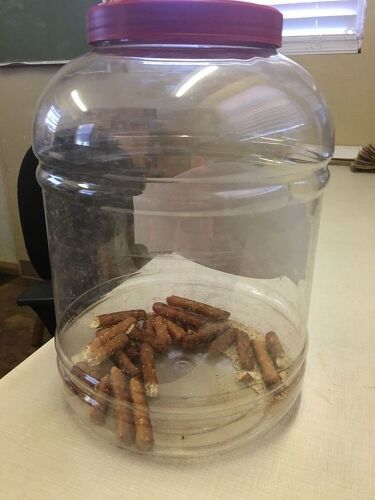 I obtained one of those, but in plastic, left over from a party. Nothing special done with mine except I filled it up with little toys that my granddaughter played with. She loved carrying it around as it was bigger than her.She could see through it and it was a fun thing for her in her early years. 13--24 mth.

You could always make a terrarium out of it. Many years ago, I had 3 of those giant glass jars (they were originally pickle jars from the little corner store), and that's what I did with them. It was fun planting them and adding little items such as plastic ducks and animals to create a scene in them. I had one of them on it's side sitting on a piece of wood that held it so it didn't roll. The others were standing upright.

We made a "overnight" bucket, pj's, tooth brush, etc. A second one has crayons, paper, coloring books, all sorts of activities

If you knit, crochet or craft, those would be great for keeping supplies nice and clean. Hot glue a pretty rope around that top dip/inset and run a length of rope over the top and hot glue on the other side for a handle to make porting easier.

You could use some of the ideas on hometalk and cut it off at that first indentation, smooth the edge and then use rope, twine, or rolled paper to glue/wrap about the whole exterior to make a small wastebasket.

Have small kids that like to collect treasures when you go on outings...add a handle and they can use it to collect and store all their treasures.

After taking off the lid, I laid a jar like this side ways on top of a porch railing, bungee corded it in place, put corn and peanuts in it and watched the squirrels come to dinner.

Remove the label and paint to match your kitchen. (they have wonderful paint for plastic now)

Paint a label shape in blackboard paint and use it to store any dry good food.

Put fake snow in it & a snowman or small Christmas trees & a string of tiny, battery operated lights. Paint the lid white. I have mine on a timer & the lights come on for a few hours every night. PREV
NEXT