Help me fix my flower decor!
OK So I bought these super cute flowers with mirrors in them for wall decor at TJ Maxx for a whopping 12$. Then silly me went on a very full plane with these guys in my carry on... which would have been OK, but then when I got to the plane, they didn't have room for my carry on, so they threw my bag under the plane.. and then two of the mirrors broke! Some of the rhinestones fell off but I will glue those back with some e6000.
Any ideas for what to do with my mirror-less flowers? I would love to be able to replace the mirrors but I don't even know how to start.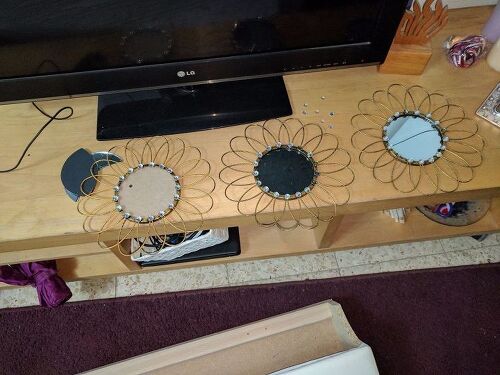 I would wither glue images to the flowers, or buy new mirrors and glue them in. Great find from TJ Maxx! Good luck!

Dollar tree has mirrors that could fit. You could also enlarge some photos and cut out to fit inside.

Lookup glass companies ,they will cut you mirrors to fit , since they are small, shouldn't cost very much.

Go to the dollar store or Michael's with measurements and buy mirrors as close in size as possible. You might get real lucky and find the exact size. Also check out re-use, thrift shops. However, if you don't find the exact size, simply glue on the new (smaller) mirrors (centering them) then simply FILL in the outer/empty gaps with beads, rhinestones, whatever. There are strips of rhinestones at hobby stores that you can cut with scissors that can be glued on the outer gaps. If they are real tiny and awkward, use a pair of tweezers for the job so you avoid glue on your fingers. This is a real easy job!

If you have the time to wait until the right size comes along I would suggest checking out all the dollar and discount stores for hand held mirrors then just break the mirrors out of the plastic handles. I would probably use my Dremel to liberate the mirror . Don't forget to wear eye protection.

If you look online you can find round mirrors (and other shapes) not set in anything, so you can replace the mirrors. If a replacement is a little too small, then glue something decorative between the frame edge and the mirror :-)

Those mirrors look about the size of a woman's pressed powder compact mirror. You may have a few almost-empty ones that could be popped out of their housing and glued into place in the center of your flowers.

You can turn them into picture frames instead. Cut to size any family photo and glue or tape it on to the circular base.

If you still have the pieces of mirror, you could glue them back in with just a tiny gap in between each & then grout (use unsanded grout for glass tile.) It would look intentional & funky & still be functional.

You can get mirror like contact paper.. then you would still have the reflection...measure the mirror and take your time finding one...ck dollar store, makeup mirrors auto stores...you will find what you want.

Awesome mirrors! I would see if you could replace the mirrors as others mentioned via dollar or craft stores. If no luck there sometimes glass shops can cut glass to size and it's pretty inexpensive then you could spray the glass with mirror glass paint. You could Mod Podge in pictures of family & friends or Mod Podge in some glitter. Break up the other mirrors more and adhere them in with E6000 giving it a mosaic look. If you don't have the mirror anymore you can break up old cds and do the same mosaic idea with them. Good Luck and I'd love to see what you did with them!

I would use them as holders for candles. I can't tell exactly how big they are but they could hold tea light or other small candles and use them outside on your patio or as centerpieces on your dining table.

Family photos? If they are a standard circle you can get mirror rounds at craft stores, or have a glass store cut one for you.

All the suggestions are great, but I would find some small remnants of satin red, white and blue fabric and wrap each color around a round piece of cardboard, then push one color in each frame. You might like that suggestion better than replacing glass.

I would buy round make-up mirrors at the Dollar Store or Wal-Mart take them out and put in your flowers. Make sure you measure just the mirrors.

Any glass cutting company will cut the mirrors for you and fit them if you still want the mirrors. It is not that expensive. I would look into the cost of that and if that suits you go for it. If not than you have a lot of great ideas here.

I love the all the comments! Years ago I had a small grouping similar to your flowers in a abstract swirl design. We had them hanging in my sons nursery. They were a mirror, a clock & the last one a picture frame. (Oh my goodness, my son will be 31 tomorrow, time really does fly!!)

auto stores have mirror fixer for rear view mirrors that break. it comes in a sheet and has adhesive on the back. tape the mirrors that broke back together and use them as a pattern you can either adhere the plastic mirror fixer to your broken mirrors and glue them back on your flowers, or put the cut out mirror fixer on the bare spot on the flowers. the auto mirror fixer is formulated to remain outside, so it will last a while. PREV
NEXT