Southern Traditions: Why Did My Grandmas Sweep Their Yards?
My question as I watched these grandparents was always, "Why are you sweeping your yards, and why is there no grass around your house?" We have grass around ours.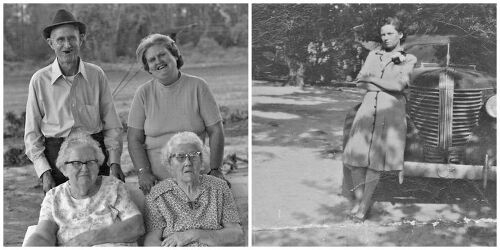 Today's post came to mind from seeing a meme on Facebook with an elderly lady sweeping her yard. Yes, sweeping the yard was a common thing back in the day. I as a child watched my grandmas and Aunt Fannie sweep their yards. I seem to remember them doing this especially hard on Saturdays. Back then chores had to be done and done well to get ready for Sunday.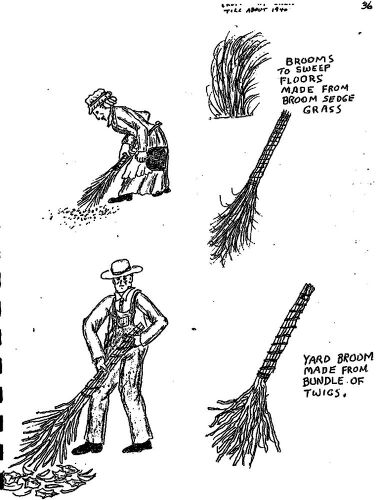 I was small but certainly remembered how hard they worked at keeping that yard around the house clean. If there was a sprig of grass coming up it had to be hoed up. There was no grass to be found in the yard around the house ever! That made me scratch my head for sure. We had grass growing around our house why did the grandparents not want any grass anywhere near their home? I couldn't stand it so I of course asked them. They said "Well, it keeps the snakes away and if a fire was to get out it would protect the house from burning down". I guess that settled it in my mind at the time at least.
The grandparents on the left lived in a home at one time that I remember had the heater room as they called the living room which had a wood burning heater in it. The kitchen had a wood burning stove in it. Those two rooms were separated from the rest of the house. Well when they moved into the home there was a long hall that connected the home that once was completely separated. In the olden days they were very afraid of fire and with good cause because those houses were built with as they called it "fat lighter" wood. In fact this very house I'm talking about burned down due to faulty wiring a few years later. It happened in a matter of minutes and they had family guests at the time so the house was full of people. We've always said it was a miracle all got out of the house safely. Thank God.
This memory caused me to search more to find out more. I came across the following drawing that is part of a booklet online and a very interesting one at that. Click on the credit below and read it is an interesting part of history and traditions.
The Life & Times of F. M Wilkinson
Memories by George!
I'm going back to read this booklet!
Excerpt taken from the booklet:
Brooms
Our modern homes have floors covered with carpet or the floors may be varnished hard wood or vinyl. The housewife cleans her floors with a vacuum cleaner, dust mop and stick broom. Her great grandmother swept her floors with a "straw Broom" and got down on her knees and scrubbed them with water and lye soap. The wood was bleached almost white.
She made her straw broom herself. She cut a bundle of "broom straw" and wrapped twine around about two feet of the butt ends and used the bushy ends to sweep with. The broom straw was found on ditch banks and unplowed edges of fields. It looks like a form of grass, about 3 or 4 feet tall with a stiff stem running most of the way up the plant. Grass like blades run out the sides of the stem and the top is bushy with fluffy seed pieces that float away in the wind.
Yard Brooms
She swept the fallen leaves from the yard with a brush broom which was a bundle of small straight branches with bushy ends cut from small selected hardwood trees or branches. They were cut about five feet long and the butt ends were tied into a bundle with wire or strong cord. Fan rakes had not been invented.
PREV
NEXT