Everyone in my house is making fun of this lamp - what do you think?
I gave an ugly gold lamp a makeover and made what I THOUGHT was an adorable, shabby lampshade out of strips of muslin. I barely had it finished when my sweetheart came home from work and the fun began...
He: "Oh great! We have a toilet paper lamp!"
Me: "It's not toilet paper"
Daughter: "It's closer to my bathroom than it is yours - I'll use it if I run out"
Me: "It's not toilet paper"
He: ***something I wouldn't repeat***
Me: "IT'S NOT TOILET PAPER!!!"
Oh, and the jokes just got worse from there.
What do you think? Is this a hit or a miss??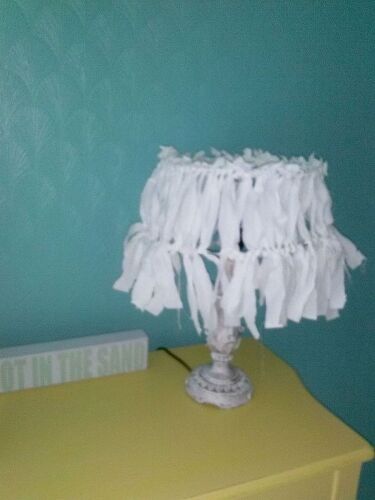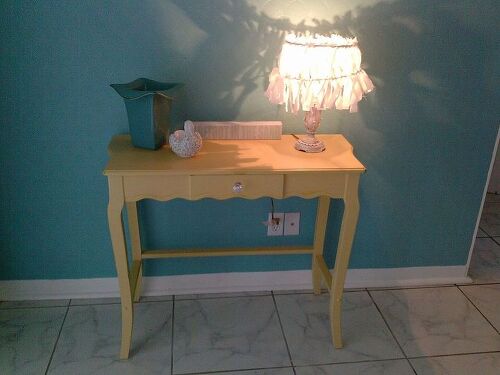 I think this is a really cute idea, but seems like it sort of missed the mark. Some suggestions: 1. maybe use a different color fabric so that the shabbiness doesn't get mistaken for toilet paper. 2. Maybe iron the fabric so it looks less shabby and more chic 3. Add short strings of beads to the ends to weigh down the fabric and add some color :) Good luck!

I think it is adorable. Maybe if you add a little bling like a few strands of silver and glass beads or somthing they would like it more...but I love simple and texture and I vote a hit as is...some jysr have no vision lol

Sounds like a convo I would have had with my hubs! I really like how the light comes through it but I have to admit, I did think toilet paper. Maybe layer in some colored fabric so it is more full. But in general...don't listen to a word he says ;)

Wonderful idea! More color, for sure...a print, maybe? How about shortening the bottom overhang to improve lamp/shade proportions?

I think it's really cute! If you'll use pinking sheers to cut the fabric it won't unravel on you so much, but, it is a good idea!!

Thank you all!! I thought about using some turquoise fabric I have leftover from something else, but thought I'd try the white instead. I think I'll add some of that and the bling is a great idea.....boy-oh-boy do I ever have plenty of beads! :) Thanks again for the feedback!

@Bethany P I like the idea and it looks like it took some time to tie all those pieces. Good for you. I do like the updated better than the original, the bit of color and shorter length make a difference. Beads would be so fun. What room are we talking about for placing? That is a consideration also, right?

Have been considering making some like this. The new bulbs are hard to read by, and lampshades are expensive. I will try this and see what the hub y says. I'm sure he will have an idea or 2.

Great idea , you had your thinking cap on .Maybe you can replace the muslin with pretty ribbons the color of your room or chiffon . good luck

Thanks again for all the feedback. Here is attempt #2 at this project. I trimmed the bottom to make it a little less shabby and added turquoise fabric and some clear crystals around the bottom (they're kind of hard to see in the photo). Better?

I like your redo very much. The turquoise gives more interest. I think if you add more fabric so it has more volume might be a good idea, too.

The idea works but it looks a little unfinished...like you need a lot more fabric...and trim off the strings. Pressing the fabric will help too! You are almost there!

Bethany, you have creativity. I have many friends who would not have the slightest idea what to do as far as crafting is concern. Your lamp looks great and most of all, you did it yourself. You can even bring it into the love season with a little red heart or something. Don't be afraid to show your pride in your work and continue to use Hometalk as your idea resource. Good luck!

I think it looks great -- ignore hubby and daughter (they sound just like mine would while teasing me)

Thanks everyone! I like it a lot better now - and I deliberately kept the fabric on it "scarce" because I wanted a very light shade that let as much light through it as possible (no overhead light in that room - so this is lamp #3). It's also more beachy, I think, with less fabric. I appreciate all the feedback and kind words!

I 'LOVE' both versions of your lamp shade..... and seriously not sure if the pic you posted in a comment is version 3 or not, but I adore it.

I appreciate the concept and the effort and like the second try better than the first, but it won't be something I'll make. Sorry.

If you could not afford to buy a new lampshade, I liked it, but if you can afford to buy a new lampshade, I would..

I think the problem is this shade is to big for this lamp, it needs a taller and slimmer base. I applaud your creativity, but the width of the shade is too broad for the base. PREV
NEXT