How can I paint an iron bath tub? And how to paint pink ceramic tiles?
I am remodeling a 1957 house. The only bath is a iron bath tub that is currently being used today. The floor of the tub has rough brown bottom. It is ugly! What can I do to make it new again and I don't want to replace it. But also in this bathroom the walls are covered in pink ceramic 4" X 4"tiles. All 4 walls are covered with this horrible pink tile. How can I paint over the existing tiles. I don't want to spend any more money on this bathroom.

Sincerly,
My ugly pink bathroom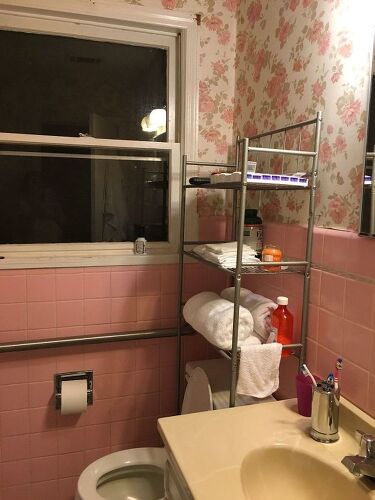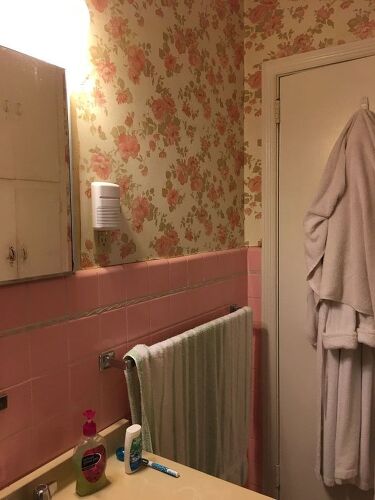 My sister in law would love it - you ought to see hers . . .




Have the pros come in and reglaze the tub - or purchase a do it yourself kit at Home Depot, Lowes, etc.




I have never painted bathroom tiles, so I can't help you there.




...or something similar, I'd highly recommend it. It totally transformed my gun-metal grey painted tiles.




Not sure about the bath tub but I too had pink tiles in my 105 year old home which I successfully painted. I used a primer for high gloss surfaces then followed with an oil based enamel paint. Worked great on the pink tiled floor as well. Good luck!

My house was also built in 1957 and also has those hideous pink tiles in one bathroom and yellow in the other. I was going to do a half demo in the pink bathroom to redo the pink tiled shower and floor and they wanted $10k. Ten thousand dollars!!

Don't paint the tiles! Pink tiles are really popular right now. You obviously have a computer or smartphone so go to the various DIY sites and search for pink tile - there are so many ways to tone it down and examples all over the internet right now. With the wallpaper, etc. it looks like too much - but add some grey and white, tan and white, or something to tie it in to the rest of the house and I think you'll like it. If you can afford to get a professional to reglaze the tub it's worth it. Even their jobs don't always last.

There are many tub tile paint kits that can be sprayed on both the iron tub and tiles ,kits from any Home repair store or look online to order . The fumes to these can be pretty severe so use fans open windows etc . They work well though I'm not sure about longevity . Had a home repair guy do them and have had to touch up the tub that hadn't been used 6 mo. Later . (Redoing estate house) . The bathrooms were mauve and blue. Both were redone white . Turned out very well.

Take your time as always prep work via instructions is essential.




I use tub and tile paint spray cans from walmart on the old residences on my property. Great results. Trying out the new all surface spray paint in a lilac purple on an avacado tub. Looks good. Will see how well it lasts. PREV
NEXT