What color for the front door?
Grey and white paint. Natural railing.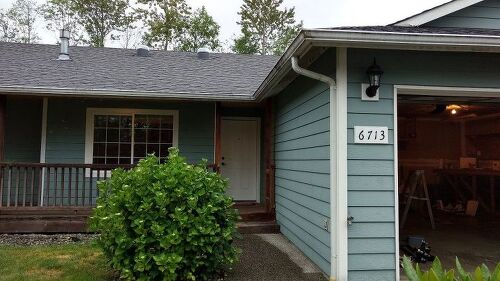 Red is beautiful, plum, turquoise, yellow, navy, black, check a color wheel and also consider your interior accent colours

Coral or a beautiful blue. And I don't see a light next to the door. You need a bright light, plus a light that is motion activated. Trim the bush back by one third. You have a very attractive home. Best wishes 😇

Nice home! Blue, yellow, coral - almost anything will work since you have a beautiful classic paint job on the house. Is there a porch light? If not, that would be something to install too.

I think a red door would look great with the grey and white. I also agree that you need a nice porch light

My vote is for a beautiful bright yellow...not school bus yellow or one with green in it...but a bright true yellow!

red, burgundy, turquoise, brown to match the railing====With such a neutral house color, the choice is vast !

First, I'd relocate that huge bush blocking your beautiful home's view. I'm with the Warm Yellow for a welcoming door color. Best of luck.

Red Theatre paint color SW 7584 by Sherwin- Williams. My daughter used this on her grey house with white trim and it looks geat!

Glad you said the housenis gray...looks bluish in the picture. I love the combination of a dark green alongside the gray. It gives it a warm, quaint, inviting feeling! Please post whatever color you decide upon.

I agree with all suggestions except brown and black. Although I have dark doors in my house and love them, I think on a front door it often looks like an open door or gaping hole. Colour IMO is definitely the way to go!

Thanks for all the suggestions. I am leaning toward Red or a bright blue. There is a can light in front of the door that we can change out to a hanging fixture. The hydrengia bush will be pruned back after it blooms. We have no idea what color it is. That may affect our door color.

Do something just a little different than red and look for a rich, eggplant/aubergine color!! It is SO classy and eye catching and will blend with either pink OR blue hydrangeas. In fact, it will "pull out" the colors of the hydrangeas even more. Go for a color that not everyone has! Your house is very cute!

I'm SO glad you liked my suggestion! You will have to send a photo when done. If you have room for a chair at the front door, you could paint it either white or pale gray then look for some material that picks up your front door color and make an easy pillow for the chair. PREV
NEXT