What to do with this headboard?
i purchased this wooden ugly headboard at a thirft store,I want to put it in my lake cottage. Any suggestions had to make it look fabulous! It is king size, this is what I have in the room currently, a to small headboard.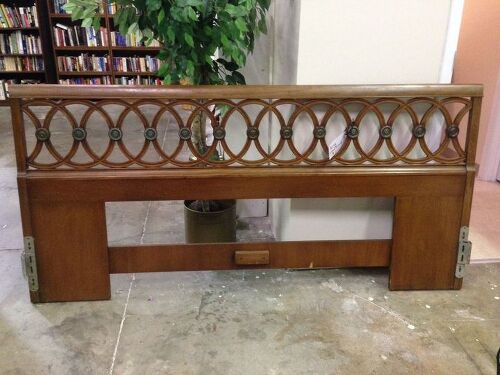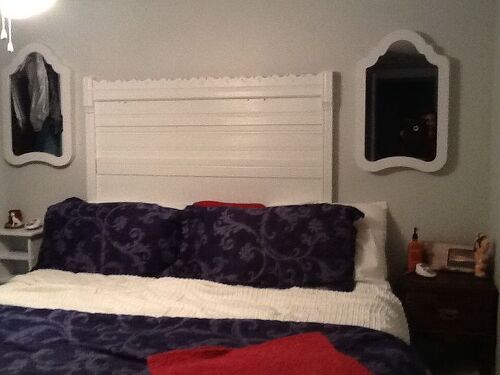 It's lovely! What about jewel coloured glass behind the fretwork, paint the whole of it in gilt and add enamel jewel colours to the button details - it'll bring out the Arabic feel to your mirrors :) Think Alhambra!

I love the the design and would probably paint it and leave it at that. The design would make a real statement. It would go with the current mirrors if you painted it white. Just my own idea, but make it your own!

@Penny Hughes White. french country. look at ones on Pinterest.. you can do this.. I think it is kind of short tho, when you put pillows on it you might lose it,, just a thought. I personally like the white one and would remove the mirrors and center the existing headboard and put white shelving around it.. Just a thought.If I lived by you I would buy the white headboard from you if you did not want it.:) Let us know how it turns out. I mean shelving top and sides.. would look fab!

@Jackie Golladay hi,I like the idea of painting it white. I am trying to go for a modern- shabby cottage look. I have to have something where the mirror is on the right because of a fuse box that sticks out. I thought I could mount the headboard higher on the wall,maybe? And with the one in there now I want to make a bench for my kitchen,see the picture, looking for a new table.

The table I have now is 36 squared. I think one that is white,maybe more of a rectangle, would like better and also a bench under the window. What do you think?

Very pretty! Since it is for your lake cottage, I like the idea of painting it white. Maybe some of those pretty details you can highlight in a litle gold like the circles, or even gray if you prefer a weathered look with the cottage style. Someone mentioned that it might be a little short and lose the details behind pillows, good point - maybe it can be mounted on the wall rather than bed frame and then you can mount it a little higher. Great find!

Are you keeping the same bedding? When I think beach cottage, I think of watery shades of blue. I can envision using white linens and painting the headboard a pretty shade of aqua, or linens in an aqua print and painting the headboard a slightly darker (or lighter) shade of aqua pulled from the bedding. You could possibly even paint it two-toned... the main body of the headboard aqua and the inset circles white, or visa versa. Of course, solid white would be great too but since you already have the white mirrors, a little color would provide a little variation and visual interest on that wall.

I actually found a Henredon king head board similar to that. $10 at H4H! I was lucky to find a bench at another reuse center that is EXACTLY the same length. I'm going to attach the headboard to the bench, probably paint them and have a great bench with a back for my own back porch. So it doesn't actually NEED to remain a head board. :) I'm also thinking sidelight for a door. Hmm.

On HGTV a while back, I saw them add fabric to the back of a similar headboard. It's hard to visualize, but it looked beautiful when it was finished. They painted it first and I think the fabric was padded.

I found a headboard exactly like this one at an Estate Sale. I painted mine in Annie Sloan Chalk Paint - Provence. It was gorgeous! It sold the first week to a client for her beach house! Good luck @pennyhughes!

I'd paint it a white chalk paint and maybe use a soft blue or green for the detail pieces that connect the rings. Sharon@Lilikoi Joy's suggestion of mounting it higher on the wall is great!

make a fantastic ornamental mantle over a fire if a shelf was added and a long thin mirror behind the ornate bit at the top

I assume you will keep it as a headboard. I would paint and distress it if you like that look or paint it and perhaps use a metallic paint on the round medallions to bring them out. Another idea is to use two shades such as tan or grey for the frame and white or cream for the circles. Regardless, I LOVE it! Great find!

Wow, what a lovely pattern, I like it. I'm sure you'll get tons of suggestions. People are very crafty here. But good find and can't wait to find out what you did with it.

What a great find. Geometric designs are really getting hot again and this circle pattern has so much potential. You mentioned painting it in a metallic paint and I think it could be beautiful especially given some of the new metallic mediums and colors. There are some new metallic looks to consider. One that I like looks like both silver and gold. It is sometimes called Champagne but then on some pieces you can tell it is actually a technique using both silver and gold. You aren't limited to one metallic color these days. There are beautiful examples of silver or gold used with bronze. If you can, look at some examples in a furniture store or if that isn't convenient, do a search on "metallic furniture finish" and you find lots of examples, both DIY and furniture manufacturers. Stein World, Pulaski, and Horchow are some of the furniture companies with some beautiful finishes. I'd love to see a photo when its finished.

This is NOT an ugly headboard! It is very nice looking and 1000% better than what you have in there now! Paint it and use a wash to compliment the other colors in the room. The idea of using the old headboard for the back of a bench is pretty good...can you use it on another bed somewhere. It looks like a nice old headboard. If you want to add fabric behind the rings, that would be an interesting look...I think that you found a great buy at the thrift store.

paint it black and use silver gilding wax on the medallions or do a mutli tone like ASCP coco, graphite and old ochre it would look fabulous and still using some gilding wax

I would use metallic paint to give that beautiful design some sheen. Martha Stewart puts out some really pretty colors. I would use a contrasting metallic on the ornamental pieces connecting the circles. What a lovely piece!

It is an awesome headboard, I would tape off the little metal pieces & paint it. Paint can't do wonders....

Paint it and add fabric with a lot of batting behind the fabric so it billows (peeks) through the openings.... Easy diy project!

Chalk paint is great. It looks wonderful and has afairly easy application. The white gives a very quant cottage feel. If youwere looking for a more advanced DIY, there are a ton of stripping and woodbleaching tutorials online. That would give a weathered and beachy feel, makingthe metal accents a real statement. Good Luck. Jovana Ferra CertaPro Painters of Southern Rhode Island

since it is your lake house, I would paint it with chalkpaint..maybe a dark cream, then wind pliable branches and twigs and grape vines throughout the circles, making it look more rustic. cheri dittler

Weirdness! I have this very same headboard, it's an old Drexel piece, very well made. I painted mine a gloss white and it is beautiful. I'd really like to do something else with it though someday. The medallions come off, you can just take them off to paint.

If you would like to use it a back to a bench in your house or yard, paint it with Rustolem paint and build a box seat with cushions. I try to think out of the box on things like this

If you are going to use this as a headboard, I would paint it white; but remove the ornaments connecting the circles first. After painting, replace them. You can even paint the ornaments a metallic color so they pop out. Please remove the mirrors on eaither side of the bed, they would crowd the wall with the new headboard. I would love to see what you finally decide to do with it. Good luck. PREV
NEXT