How to Remove Melted Plastic on Stainless Steel?
My daughter decided to make popcorn late one night and turned on the wrong burner of the stove (All while not paying attention to what she was doing and talking on the phone). On the back burner sat an empty stainless steel pot that was left with tea bags in it and a very large black plastic spoon. After a few minutes the smoke alarm went off. She realized there was a burning stench of plastic and saw the mistake she had made. The tea bags were history, but the plastic spoon all melted into a puddle at the bottom of the pot. These were a very expensive set of pots and pans that can no longer be replaced, and I would hate to have to throw another pot she destroyed away. I have scrubbed the areas around the burn clean, but the plastic has not budged. I have even tried to scrape it up with a sharp edge, but don't want to run the risk of injuring myself or breaking a knife blade, screw driver and damaging the pot. Can anyone give me any ideas on how to remove the plastic from the bottom of the pot? Any help would be appreciated!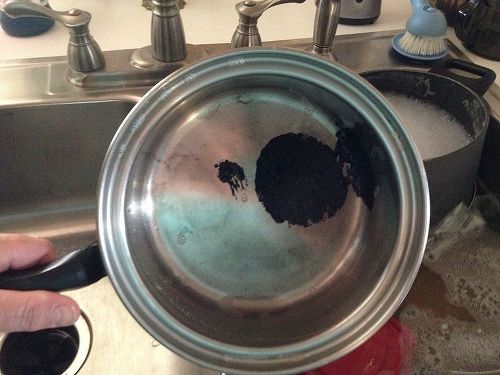 I had plastic melted onto one of my oven racks. Put it outside for a couple of really cold days, and was able to break it loose. Prior to that, I couldn't even scrape it off. Once the heavy stuff was off, I was able to scrape the rest.

You might try heating the pan until the plastic is softened and then scrape with a paint scraper with a new blade in it. Hope you can get that off!!

Usually for anything burnt to the bottom of a pan, biological soap powder dissolved in water if left for a day or so will get the burnt stuff off. I don't know if it would work on loosening the plastic though. If all else fails, it might be worth a try??

This reminds me of one Christmas where a friend tried to steam a Xmas plum pudding in a saucepan and let it boil dry. Result was red plastic bowl, mixed with Xmas pud stuck to the bottom of the pan! I think she threw the pan away!

I would suggest heating the pot on the outside BBQ grill then using heavy gloves use a old chisel to scrape the softened material off. You can also use a propane torch to try to burn what is left off. In any case, the pot will always have a stain on the bottom now that is has had this happen. But you should be able to make it serviceable once again.

I just read an article here where oven grates came out beautiful by enclosing them in a plastic bag along with 2/3 cup of ammonia. Perhaps after freezing the pot and removing the bulk of plastic the stain can be removed using the ammonia method. Worth a try.

You might try this. Put come Cream Of Tarter in some water inside bring to a boil put on lid and let sit for a long while. If that doesn't work Oven cleaner is what I use all the time on My Salad Master stainless steel cook ware. Use it on anything stainless steel matter of fact. Also use it on all corning ware glass stuff. Yes I know it is toxic. I cover my nose , spray and run for the hills for about 20 minutes. It works always. I'd also warm not get hot on a low burner to remelt. Maybe set on a heater if you have one. You could also contact maker and ask them.HTH

Possibly start heating the pan enough to get the plastic to the melting stage (but before the toxic fumes stage) use your range hood fan to help control the smell, then add soapy water and see if it turns loose .. bring the water to a boil even to try to dislodge the plastic... salt is also a good ingredient to soften cooked on problems

Yeah, I was thinking that you'd have to try some heat to get it back to a soft stage. and then maybe ruin another kitchen item scraping it off... let us know what you have some luck with

1/4 cup baking soda 1/4 boiling cup white vineger let soak till all bubbles disappear the use a copper scrubby to take it all off

Sometimes people think of cleaning as using some magical mixture of product to remove something hard-to-get-off, but sometimes, you just have to physically remove it. At my cleaning company, I use not only abrasive cleaners like pumice stones and baking soda, but a good old steel wool and my hand held razor blade for scraping. I know you might not want to damage your pan, but if you consider it already damaged unless you can remove the melted plastic, I would suggest using a razor scraping tool to remove the majority, then steel wool, and see what else might melt off with heat as well.

I have no clue how you would get the burnt plastic off, but I use the powder cleanser for my stainless steel pans, such as Cameo or Bar Keepers Friend...if you ever get the burnt plastic off....I think the Cameo or Bar Keepers friend will take out the stain...lets hope and cross our fingers!! I don't think the handles would last under too much heat, good luck!!

You could use a heat gun on it to heat up and scrap the pan with a putty knife and if you use a extension cord you could do it outside weather permitting and that way your home will not get many fumes in it, Then after you get as much as you can off the run it in a automatic oven cleaner built into your stove. I have cleaned some stainless steel items in my oven and they came out a little dull in color but I could continue using them for cooking you probably should remove your handle off the pan before you put them in the oven. Good Luck Wish You Well!!

Well, I tried Cynthia H's idea and put it in my freezer. I added a little water to the pot hoping that when it froze it would freeze in between the plastic and the pot and it worked to almost get it all off. Then I filled the pot with water and let it boil for a while. While this wouldn't have removed all the plastic in the first place, it did help to soften it without the fumes bothering me. I then scraped it off and scoured it with steel wool. There are still a few flakes in the bottom, but I think I can scrape them off as time goes by. Thanks everyone for your ideas!

I have done that way too many times! Vinegar and baking soda will work every time! Mix in the pan and let sit for a while-I usually let sit for half an hour to an hour, depending upon the damage I've done. I usually keep a plastic putty knife next to my sink. Does NOT scratch my iron skillets nor my new teflon pans. Use the putty knife to "chip" off the big pieces.

Heat will get it off. Have to heat it up to where the plastic starts to get soft then scrap it off with a scraper.

I just had that happen to me. The simplest way to get melted plastic off a fry pan is to put it in hot water with Dawn liquid dishwasher soap. I soaked it for 10 Minutes and the plastic came off with my fingers in one solid piece. No harsh chemicals or anything. So easy. Please try

I did this when trying to sterilize a pacifier. I found a paint scraper to be the best tool for scratching the plastic out. It worked great. Just don't recommend it for non-stick coating. PREV
NEXT