Do you share views of your garden to encourage others to try it?
I live in a rural area....small towns/ farms, ,- no garden tours here,,,I love to garden with easy care plants , perennials and shrubs, that once established do pretty good on their own. My experience in vegetable gardening is limited but perennials and shrubs...this is my passion, just love to see the changes each and every day from April thru Nov.
I am considering an "open house" advertised locally to allow people to come one weekend, (two days maybe ), to look, ask questions, and become acquainted with the plants that work here in zone 6B and if there is interest, return again to see the gardens in the different seasons besides the peak May-June time. I am a Master Gardener intern currently ,so not sure how that can be used, I tried labeling my plants last spring but my permanent marker labels faded away. so Gardeners, has anyone done this , and how ?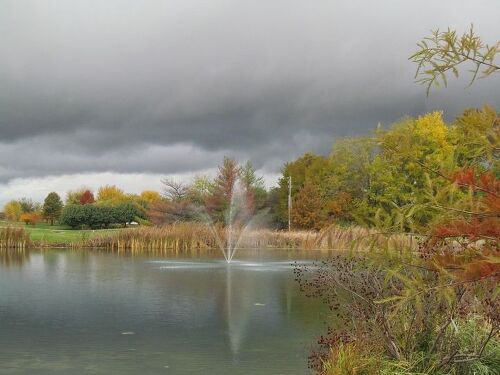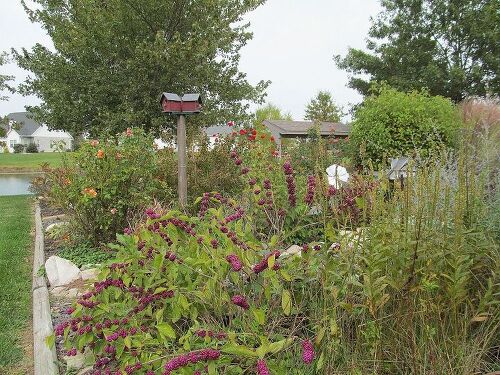 I live in the suburbs, in Zone 8 in Vancouver WA. I've had my garden open a few times. it's nice to share your labor and love with others and to maybe inspire others to garden. I would limit the open time. Add should read open garden from 10-3 Sat and Sunday expl. You want your guests to be in the garden during the most comfortable time of day. If the garden is open think of these issues like use of bathroom, liquid refreshment (water) places to sit. Markers the ONLY thing that won't fade is a paint pen or a laser printer (some specialty garden shops sell labeling pens) but paint pens can be purchased at a craft store. If you are using a paper label it has to be a polyester garden label. I print mine on a laser printer onto waterproof labels and they last for years. these labels can be purchased on line. If you want to hear more just ask away.

You have a very gorgeous garden! It looks so natural, and I can see why you would like to share it. From my experience, people who love plants never get tired of seeing them and how you have used them in your landscape!

Do you have a small town newspaper? I'd check to see if there could be others in the area who would like to join you. I love garden tours.

I don't know if anyone would want to see my garden--it's largely wild flowers that we love, but others consider "common." However, last year I shared pictures of my morning glories on Hometalk because I was building various trellises for them.

I saw somewhere-something... you know how that goes. If you used a thin metal, and the embossing letters or punch letters to make markers. I was going to try my used canning lids this year. Metal coat hangers for a holder. I thought if you spray paint the lids, and punch or drill a hole, loop the very end of a straightened coat hanger thru that hole.I think it will hold as a stake. Hadn't thought about the marker fading. But since you have mentioned it, I say spray on a clear coat? Beautiful garden!

Oh my, oh my, what beauty. You certainly have manifested your love. It would be wonderful to share your garden with your neighbors with an open house...what joy!

I am hoping that by opening my gardens up to the public, I can attract more people to try a little bit of this, and make new friends who will grow to love it as much as I do, I formally lived in a town with a much smaller shaded lot 9 years ago, , so having a acre to play with is bliss,,,,,,,,

I live in A place Called Palmetto Bluff and they encourage only to use the plants that already exist in the area everything sustainable as possible. So i think what you are suggesting to do is great Have a lecture of some kind at your home or a community center is a great idea ! Im a blogger on Nature Decor,here is a post i did on Sustainable Ideas for your garden http://www.simplenaturedecorblog.com/sustainable-ideas-for-your-home/

Using Rain barrels to capture the rain to use for my plants and flowers!

My garden in New York was twice open to the public as part of the Garden Conservancy's Open Days program. It is a great experience for the host gardener, and for those attending. You might check with them. They are having an "East St. Louis Region" Open Day on April 12 and June 7. Taking on all the publicity on your own would be a challenge. It's enough work just getting your garden ready!

I think that sharing your garden is a wonderful thing. Just consider all the things it will take to accommodate people. Are you on a busy road? Is there space for plenty of parking? Will you have someone to direct/stop traffic as needed? There are lots of things to consider. If you decide to do it, I wish I could stop in and I do wish you luck!

@Carla Haselhorst many people probably want to come see your garden and are afraid to ask or impose. If you have drive by traffic you can put out a sign with open garden times, you can run an add in the gardening section which posts times for a few weeks like every Monday in June from 10-2. We have several garden clubs in this area and I sent them an email addressing that. That seemed to work. We have a column in our newspaper titled "Ask the Gardener", perhaps you could do that.

Plant tags are the biggest challenge for public & home gardens. We found out not to waste $$ on cheap tags that constantly have to be replaced. Do it right the first time & invest the $$ in a good tag. Since we need to make several thousands of tags we bought our own metal engraving machine that cost about $3,000 plus materials. It is the same kind of machine that some pet stores use. Most pet stores may charge $4 to $8 for one tag. The materials for one tag only cost them less than $1. This pic show the biggest tag it can make. We mount it on an aluminum bar that just pushes into the ground. For more mature trees you can screw it right to the trunk without hurting the tree. A spring can be attached so it compresses as the tree grows & doesn't have to be adjusted very many years at a time.

I don't want to discourage you from letting people see yourgardens – but a word of advice from experience if you do this on a regularbasis. We started as a hobby garden which got way out of control. The first 2yrs. we allowed people to come & walk around our gardens on weekends. Whenour homeowners insurance found out they immediately dropped our insurancecoverage. Just a warning you may want to consider. If anyone got hurt you willhave a big lawsuit on your hands. We immediately converted part of the property to a LLCBusiness which also was a problem because no regular insurance co. wanted tocover a business & primary residence property on one policy. We now havetwo different insurance co.'s. The one covering our business is costing usthousands of dollars a yr. in premiums. If you are in business, even with goodinsurance, one day someone will probably sue you. I know this may soundnegative & a bad attitude but,,, Someone once sat on a small stool lessthan 12" high & fell off & sued us, yes they won even though we werenot at fault but because it happened on our property. Our society has becomethis way because people & lawyers see $$$$. We are the only Public Botanical Garden &Internationally Accredited Arboretum in Montana. Actually we're one of only 3internationally accredited privately owned Int. Acc. Arbs. in the U.S., notconnected with a university agency. We started our gardens in 2000 & nowhave more than 30,000 people from all over the world touring our place in our 6short month season. Mostly because of the 1,000's of rare plant s that willgrow & even bloom in a Zone 3 region.

I am so jealous, your garden is awesome, I fight moles and gophers constantly, some times I think they are winning but I keep trying I love yard work

Our Master Gardener's group has had a few members (and area residents who are friends of our group), offer a garden tour one day a year. It is really great to see what others are doing but it also takes away the change in season aspect of the viewing. Why don't you try and organize a tour within your own group first? You may also learn from other peoples experience and knowledge. Your property is beautiful!

I did bring it up early last summer at a meeting. - no interest ...This is a pretty independent bunch and most grow vegetables and really not interested in much else. Plus the new moderator handles 5 county offices in all agricultural forms and only comes biweekly here. So totally different here from the urban communities I don't have any neighbors or friends that garden much. So hoping to meet others

Good for you! Starting at 1 day or 1 weekend is a great idea. I remember when I first wanted to do it I was a nervous wreck, but all went well. I had polite visitors. Only one person felt all the pedals on the flowers!

What a wonderful garden - love this wildness! Do you have any garden clubs in your county? Maybe you could organize one? Have you Goggled Wild One's to see if there is chapter near you? How about the County Extension services - do they have a spring plant sale? You could go to the plant sale and strike up a conversation with others there to find a gardening friend. Is there a university or botanical garden anywhere in your area, or within an hours drive? Call them and ask if they have any sources you can tap into. I promise you if you look hard enough/long enough there are gardeners out here waiting to be discovered. (I am a former newspaper reporter and this is how I found sources-persistence! and later I funded and owned a Marketing agency.) Try to find a local reporter looking for a feature story. Contact the news paper and tell them you are starting a garden club and are having a FREE garden tour and are wondering if you can get a small feature article or photo in the paper. IF NOT is there a local shoppers guide or weekly where you could write and submit your own article? Submit LOTS of photographs of your garden to temp them.... Good luck!

Your Garden is absolutely Beautiful, we most recently moved (early) into our retirement home in Antioch, IL and have been slowly working on our garden. Would love to join a Master Gardening class to learn more. I have a long way to go to have a garden as lovely as yours. Thank you, for your Inspiration, it is Lovely.

Thanks for your reply. I am getting the emails from the St. Louis wild ones group about 60 miles away I haven't gone to anything of theirs yet but I will contact them. I did try to start a garden club years ago with no success and there is one garden club in the area - more indoor social- then outside gardening I will keep trying ...

I wasn't part of a group tour. I just decided to invite the public into my garden. I do belong to a few garden clubs and am a member of the Master Gardeners. I do have an official Daylily Display Garden. As I said I invited other garden groups. My next step it to put an add in paper perhaps at the end of this summer.. PREV
NEXT