Ideas on what to do with this beauty!
I rescued this beauty from the curb yesterday. I would love ideas on what to do with it, paint, stain etc. I do plan on selling it.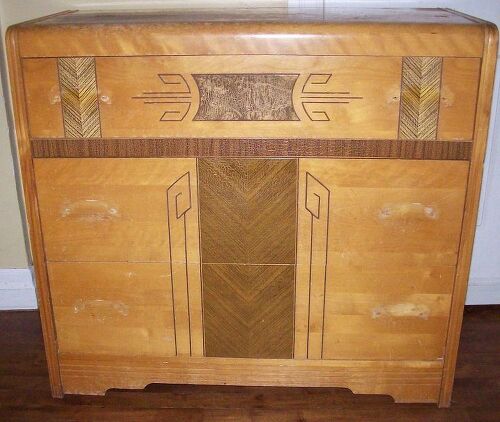 What a cool piece! I'd go Egyptian with it - Ebony Stain on the chevrons so the wood grain shows through, Ivory paint on the body with dark teal and gold accents in the details like those amazing collars the Pharaohs wore. Hobby Lobby has some neat handles… maybe find some with an Egyptian flair to go with it.

I love. I would stain as well, I don't know about Egyptian but definitely highlight the gorgeous inlay...

I love waterfall furniture! Rarely do you see blond pieces. I'd clean it up, re-varnish it if needed, search for some Bakelite replacements for the handles, unless you have them and just took them off, and then sell it.

Thank you ladies! And thank you Becky, I had no idea it had a name. Sadly I dont have the handles. Would you try and re-stain the chevrons? It looks ok in the photo but up close there is definitely some age.

@Lynne, I'm always reading articles and web pages about different styles of furniture. My favorite is Mid Century Modern. Loose veneer should be fairly easy to fix if it's not too large of an area. Slightly lift the loose veneer and fill the area between with wood glue. Don't over use the glue. A little goes a long way. Place a plastic wrapped heavy object or book on top for a few days until it's all dry. I'm adding a link for ways to repair the watermark, I've never had the need to do this so I can't tell you if any works better than the other though I've heard of using mayonaise before it wasn't mentioned. http://www.rd.com/home/7-ways-to-remove-water-rings/

It reminds of art deco period, I'd try to salvage that and just sand and stain or paint in a espresso

I think I would paint! If trying to sell painted pieces are very popular right now! Good luck no matter what you decide on, would love to see the final product!

I have a dresser similar to this one. The handles are curved, and the wear and tear makes it even prettier. I've long thought what I would do with it, but, for now, just enjoy it polished up a bit. I like the different shades of wood they used. A good coat of wax might surprise you. I'd go with a dark wax if you want it darker.

It is an art deco, waterfall style and needs those handles. Sometimes you can find them cheap at flea markets or antique shows, but measure where they were and if there are holes where they were, get a good measurement there too. Be warned that waterfall style was all veneered, so don't let this stay wet long. And sand before you paint. Can't wait to see it finished. I still like the Egyptian idea the best!

This is a beautiful piece of furniture! Personally, I would not paint it, to me that would take away from its beauty and value. You have a lot of great recommendations here, bakelite handles would look awesome and be period appropriate as some have mentioned. I've heard vinegar is good for repairing water marks and scuffs, but I've never tried it myself. I'd love to see what you end up doing with it! I'd love to find something like this myself.

I would NOT paint it. Try Old English Scratch Cover polish...may take several coats to get the colors even looking. It the top is really damaged...just put a pretty dresser scarf or table runner on it. I feel painting it would just ruin a party of furniture history.

I am a huge proponent of painting old furniture, but this piece is different--I would refinish because the details are too pretty to hide.

Hi Becky, Old English has one for light wood & one for dark wood. I use them on my old antique dressers & it works great for covering scratches.

I would not paint this particular piece.......it reminds me of my grandmothers beautiful bedroom set from long ago! I would simply clean and use the Old English for lighter wood, and whatever the cost, replace with the original Bakelite handles and enjoy!!

I think it is screaming Southwest theme! bright turquoise, yellows and muted reds with the natural wood color as is....just do the inlays, trim, hardware and maybe the interior to pull it all together.

Pure lemon oil (no petroleum distillates) and 0000 steel wool. Apply the lemon oil and rub very lightly in the direction of the grain with the steel wool to remove the fine scratches and clean the wood. It's beautiful just the way it is and it's classic 20s/30s furniture.

I would cry if you obliterated the Art Deco designs in the wood. There are plenty of folks who would love to have this piece in it's original form. Get some of that Amish furniture restorer and see if that solution might enhance it's appearance enough to leave painting or re-staining for something less beautiful.

I would beg you to leave it it's current condition. Get some watco rejuvenating oil, in natural color, and rub the oil into the wood. It will make it look incredible and remove almost all of the imperfections. Don't try to hide the fact that it has lived a life as this is part of what makes it so great. Lloyd Martindale www.CkCustomRemodeling.com

I have "refreshed" furniture before and that is all this beauty needs. If there are minor surface scratches, you can just use some oil (either lemon or tung) and some 0000 steel wool in the direction of the grain to make it look like new again. For deeper scratches you can use old english (might not color match) or get a gel stain from the paint store and touch them up before you refresh with oil. Such a cool save! You are lucky! And I agree with others about painting. I love chalk paint and shabby chic style but this one stands on it's own without being painted. :) Have fun with it! If you must paint something, paint INSIDE the drawers with a bright color :)

This is a true piece of Art Deco. I would ONLY refinish. No paint. This is a classic. It would be a tragedy to cover the detail.

I think that everyone has the right to do as they want with the things that they own, but that being said it would be a shame if that piece was painted. It's beauty is in the play of the wood grain with the lines of the piece. If you're going to sale it any way I think that you shouldn't paint it. Congrats! on your great find.

Thank you everyone for your wonderful ideas. I lost the bid on the handles :( but I will find more somewhere and I promise not to paint her.. not this piece! Though.. I do love paint, I just don't think it's right for this piece. Not sure how I am going to fix the odd chips of laminate missing from the sides though.

Lynn, what a fantastic find! I can't believe someone kicked it to the curb but what luck for you. I, too, would cry it this was painted or "refinished" which would remove all the marvelous history of this wonderful piece. I can't tell from the photo if all the veneer is in tact or not but if that is what is missing on the sides, there are lots of info on how to deal with it as well as whatever other problems it may have. Can't offer any suggestions since it is an area that we can't see. But there is some really good information (just wish I could remember where I saw it) both on the internet as well as some reference books on furniture restoration. I have one book that was written by a restoration pro yet it is easy to understand and the photos are drool worthy. That said, just take your time, and put on your smoking jacket with the satin lapels, grab your martini, and go meet |Gatsby on the terrace.

@Lynne I really think you should follow through on the idea of letting your neighbors know of your "interest" in those items for which they no longer have a use. It would save them a needless trip to the curb as well as prevent the possibility someone might offer said item a home before you get it. Let them know you would like a "right of first refusal". PREV
NEXT