Vintage or Modern Kitchen
What's your personal style? Do you prefer vintage or a more updated modern look?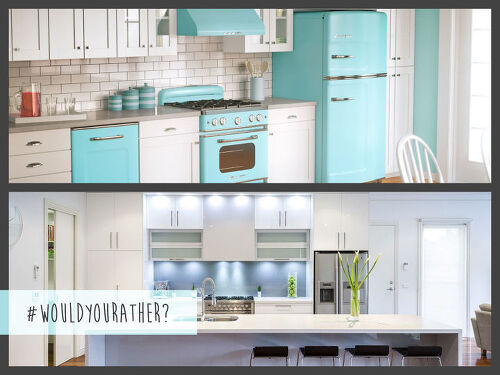 Though I am absolutely crazy over the aqua appliances in the top kitchen, I wouldn't choose either of these kitchen's. Both have way too much white for my taste. Our kitchen is a mix of both. Old: Warm reddish brown maple wood cabinets in a shaker style. One side has a bit of the look of a Hoosier style cabinet. The corner sink has a hutch like cabinet above it with open shelving on either side. And the other side has a buffet hutch look. New: Though the cabinets were designed to have a bit of a furnished look with a modern island included, they are all built in. I also have modern appliances.

I tend more towards eclectic- I'm not vintage and anything beyond California Chic is too cold for me!

A mix of both and other styles that draw me in, not necessary labeled by any name - just as long as it is eye-catching to me. :)

Red appliances with hickory cabinets or green appliances with ash cabinets. White subway tile backsplash would go with either it would depend on the floors. If the floors are dark them light colored cabinets visa versa if the floors are light.

I love vintage, that vintage isn't quite the vintage I love though. That all looks new with no restored or recycled old stuff at all. PREV
NEXT