Reddish leaves on new knockout rose bush
I just planted three of these knockout rose bushes around my mailbox 3 weeks ago. I noticed that the color of the roses is lightening from a bubblegum pink to a baby pink color and not producing many blooms. Some of the leaves are also turning red. Any suggestions? I am watering that area quite a bit, as we just had new sod laid a few weeks ago...could the roses be getting too much water? Thanks in advance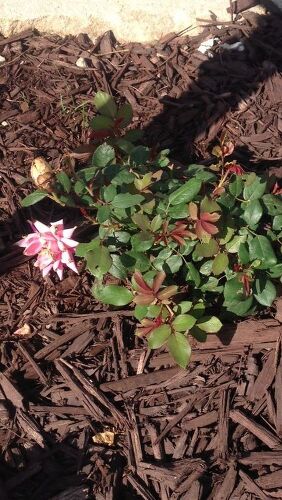 Red is good...new growth...will bring new blooms in time. Actually surpised the one already flowered that fast, was it budding when you planted?

They will take a hold and come back to the original color after getting over from the shock of being planted. Like Tanya replied red is good, new growth. You can probably cut back the watering to maybe twice a week or so. I planted the this one (the darker pink knock out rose) last year and look at it now. They are easy to grow, so relax and enjoy.

Everything is fine with your roses... that's just the color of new leaves. As far as your blooms fading, they will do that as they get older and eventually fall off. Your plant is functioning normally ;)

All appears good with your rose. If you drink coffee, work some used grounds into the soil and.or a banana peel. Great sources of nitrogen and you'll be amazed at the extra blooms you'll have.

My rose bushes were showing signs of red leaves when it was so cool this spring. They are absolutely covered in blooms now and are beautiful.

Yep! Red leaves mean they are VERY healthy! I have a dear friend who raises them and she said absolutely you want red! It's sort of like Red Tip Photenias, we have 6 of those on our property!

What worries me is you said you planted three around your mailbox, these knockout roses get pretty big and bushy. Make sure they are not planted to close.

Thanks! We spaced them similar to our neighbors, who have three knockouts around their mailbox... their bushes are much larger than ours, but they have lived there for 3-4 years.

i work in a garden center and my boss noticed all our new roses in a recent shipment had red leaves. he threw them all out without checking to find out if it was natural or not. found out about the next day. made me ill.

It is hard to believe someone in a garden center wouldn't know that was new growth or at least have the common since to ask someone.

i'm afraid it's people like him that make customers doubt that anyone at lowe's garden center really have any plant knowledge.

At the very least he should have had a brain enough to LOOK up the plant name (it's listed on their UPC code sheet, I worked retail for over 12 years) and he could've easily discovered "Oh, this plant, red leaves means NEW GROWTH! A good thing!)" Duh!

Sometimes newly planted plants will slow down on blooming for awhile. It will get better as it gets more established.Epsom salt was a good tip. New leaves being red is natural in many roses.

I have Spirea Japonica and Inkberry Hollies and Soft touch Hollies shrubs and I simply break open my tea bags and spread 'em out on the roots and then just simply toss out food scraps on the surrounding ground. Best compost in the world. Instant in 3 days!

I think you should do some research before planting. The red leaves are new growth and the bloom color is new flower then fades as it dies.

Your rose is trying to establish itself and develop new roots in its new home. When I plant a new rose, I take off all the flowers and continue to take the buds off as the rose can't do both well....bloom and produce good roots. There's always time for flowers, you want a great sturdy plant first. And, yes ease back on the watering if you can.

Sounds to me you are the proud owner of a rose bush that's gonna make it! Screw the nasty replies and enjoy it. Also miracle grow would help.

Your rose looks great! How pretty that will be around your mailbox. Try banana peels as fertilizer, too.

You benefit more putting those bananas together with the compost and letting them decompose properly. Knockout roses are a good choice for new gardeners. PREV
NEXT