How should I finish this shoe bench?
I love building things, but I have trouble choosing a finish sometimes. I built this shoe bench for our mini-mudroom (40 square feet). The mudroom is various shades of gray with white trim and a white, teal, and gray stenciled floor. Would you stain this shoe bench, paint it, or leave it the way it is?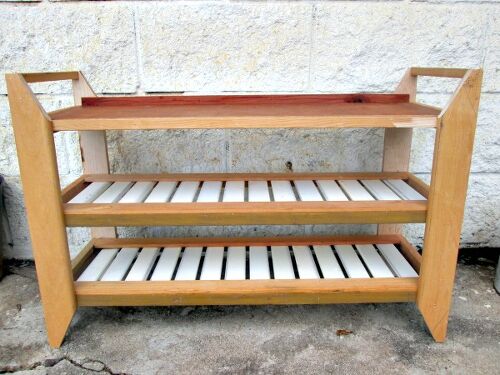 Cute bench! How you finish it really depends on whether you want it to stand out in the room or fade into the background. It sounds like a nice gray stain or paint would help it blend in, since those are the colors of the walls. However, if you wanted it to be a statement piece, then the teal is the way to go. Whatever you do to it, remember that its for shoes, which can be dirty and muddy, so make sure you use a good sealer!

@Sue@CountryDesignHome Thank you for your thoughtful comment! I will let it sit in the room for a day or two and get a feel for how the room needs to be balanced. =D I'm not sure at this point if I do want it to stand out or not, since it is such a small space and I put a lot of drama on the accent wall and floor. PREV
NEXT