Does anyone out there use a Swiffer?
Do you like it? Do you not like it? Do you have an ecological alternative? Is it the best thing since sliced bread, or could you live without it?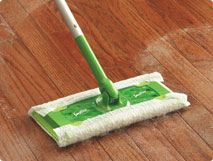 A micro fiber mop is cheaper in the long run. If your using this for wood floors, just misting the bottom of the mop with water is cheaper and easier. Don't over saturate just a little mist with water and floors clean up nicely.

Love mine. After the pad gets all covered with dirt and dog hair (half way through the kitchen floor) I take the pad off and turn it over - reattach. Finish the floor with the other side. I do the same with the Swifter floor wet floor pads. This time I turn it over and wet down the other side. Save half the price of both type pads.

I hardly ever use mine--I have the vacuum Swiffer now (not wonderful, but easier than pulling out the vacuum cleaner)...either way, you can use $ store disposable cloths that work the same way, or buy a pack of cheap microfibre cloths. It seems to me that the $ store even has a knock off handle/head now similar to the Swiffer.

I have one and Not all that thrilled with it except to do a quick run through in the kitchen. I prefer my vacuum because it does a much better job.

i have a swiffer mop that you use batteries with and a solution that you buy for it...i love it! i live in a senior apartment building and everything is carpeted accept the kitchen and bathroom...i have arthritis throughout my body and my back is the worst, so the swiffer is great for me...i am for anything that makes my life easier...

I use the dry pads for my Swiffer every day as I have two American Eskimo dogs that shed a lot.. & it's great for picking up their fur. The wet pad for cleaning my floors doesn't seem to be thick enough to get into the grout on the kitchen floor though.

I love my Swiffer. I use microfiber cloths on the mop head. They are washable and reusable. I save $ by not buying those disposable refills. PREV
NEXT