Does anyone out there use a Swiffer?
Do you like it? Do you not like it? Do you have an ecological alternative? Is it the best thing since sliced bread, or could you live without it?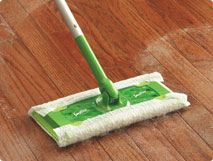 Way to expensive to use for such a short life span. They are ok if your home is always clean. With our dog we tried them but would fill up before we even got part way around the kitchen alone. I use blue micro cloths used for cleaning and dusting. Simply roll them around our kitchen sponge mop and have at it. Once dirty, take them off, rinse out in sink. And in the laundry it goes. No waste.

I used a swifer for awhile but it is expensive to buy the products specifically for it...I bought a rubbermade that has washable scrubby cloths and I can use the cleaner of my choice... I love it!

I use only the Bellawood Hardwood floor cleaner on my wood floors, with a reusable microfiber pad mop. No dry cloth/dustmop I've ever found will get the dust, and swiffer ended up just pushing it around after a few passes, so it was a waste of money. I just wash out the microfiber pad in my sink and it's ready for the next use. If you're talking the wet swiffer mop, the cleaner is very harsh smelling and it left streaks on my dark ceramic tile and made it look worse than before cleaning.

I agree with Woodbridge - I have two large dogs and that swifter wouldn't last. I have tile so I use a steam cleaner which really cleans - it doesn't just drag the dirt around.

I have hardwood floors and used the swiffer when I too realized I was working hard to keep the dog hair on the pad, then I would keep my hand vac handy and use the swiffer to pull it into a pile I could vacuum.I finally bought microfiber pads because they are washable and can be used to dust or with a light cleaner for those dirty days. Mine is made by Bruce and I got it at Lowe's in a kit with 2 pads and the mop.

We had one for a while but it got hard to find the refills so we quit using it. It was ok but it does not replace mopping. It is good between more intensive cleanings though. Too bad the stores around here stopped carrying the refills.

I have had three. Not well made, Used daily, but no harsh treatment, however, the swiffer's plastic parts constantly break and you have to buy another in order to use up the products you have purchased. have purchased my last one and went back to broom and wet mopping. Hope this helps.

http://www.mybonahome.com/home.html I swear by Bona floor cleaner -- best on my hard wood, ceramic tile & stone tile -- w/ reusable microfiber & dust cloth -- been using the same pieces for 3.5 years w/ no issues.

I never invested in one, I have a sponge mop for small issues and a cotton string mop for real mopping....NOTHING beats a corn broom lightly misted with my ironing spray bottle for coralling the dog hair before mopping....

I have had a swiffer since the beginning...in fact, I am on my 3rd one. I love it. Keep in mind that it is not for heavy cleaning but just a touch up for those days when you want to tidy up the pathway through the house, but not a deep cleaning. It is just one of many tools I have that I like, but it is not something I can't live without.

I'm with Sherrie on this one. I gave up on the Swiffers for a steam mop (on tile floors). Not only does it clean the floors, but it does it without chemicals...........just add water and allow steam to do the work.

over 3/4 of my homes floors are either tile or hardwood. After a simple vacuuming we wipe down the floors with a damp small towel...that then goes into the washer to be used again. The swiffer mop was not very user friendly as the stick came in many sections and would be wobbly...plus the pads did not cover much ground. I can wipe about 50 to 75 sq feet with our towel method before I need to rinse it out. This rinsing is done in the sink so there are no drippy buckets to lug around.

Chaya K, before the steam mop I had the scooba floor cleaner. It required only Clorox hard floor cleaner. It can be used on wood. However, I bought 7 bottles of it and have 4 quarts left because the steam mop cleaning is far superior and doesn't require anything but water.

I have had every type of swiffer imaginable. There is a mop with a cloth that is much wider down in Florida that I use more than anything. It has cloth covers that you can wash. It may start with a B. I am a believer in using towels too. I think you can pick more up with a damp towel and then rinse. We use 2 buckets one for clean and one to dump dirty cloth in. We clean a ton of tile in Florida with condo rentals. We usually vacuum up the tile really good first. I have used towels on the swiffers too. They constantly break on us. I think a stainless steel handle would be a good idea.

Guys, I am looking for a way to clean hardwood and tile floors without vacuuming and then mopping. I don't have time for the two step cleaning. I have a day job, ya know? I only moonlight as an unpaid house cleaner. :)

I use a dry swiffer on my hardwood floors every other day. I love how it picks everything up. I used to use a dustmop and things just didn't stick to it enough. No problems with the swiffer. I've been using it since it came out.

For everyday: dry microfiber cloth for hardwood-just a and vac when/where needed on tile. Once a week: spray bottle with water or cleaner with microfiber cloth for hardwood-damp mop or floor rag for tile.

I have pets and the swifter gets used one to two times a week if I have the time, lol. It does do a good job of getting the dust bunnies and fur balls into a nice pile while catching the loose debris on the way. I use it more as a "fancy" broom rather than expecting the little cloth to actually pick up all of the "stuff"

KMS and WOODBRIDGE..ditto. I cleaned homes for 20 years and found the very best was good cotton (not poly) towels wrapped around a mop or broom, whatever. You can dampen it, or leave it dry, or wet it for mopping , then throw it in the wash. You always have a clean mop. I hated when some of my ladies objected to my method and suggested using their sponge mop or spaghetti mop. So dirty! you wouldn't do that to your face if you wanted it clean. I usually won the tossup! Now that I have vinyl planking I have to make a bigger mop!

We stopped using our wet swiffer a couple years ago because I was told (I took their word for it and haven't don't my own research) that the chemical in the cleaner were harmful to pets licking their paws and small children (both of which I have). We switched to a using a cloth floppy mop with vinegar water now to clean our hardwood/linoleum floors. Admittedly, we don't mop as often as we should but we do sweep frequently.

I really like my dry swiffer. I have dogs who shed and this really picks up the hair between vacuuming.

I have a swiffer and use it everyday!!!!!! You would not believe how well it works and that your floors are that dirty !!

i have an awesOme enviromentally sound o'cedar mop w/ a bottle/spray attachment that you fill yourself with homemade(my preference-vinegar-water w/ a little ivory dishsoap) or store bought cleaner. And it has a washable pad! Very GREEN for all us gardeners!!

I use a swiffer every time i clean ...I use the duster for floors and also the furniture duster ...i could not clean house without my swiffers ...love, love, love, them ...Elsie B....Lebanon mo.

If all you want to pickup everyday was dog hair and leaves, mulch, dust, etc., on tiled floors I would highly suggest you go to the link Http://www.cooking.com/products/shprodde.asp?SKU=314586#axzz1yTn3m0ps. I use this everyday just to pick up dog hair. No water, no mess & quick. I love this for quick pickup.

Chaya K | New York, NY wrote... "Guys, I am looking for a way to clean hardwood and tile floors without vacuuming and then mopping. I don't have time for the two step cleaning. I have a day job, ya know? I only moonlight as an unpaid house cleaner. :)" The only way I know of, and I've not used this product though I do love their steamer is the Bissell Steam and Sweep.... http://www.bissell.com/bissellsteam/ Personally I would think you'd have to use it daily otherwise there would be too much dust and possible pet hair to vacuum for such a small cleaner. I'd recommend vacuuming with your full size vacuum daily and mopping once a week or when needed. I have four long haired cats and that works for me. PREV
NEXT