I need help!!! I just purchased this China Hutch. It really needs painting. How do I do this ????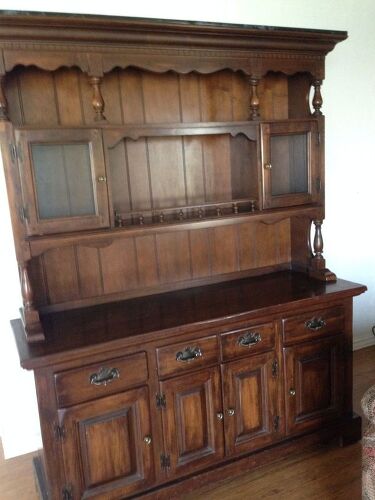 Hello Connie! I just purchased a China cabinet from Craigslist and just finished painting it! It depends on the look you want! I layered paint to get an old world French look. I'd definitely use chalk paint to start - it can be a wonderful base for any color you'd like. If you don't have chalk paint, you can make your own with plaster of paris - I've shared the recipe on my blog too. I'll be posting my newly painted hutch this week if you'd like to see what I've done! I'm planning a simple tutorial on how I layered the paints. Can't wait to see what you do!

Hi Connie! I too have a similar hutch. Mine is completed in Old Orchre by Annie Sloan and distressed to give that shabby chic look. I agree with Kathy, do use a good chalk paint you will not be sorry :-) Happy Painting - Linda

The first thing you have to decide is what you want the hutch to look like and the color(s). Do you like the shabby, distressed paint jobs or do you want a finer, more professional finish? If you like the shabby look, then chalk paint is probably the easiest way to go and there are plenty of tutorials here on HT and the internet on where to buy it, or how to make it, and use it. However, the more I use chalk paint the more I dislike it. I've tried to like it--I really have but I just don't. I don't like the "distressed," used and abused look for my furniture and it is very difficult to achieve a finer finish with chalk paint without many, many coats. I also hate the waxing that is needed to protect chalk paint and give the matte finish some luster. My preferred paint for furniture painting is just good ol' interior latex paint. If the piece is in relatively good shape, I do not sand. Yes, that's right--I do NOT sand...and I never have problems with adhesion. Instead, I use a "liquid sandpaper" (also known as "deglosser") product. I wipe the entire piece down really well with the deglosser and then apply 1 or 2 light coats of a good quality bonding primer (also latex). Finally, I apply several light coats (however many needed for complete, even coverage) of a good quality interior latex paint. I don't use a protective finish on my painted furniture but if you feel you need the extra protection, you can apply a poly or similar product after the last coat of paint is thoroughly dry. Just a few other things... In my opinion, the "all-in-one" primer/paint combos do not work particularly well on furniture. I would recommend sticking to separate primer and paint products. Also, do not try to use paint or primer from an aerosol can. It will cost you an arm and a leg for a piece this size and it is very difficult to get a smooth, even finish. If you have access to a paint sprayer, that is really the best way to go. It will give you a great finish and make the whole painting process go a lot quicker and easier. However, if you don't have a sprayer, you can also obtain very good results with a small roller and brush. Good luck with whatever you decide!

Chaulk paint, but I love love love CeCe Caldwells. So easy, no sanding just a damp sponge will distress your piece. Wax is very important, thin coats really worked in and buffed when dry, before another thin coat. Happy painting! Ive done 3 projects this weekend!

Wipe down piece with TSP (tri sodium phosphate) to remove oils that may have been used to polish it and to sanitize piece. Lightly sand and prime with Zinssner water base primer. Let cure over night. Paint with Behr Ultra with a good quality brush. Let cure overnight beween coats. That will give you a good durable base to do what you want to embellish the piece.

I did one for a client - similar to this one - if you'd like to take a look you can see it here http://suzyq-vintagous.blogspot.ca/2012/07/i-... I'd highly recommend using chalk paint - it's easiest ! Good luck !!!

I have one very, very similar to yours. I wanted to redo it and put it in the Living room for my collection of crystal and hand blown bowls...I like the aged look without the chipping..I plan on chalk painting. No sanding or primer is needed and chalk paint gives a lovely soft antique appearance. I will take the top drawers out and redo for baskets. I am doing it in a very light beige called Foxtrot. It is not a white but not a real beige either. http://www.myperfectcolor.com/en/color/89519_... PREV
NEXT