I saw this under bed storage idea on pinterest. When I click the image to get more info nothing happens. I am trying to find out what I would use in order to lift the mattress. Where would I purchase such a mechanism? Hoping someone out there has the solution for me.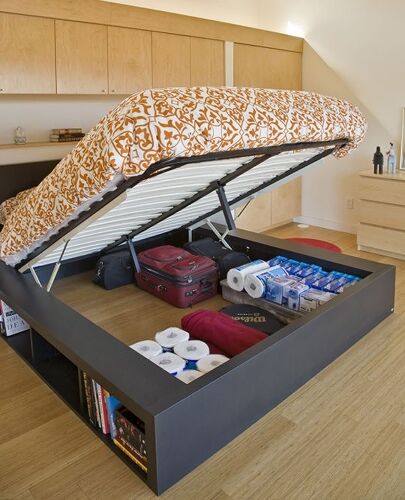 Here you go Vicki, Just what the bed bugs ordered! http://storagebeds.com/products-page/storage-beds

You know...........that might be handy for waking the teenager and getting them moving in the mornings. 8-)

Heck I could have used this when I was young to hide my girlfriends from my parents. Your correct Sharron, the kits are expensive. But considering what space costs these days, it really is not to bad when you think about what your gaining.

I did some research and couldn't find a source for "Gas Strut Bed Brackets / Bed Hinge" anywhere other than in the UK. There has to be somewhere here that sells them I would think. One place did have international delivery, but I can't find a US Dollar price. http://www.sgs-engineering.com/gas-struts/bed-hinge-mechanism

@Woodbridge LOL, HaHaHa "used this when I was young to hide my girlfriends from my parents." What self respecting girl would hide under a bed....Uh never mind...I DID say self respecting didn't I....LOL

Thanks WE. I thought that was just for the whole bed, but in looking again I see you can order just the hardware kit for $149.95 plus shipping (only $15.20 to NE). Not sure how much you'd save once you added the lumber needed, but I bet it would certainly be worth it if you have the skills and someone to help put it together.

That's a great idea! What a great way to create storage space. I've actually seen staircases where the treads are draws that pull out for storage, which I thought was really neat.

I've seen that too HT. I've been thinking about this since I saw it and the more I think about it the more I think I'd rather have "drawers" that I can slide out to store things in under the bed. Much easier than lifting the whole bed. We have plenty of room to pull them out so no worries there. I have four of the under the bed on wheels containers and they are working for what I need now so I'll stick with them until we have the time to build our new beds.

Go the an automative store - I think hydraulic hood pistons could be retrofitted -- Hey - you know you may even find them at a junk yard - cheap! For safety sake put 2 hood support rods while you are at it.

Carol, that's the way I originally started my search for them thinking of the hatch back Pinto I had in my youth.

The issue with using those pistons is they do not offer enough push power to lift and hold something such as a bed and support frame. You would need several of them to work. While they may hold up a 150 pound hatch back door you have not only additional weight to think about with the bed and all, but also the length of the bed applying more weight over a larger area.

Thanks everyone for your thoughts and links. I haven't decided if this is the way I will go yet but I thought it was an interesting option. I didn't consider the storage drawer idea until Becky mentioned them. I may be able to have someone build me the platform for the bed and do the drawers to fit gaining just as much storage as the bed in the picture. I had never seen that type of bed before. As for going to the auto store or junk yard for the pistons I don't think it would be such a good idea. My last two vehicles had both hood pistons wear out and become useless a few years into owning them and I would worry they would wear out on the bed also.

Vicki you might like this plan for a bed with storage drawers by Ana White. It could be easily altered to have the drawers go either all the way through or to the middle. Be sure to scroll down... http://ana-white.com/2011/09/farmhouse-storage-bed-storage-drawers

I saw a platform bed built on one of those TV shows where the bed was sectioned off and baskets that pulled out on both sides in a couple of sections. A couple of sections were left open all the way through for storage of things like surfboards or skis! I thought this was fantastic for all the gear some teen agers have! You could actually build the bed high enough to make rather larger storage bins on wheels to fit.

You can check camper dealerships/parts. The beds in the travel trailers are like this. We have one is ours and it is a lot of storage underneath.

http://www.alibaba.com/product-tp/117483891/Promo_Gas_Lift_Storage_Bed.html I set up our guest room bed with a simple 2 x 4 frame that is tall enough to accommodate the rubbermaid storage bins we use for our camping gear..they simply slide in or out. The frame is hidden by a bed skirt.

Try these guys. it is the same sort of thing as the Ikea storage bed. http://www.selbywallbedsystems.com/Blank.html

I did a reverse image search and found others were wondering the same thing. Try here: http://www.reddit.com/r/DIY/comments/1d8699/any_idea_how_i_could_make_this_bed/

If you want to build your own the mechanism is sold at Rockler.com. It is a woodworkers hardware site. If you want to buy one Amazon.com carries them. I had one under a queen bed in an Rv. It is very easy to lift. PREV
NEXT