I need to add something... WHAT?
I need to add something above this bed, but NOT a mirror. Any suggestions.
The room is a neutral guest room ~ nothing too personal.
See the original post: http://www.stonegableblog.com/2012/08/a-look-at-my-latest-project.html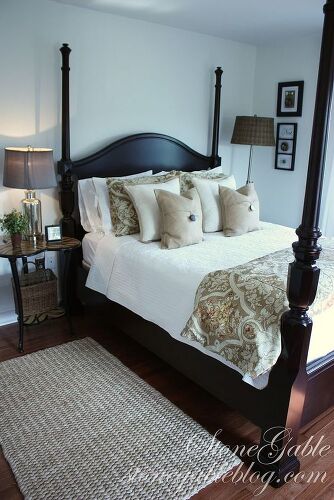 How about plates? Plain ones? You have lots of square art on the walls.. the round shape of a plate would be good with the arched headboard and is not overly personal.

A couple of my favorites!

How about a art project made from Toilet paper and Paper towel rolls?

Or a "vintage sign" made by you, and your favorite quote....

There are so many metal decorating pieces out there, i would chose one that takes up about 2/3 of the width or a series of smaller ones. They come in all sorts of designs and some of them have a bit of color...some neutral and some with a splash. Your choice!

I like TheMoney-Pit's idea of plates, with a twist - look at chargers. I'm sure you could find a finish and design that would look great in a bedroom. Many of them are purely decorative and impractical for table setting anyway.

I think some unusual farm implements would be a good choice. Like the ones you found in an earlier post. surround these by unique mir

I love Ann's suggestion. I word would also look nice, something large and graphic but still not adding too much color or distraction. I have a sign over my bed and I love it. It's definitely hard to know what to put over a beautiful headboard.

I think the room needs some color. I'd consider painting the walls a Federal Blue,or perhaps a pale green. Stenciling would look nice,too. Maybe a vase of flowers or a plant onthe side table.

I like color. Too much. But a quick fix, if the neutral has you bored, would be to switch out the front two pillows for something with some color. I can't see the colors in the duvet very well, but maybe an orange or citreon or green or aqua trellis pattern? I might stick with one punch of color (don't use all four colors!) Love your lamp shades! And that cute table!

I will be the odd man or women out here, for me sometimes less is more. I like the room as it is. I don't think I would add anything. The bed is beautiful you might draw attention away from the posts if you has something hanging between them.

I do like it the way it is, but if you think something is needed above the bed, I keep envisioning something large, oval, and ornate. I can't get the idea of cast iron out of my head but that is bound to be too heavy. Here is an image but I don't know how it can be more appropriate as wall art: http://www.touchofeurope.net/20511/Rusty-Black-Finish-Cast-Iron-Oval-Doormat.html

you could also hang something above each night stand and leave the space above the bed open. The room is very pretty. Love the wall color!

I would either add a short guest inspired quote or a great twig wreath. I like the neutral and see an earth element adding texture here.

Wow Vivian that's Pretty! But if it fell off onto a sleeping person, it might be time for a dirt nap...so maybe not cast iron...LOL I'm still digging the toilet paper roll art....

What about a collection of thrift frames sprayed in a single color? I am seeing these frames, sans art or photos, used artfully all over the place. It would break up the space without being too personal.

What about a big old advertising sign, or new sign made to look old, maybe a bed and breakfast... just thinking

Lorrie's idea is great- Stone Gable B & B or Stone Gable Welcomes You, etc. Actually it could be new or old - as rustic or sophisticated as you want. PREV
NEXT