Can anyone give me some good reasons to get a pond? Just asking.........
Looking for some feedback from people who own ponds or have built ponds.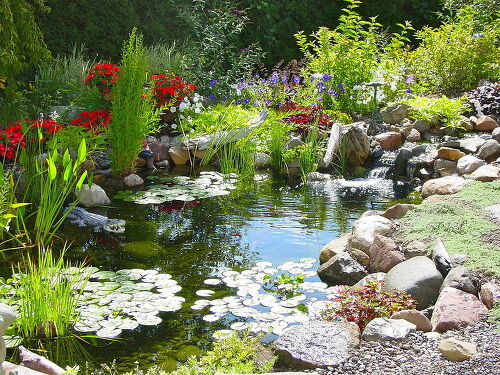 Gem Ponds, the reasons could be a mile long list, depending, but for 2 completely different concepts: ponds and moving water are very relaxing; anyone with daily stress will find it healing to relax and absorb the activities of a pond. Next: enviromentalists or nature lovers will enjoy and be fascinated by the independent ecosystem/enviroment which will evolve from the pond's installation.

The photo says it all. If you are not in the Rochester, NY area and want more information on how your yard can be transformed with a custom built water feature, go to http://www.aquascapeinc.com/findcontractors.php to find a Certified Aquascape Contractor near you who can help you build your slice of heaven.

I second what Tammy said. You will be amazed at all the birds and butterflies who will visit for a drink or a little bath. Plant a few plants nearby that will attract them too.

to give back to Mother Nature! We take so much away from nature that when we build a pond, we are creating our own living ecosystem to support plant and animal life!

It's the first thing I see in the morning and the last thing I see at night I wouldn't have a day without it. Being in business is super stressful not to mention life in general so this is a huge D stressor for me. No doctor or meds required!

I have three koi ponds that spill into each other. I hung a hammock between two oaks that are nearby and spend many enjoyable afternoons in the hammock reading while I listen to the splashing waterfalls from the ponds. Lowers my blood pressure immediately!

There are few things in life that are magical. Water features is one of those things that are truly enjoyable and never, ever do I get tired of building them.

Love the sounds - we have 4 koi in ours - and they are really fun....ours fits right into our landscaping - not huge - but surrounded by small trees, and lots of plants - very relaxing!!

A well done pond can be so relaxing, one not done so well can cause a lot of stress. The water garden in the backyard offers so much, from a place we can can unwind and enjoy ourselves to a oasis for suburban wildlife.

After having our entire back yard torn up by having to put in a new septic system, including a 48 foot long, 12 foot deep and 8 foot wide leach field, our yard was looking like a new construction site. I decided to put in a pond, dug it all by hand and now, 4 years later it's the most beautiful focal point in the entire yard and was a big seller too when we put the house on the market. A pond, once established will give you pleasure year round. The sound of the running waterfall, the wild life to comes to visit. (In our case even bears taking a dip in it, we live in Colorado) and at nights, the yard is lit up with under water lights, I installed. What pleasure to just look out of the window and see it, sit on the deck or by the pond itself. The new place we are purchasing will have a water feature in the future. I simply love to create!

What a wonderful story Carla. Thank you very much for sharing. And thank you all for sharing! It is really great to see just how much enjoyment people get from having a water garden. It is also good to see that if a Pond is installed correctly, it can add value to your home as Carla touched on.

Thanks Acorn. I have to admit, I am very lucky to have a friend who has a degree in landscape architecture. His tips were priceless. Still I needed to learn a lot. I found a water lily that actually makes it through the harsh winters here in Ouray, CO. I have to lower them to the deepest part of the pond during the winter month, then raise them close to the surface in spring. Rebuild the waterfall several times too before it worked correctly and learned what plants are not going to be eaten by deer or being preserved by putting plants around it that deer do not touch. Lavender works real great for that and so a daisies. Now my stargazer lilies remain untouched.

I love mine. My husband finally caved in and started the work. We live on the lake so he saw no reason for a pond. Ha The sound of the water, the fish, frogs, toads, turtles, the flowers, the lights.....I love it. BTW: we bought 5 fish 5yrs ago.......There is no way to know how many goldfish are in there now. I bought 1 koi and it was the first to go. I am all goldfish now.....

Here in Rochester NY, I have been asked to build a pond for several different reasons. A Pond with a small Waterfall can help reduce noise pollution from a nearby street or neighbors. It also provides a great place to entertain and can increase communication between couples.

It doesn't take much to get started and over time you will want to enhance the original pond. Nothing is more relaxing and peaceful.

With one pond for my fish (all Koi) and two working ponds for fish and plants that go into ponds we build, I don't know what I would do without them. With 80' of stream and over 1200 sq ft of pond surface I'm still trying to talk my wife into more pond...maybe a swimming pond....yeah that's the ticket

just a little different view at a time of year when some are not thinking about ponds

I enjoy our pond but it does require work at certain times of the year. I love the way it attracts wildlife and provides a water source for birds during the summer dry spells. I keep goldfish in mine to control mosquito larva and have lots of water plants to create a biological cycle to deal with fish waste and algae. I just need to figure out what to do with all the baby goldfish! You can only give so many away. (The adult goldfish are about 10 years old.)

it needs a lot of work,i think...http://www.51zxw.net/study.asp?vip=5804509

Ponds are beautiful, tranquil and provide water for wildlife if that is what you are looking for. Careful putting certain fish in unless you want to feed the birds. At least if you are in Florida that is.

@Toni L It doesn't matter what kind of fish you have in Florida - the heron will eat them when he finds your pond.

Another benefit to having a Pond is that they provide a great space for entertaining family and friends.

@Acorn Ponds & Waterfalls I agree with you. The pond quiets the mind, children love it as do their parents because it entertains the kids. Like anything else, there is some work to the pond but the payback is outstanding.

I always wanted a pond myself. My first pond was a 15 gallon preform and lasted an entire summer before I was ready for an upgrade. The next pond was a 120 gallon preform. It lasted two summers before I had to have a lined pond. Now I have a 2500 gallon lined pond and 5 yrs later I'm looking to upgrade to something larger. I love to spend every available night relaxing by the pond watching the koi, goldfish and all the lilies. True, there's some work involved, but even that is minimal, if done right. I"m still learning, living and loving my pond and entire garden.

Hey @Penny T , thanks for commenting! This just re-instates the #1 problem with ponds. People always want to make them bigger. This is why I always tell people to get the biggest one they can afford because they will want a larger one. Also good feedback about the maintenance part Penny. Many people believe having a pond requires a lot of work but that is just not true.

We've had our pond/stream for 5 growing seasons. I love what it has done for the backyard. Love watching the plants grow as well as the fish! Very tranquil at night when our dog has his final backyard visit. I love feeding the fish with the lights on while waiting for Crenshaw to finish his evening business. It does add to your garden work but not too much if you take care of spring and fall duties quickly! I would miss it! PREV
NEXT