Where to get grain sack/french linen fabrics?
I am on the look out for online shops who sell grain sack, either original, by the yard or replica that I can use for interiour purpose.
Any tips? I would be very greatful!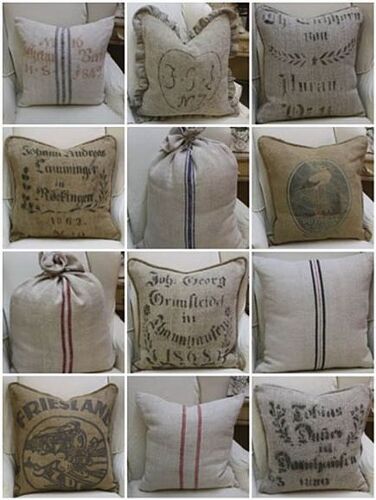 Check out how @Debbie @ Confessions of a Plate Addict made her own: http://www.hometalk.com/911466/make-your-own-vintage-french-table-linens

Believe it or not, I made my pillow covers from dishtowels. I searched everywhere and found some with the handwriting or French prints in TJMaxx and Marshalls. I also looked at the clearance items in Pottery Barn and Williams Sonoma. I found lovely prints and stripes, like the ones above in the photo. Good luck!!

Love seat with new pillow covers

Are you searching for the plain fabric rather than fabric with pre-printed images? You might try looking for Feed Sack, heavy muslin, ticking, or sturdy cotton yardage on ebay and other online sites. I have seen it there before.

Not exactly the same but you get a nice and similar look using painters clothes from Lowes or Home Depot and you can get large ones (that will make a handful of pillows) for cheap. I always wash and use fabric softener first. Then you can stencil on designs.

Try looking for unbleached canvas too. i bought some at Hancock Fabrics, but art stores might have it as well (don't get the primed kind). It will be really thick but would work up into some great pillows, placemats, or runners. Use it for floor cloths too (Ok, DO use the primed kind for these!). PREV
NEXT