Sheila..anyone....my desk needs help?
Hey Sheila or anyone, suggestions for what to do with this very worthy desk. Hard wood, no staples, no nails in drawers. I don't like the hardware, and the carpets are , almost immediately following this post , being replaced with beige, to tie in with the other carpets and floors etc. So red and green are not the predominant colors. I am a "little" tired of red and green. Bur I love the light green on the wall. Included is the picture of my living room.I am trying to switch to steel blue and having a hard time. I almost always go to aqua.
I want some fun with this desk. Sheila, I love what you do, so am imploring you..but anyone can chime in! Like I said this is a worthy desk. I watch this tv from the kitchen (galley style), and hubs puts his shoes on here. hahaa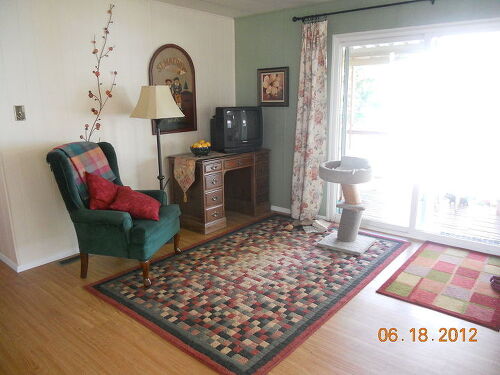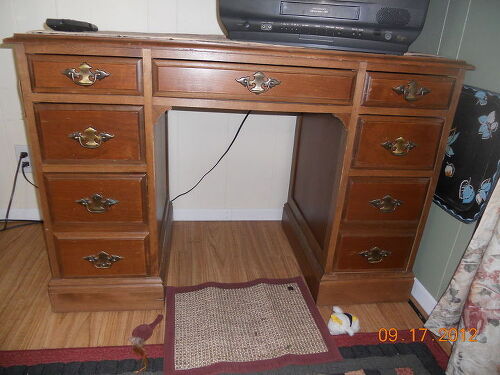 Tyler, you draw as badly as I do!!!! Hee, hee! I have not used the Microsoft program...may get around to it one day! In the meantime, I guess I can only hope you improve Tyler!

@SheilaG, Plum Doodles Anyone.... I know i was whining, but I think I have found the solution to my wall paint problem, I have loved the sage color above forever..it is on my kitchen and entry way, am thinking to paint over the Taco time turquoise with it, because I am not tired ofsage at all! It will still give me drama...right?This is for the living room, below picture is of the post of when we put in the carpeting, other walls off white warm slightly gold tone. ok here it is..replacing the brown wall, and now the taco turquoise color (below) with the sage above. What do you think? I will take a pic of the turquoise..wish I had a Taco time sign! hahaha maybe I can use the turq on the desk, but i still want it DARKER!

Replaced the marroon brown wall with taco time turquoise, it was suppposed to be very dark teal. Now I am thinking the sage in the upper photo.

@SheilaG, Plum Doodles @Marg C I will post pictures soon, but I went with sage, yes it feels so much more comfortable. I was working hard to "like" the neon teal enough! and 65 dollars later(2 gal paint) and much aggravation, and for me exhausting work on an itty bitty wall, it is done and I am done. ha At least for a while! So you never know! Thanks for the support!

Bernice I love your wall colour it's gorgeous and welcoming how about considering a greige colour or a midnight blue for your desk? It's a lovely shape and I'm certain whatever colour you go with it will look so elegant, great job thanks for sharing.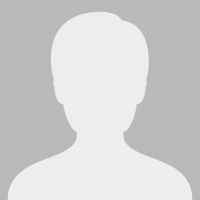 PREV
NEXT