I hate my ugly spindles under my cabinets. Do you have any ideas?
Update: The cabinets are down. We originally planned on doing it this weekend but we couldn't wait. The spindles were decorative. We took out all the screws and the cabinets wouldn't budge. They were attached to plywood that was bolted to a metal plate attached to a very large lag bolt (2ft.) that was bolted in the attic. There were 2 of these. Now I just need to figure out what kind of lights to use. I was thinking of pendant lighting or can lights. Maybe even a track light that is simiilar to the one I have over the sink but only bigger. What do you think?


We just moved into this house a couple of months ago and are doing some minor remodeling. I hate these spindles under my cabinet. I would love to remove the upper cabinets but I need the space for storage and I need something to support my cabinets. I would love any suggestions or pictures if you had the same issue and came up with a great solution. Eventually I would like to remodel the kitchen but that is much further down the road.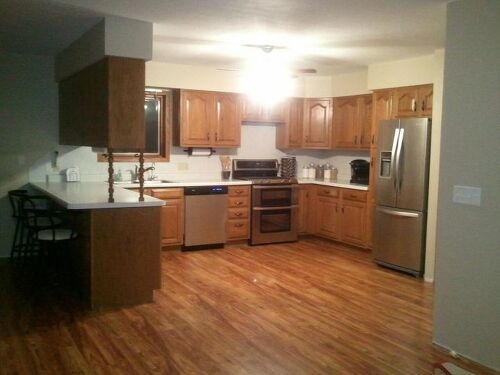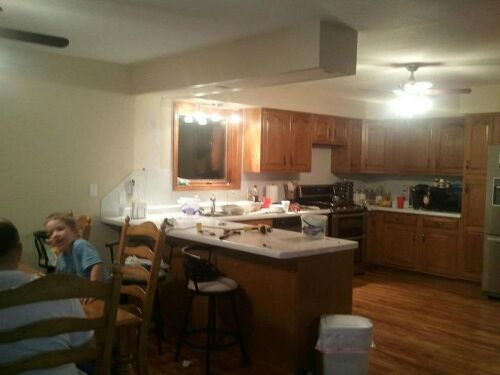 Thanks everyone for the ideas. After some reorganzing of my kitchen I have decided to take down the upper cabinets from the peninsula. Since we had just moved I had not organized the kitchen very well. I was able to get rid of some things. Also by adjusting my roll out shelves in the bottom cabinets, I was able to store more things in them. We will be taking the cabinets down this weekend. Hopefully I won't have a lot of patch work to do. I will post a picture after they are down.

I think that is the best idea. However before you tear them down, check the Soffit area above to be sure there is nothing hidden there that may require some removal to make the ceiling flat.

@Dawn - sounds like a wise choice. You may be able to use the cabinets in either the basement or garage, or if you don't already have some in your laundry room, maybe there. Looking forward to the pics!

If you keep the soffit it might make a great location to install some can lights...or for a more modern look some hanging pendants. Here is an article I wrote on pendant lights some time back. http://www.networx.com/article/guide-to-insta...

I am keeping the soffit as of right now. We do not have the time or money to take it out. We have other projects that have a higher priority. I am planning on putting pendant lights in. I already have electrical that was under the cabinet so we will be rerouting it and putting a switch in. Thanks for all your advice.

post some after pics when you get it completed...I am like many of the other hometalkers here.... and we all love before and after shots.

Hi Dawn I googled spindles and old cabinets and got your post. Realizing this was a number of years ago, your help would sure turn out handy to me. We are buying a house with a kitchen much like yours, just smaller, but with the same ugly spindle problem. Can you up date me on how your kitchen looks now??? TIA. PREV
NEXT