Can someone tell me what to expect and prepare and tell me just to go for it!? So we bought our first "new" house and from the deed I found in the creepy basement I know that it was built in 1893. So we are slowly updating and minor renovations room by room. I absolutely hate the carpet (besides the obvious gross factors) it's horrible to have in the dining room which is right of the ten by ten kitchen-where we enter the house. So at the moment the dining room is half playroom,mud room and storage :)
I really want to rip out the carpets and see what is going on under neath it. I peeled it back around the register and I don't know what to think. It seems to be unfinished? I don't know the gaps seem kind of large from the small spot I seen. There is a very bad slope on one side of the room, not sure what that will be like either!
My other concern is if and when we do this-should I be concerned about mold,asbestos etc etc...I will be sending our toddler to grandmas for this project some weekend regardless.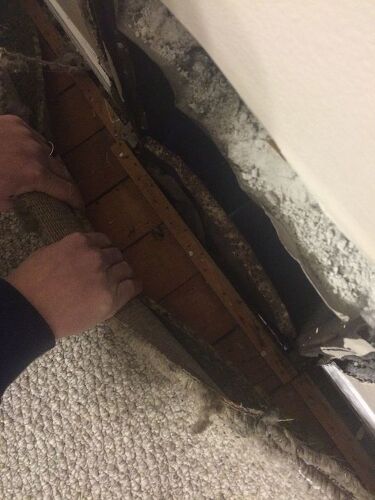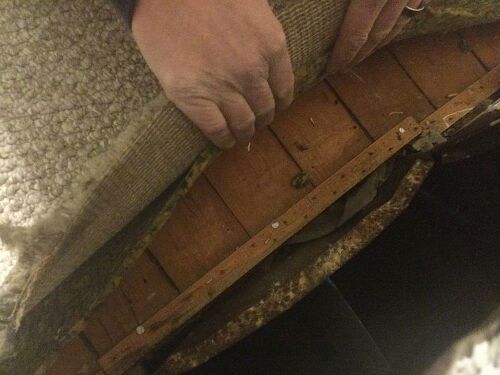 Underside boards look much wider than those in your dining room. The wider bottom ones, I think, are the base for the more narrow top ones. The top ones are probably the original wood floors. The gaps don't seem that large to me. These occur over time as the wood dries out. I'd strip out the carpet as you don't like it anyway to check on condition. Hopefully, the floors are in decent shape or can be repaired without too much labour. If so, I'd clean them up, maybe add a bit of stain, and then poly. Gaps can be filled with coloured wood filler if they bother you. Or you can mix sawdust, glue and some stain and use that. If there are stains, then I'd work with that colour for the floor stain.

I would agree with Marion Nesbitt on this. You have wood floors, the type of wood depends upon when it was installed and what wood was growing in the area as many older homes utilized wood species that was harvested in the area where the homes were built.

Totally agree with Marion - Btw - I just went through this - it's the most disgusting job on the planet lol - we ripped up 2 layers of carpeting and 2 layers of linoleum - horrible - but worth it !

It looks like it is going to be great! Definitely send your toddler away, and please make sure to wear proper safety equipment to protect your lungs from particulates. In an house as old as yours, it is safe to assume there might be lead paint chips/dust in that mess. However, it isn't a true lead paint remediation project. Thank goodness! Personally, I would wear a mask approved for lead-based dust. Keep all your dust damp, and clean it up well.

Go for it! A friend just finished an old floor with a tung oil rub and it is beautiful. Make it yours and pat yourselves on the back.

I too have just finished re doing floors in my home that was built in the early 1930's. The wood flooring under the "nasty" carpet was oak and yes I was able to strip and refinish them. Turned out beautiful and am so glad I did. I also found in several places gapes but with checking out they were where flooring had been removed an floor furnaces had been installed. I don't have a basement but house is built pier and beam, and there was one crawl space for getting under the house, trap door. I was lucky and there was no asbestos or mold found. I say go for the change and definitely send little one to grandma's.

We redid the floors in our 1920's era Craftsman a few years ago. Make sure you have a plan to fix any areas that need replacing-we used the flooring from upstairs closets, then replaced that with some laminate. Also, with a toddler in the house, you'll want a durable finish. We used two coats of poly for floors, and I wish we'd used more. It took us five days to refinish the flooring in our living room, dining room combo, and we were total newbies to the job. Make sure you allocate enough time for the whole job!

Just did this on two of my houses, and my floors looked exactly like your photos. Definitely protect yourself, wear long sleeves and jeans when doing the work (that carpet is going to have stuff that you don't want getting on your skin), as well as a good face mask and gloves. If you have central HVAC, turn it off. Cut the carpet in 2-4 foot strips to make removal easier. I find that cutting through the mesh backing is much easier than cutting through the carpet (so flip the carpet over in sections once you've pulled it from the tack strips). Get yourself a 5-in-1 from the paint section at Home Depot, as well as a small hammer. Slipping the 5-in-1 under the tack strips right before or after each nail (with the hammer) will keep your sanity level up and your floors in tact. Definitely use some rugged gloves for this because you will scrape your knuckles. And the pointy edge of the 5-in-1 is perfect for getting under all the staples. Once raised a bit, pull out with a plier.

That is like hitting a JACKPOT............ those are original hardwood floors. Put a mask & gloves on & get that carpet out. Cutting it in to sections will make it easier to handle. Hopefully, that carpet has protected them all these years. Then call in a refinisher. It may be costly but worth ever dime! Don't worry about the gaps & such. That is part of the charm of an old house. A good refinisher will take care of any damage or large gaps. When I pulled up the carpet I saw what you did! But, I went for it! Here are the results of no fear............. LOL

My Before

I even had water damage

This happened to me in our home that was built in 1928. We ripped up the carpet and found real old-fashioned hardwood floors. Got out our masks and put some elbow grease into our sanders and, voile'! Beautiful hardwood floors. It's a task, but worth it!

I wouldn't be too concerned about the gap. Looks like a dented piece of ductwork. You can rent a floor sander to refinish the floors. Use a rough sandpaper followed by fine sandpaper to seal the wood. Stain it and use 3 coats of polyurethane to protect it. Do an internet search to get the details.

go for it. We had an old house 1819, floors were so bad they couldn't be sanded-too many nails etc- so we painted some of them and my step-son painted the rest. Perfect option, no, but better than what was there.

As for construction materials, if you home was truly build in 1893, asbestos shouldn't be a factor. However, icky crud probably will be. As others have mentioned, suit up and go at it.

Looks like you have what will be some very lovely hardwood floors. They are in all likelihood finished, but not like modern shiny floors - more like sealed. They will probably need to be sanded and finished. However, it does look like you have a bigger than usual gap and combining that with your comment about the slope and you may have a foundation issue. If the one side has slipped a bit, it will pull the opposite side. It may require a floor jack of some kind in the basement to boost up the one side.

This looks just like my farmhouse, 1872. Narrower boards likely a 20th century addition. If you keep it, use wood shims to fill cracks left by board shrinkage - shrinking will continue and wood filler will drop out. Plane to flush with floor.

I took up carpeting in upstairs 1942 home first year was here and found wood flooring. Then last year went after carpeting downstairs, woodflooring and should have had mask on because house was drug house before I bought of course never told that. Downstairs needs sander job and upstairs needs sanding too and refinish. Smells better after getting that carpeting out. I put down Borax on the floorings and worked into cracks. Freshened and sanitized, swept and then vac'd.

@Karon Nelson Roberts Been working on this house since 9 years ago. It was a mess and realtor should have looked into it's history before selling, it was a drug house. So am stuck with this. No family lives nearby to help and friends not here they have other things to do. I have no right size ladder to get to floored attic to clean up. Have no garage. Bylaw says I have thoroughfare to service road. I got to sell and get out of here.It is sucking my low income welfare cheque now. Seen some nice homes down over your side of border, but still have to sell this first. Sunny out so maybe clean up stairs to basement. Worst place to live in Canada, Medicine Hat, AB. Visit, short visit.

Under your carpet it looks like nice wood , either oak or pine . Either way putting a finish on the wood would look 10x better than any carpet. As for asbestos expect to find it on your pipe insulation and maybe on your tile floors. For tile I typically use the "9" principle which is ...if it's a 9" tile there is a 99% chance it is asbestos . Expect lead in paint that was used pre-70's

It looks good. Your beams look wonderful and solid. Grand Rapids was called "Furniture City" for a reason and your floors look like old school hardwoods. Seeing the home is over 120 years old, it probably has settled, but it adds to it's charm. Don't worry about it. Just remember that carpet covers a lot of sins and enjoy the idiosyncrasies of something that's a treasure. Sand it down and varnish it. It's going to take you more than a weekend. I wouldn't worry about asbestos. Wear a mask for dust. Love to see some pictures when you finish!

I recommend eye protection, dust mask, gloves...did this project on our house~~hello previous years of cat urine, turds & funk UNDER the padding...We even found empty soup cans & weirdness in the vents.

Looks like original wood floors. Go for it. Our home built in 1928 the previous owners glued down the carpet on the beautiful maple floors in the dining room. Stripped all and hired someone to finish the dining room and livingroom. only to find out the $100 I spent on stripper they would have done for same price. Oh well.

Is that two layers with wider board underneath and narrower on top? Wider boards look like car decking, a sub floor typical for older homes. The narrower looks like fir maybe. You can sand and seal or stain it, and add some base molding. Be careful of asbestos on those heating ducts--it was used to wrap pipes and in older building supplies such as flooring and even ceiling tiles and siding. If in doubt, have it tested. Only a lab can tell you for sure. If you don't tear into it and leave it in place, it's not that dangerous. It's the fibers that you breath in if you demo it or if it deteriorates and flakes and dust become airborne that make it hazardous.

The gaps do look large in the narrower boards, but there is a compound you can use for wood floors that fills in all the gaps. We had some floors that we installed and then years later had professionally refinished and they used it and wow did they look better--smoother and prettier over all. You can't beat the look of wood floors and they will enhance your home. If there is no insulation in the floors though it could be very cold, so you might think about insulating them from underneath, easy and inexpensive diy if you have a basement, and saves a lot on heating costs.

Don't sand any paint in an old house without checking it for lead first. Not a good thing to spread that dust around where the babies are. You can get kits at most paint stored to check for lead.

Because that is a heating register, I worry about asbestos. Make sure it isn't because in the picture it looks "Friable". Then go for it. Those floors are worth whatever you have to do to see them every day! Also in your basement....Do I see "Knob and Tube" wiring??

Our house built in 1835 had pine floors. The back half of the house had to be refloored because of water damage; we hired a company that salvages and refurbishes old wood to put down the 'new' flooring. It was wood from old houses, sanded down to about 1/4" thick with worm holes and a few nail holes remaining. It was glued to the old flooring, sealed with oil, and is beginning to darken to match the original.

Yes that is knob and tube wiring -not active I am going to call a company called old to gold in Grand Rapids, Mi they specialize in restoring hardwood floors for an estimate. I would like to see what they say and get a qoute from them before I dive into this job!

I just ripped up linoleum in my extra bathroom and found cherry floors. Spent a weekend sanding with a band sander and corner sander and filling gaps with wood filler before staining and sealing with polyurethane. The floors are beautiful and we're considering doing the rest of the house as well. Well worth the effort put into it to get rid of carpeting.

I have a 11 x 12 kitchen built in the 50's, there is a sub floor underneath a vinyl floor which I think underneath is hardwoods. I have called two companies who deal with hardwood floors and was told the floors can't be salvage. Why would someone put vinyl on hardwood. Sigh, at least the rest of the floors are hardwood. PREV
NEXT