This $5.00 Step Stool needs a makeover!
I was over the moon to find this step stool for $5 at a local thrift shop. I've taken off the vinyl... but now what? I adore junk and rust; so I love the patina. Should I just give it a quick sanding and shoot it with clear gloss? Does it need a new paint job? Help!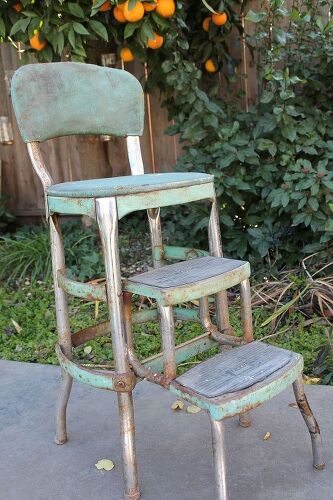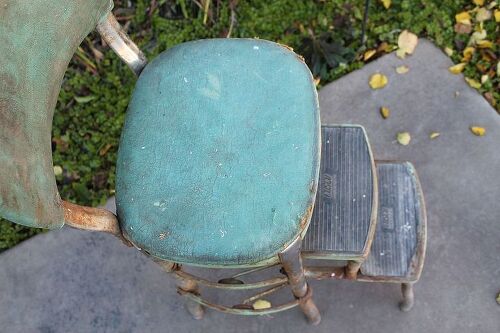 I'd go for the more complete restoration...and repaint. Being a woodworker I'd replace the Padded part of the seat with a nice thick piece of walnut.

We had one of these with red seat. All kids used it then off to the dump with it. Not safe to use, but makes an interesting plant holder.

My high chair when I was a little girl was by Cosco. It was yellow and had arms for the tray to sit on ofcourse. Not sure whatever happened to that one, but I found one to use for our children years later. It was missing the tray, but worked great up to the table. I now have a new one just like yours in black I bought for our grandson to use He drags it all over the house to use. I would have loved to have found the high chair with tray, but they no longer make them. Please take progress pictures and share them when you are done. I'd love to see the transformation.

We think sheilaG is right, you should be fine as long as you sand it before coating. If it's going to be used by children, your priority might be a non-toxic finish - JUST in case something might loosen and flake off. We've also heard off success using clear aerosol paint intended for automotive use on metal!

I have one of these in the yard with vines growing on it. I will look forward to seeing what you do with it. Start a trend.

Great find! I have a similar one - blue but with a metal seat - I got it for $1! Love the idea of a great piece of walnut on that beauty!

I'm sorry I didn't look at the date on here. But I love all your post ! I can sit all day and get all these decorating Idea's . I have lots to do around this old farm house. I love to tinker !

I redid an old one I had for decades. It has more chrome than this one, so I cleaned it, buffed it with car chrome polish, bought new leg tips and took the seat off. Removed the seat covering, took out all the staples in the seat board and cleaned it, found a retro vinyl at the fabric store that I liked and took everything to an upholster. She add new cushioning, stapled the new vinyl on the seat board and only charged me $15. It looks really nice and I use it all the time. I had tried recovering it myself, but the board was so hard I could not tack or staple the vinyl on it. The upholster has a power stapler.

I have one just like this!!! I couldn't paint it either because I love the rust and patina also. I will take a picture and show you what I did. :0)

I would get rid of the rust first so it doesn't continue to rot it away. I would sand well then prime and paint it. If you're going for the retro look I would cut out a piece of wood for the seat and put batting and cover with checkered fabric.

I rather like the rusted look but if you want to do something really fun & whimsical here's an ideal. https://www.pinterest.com/pin/31877109833417570/

I turned mine into an industrial style. There are so many options. Go with what you like and how you would most use it. http://www.hometalk.com/4111164/step-chair-junk-yard-redo I can't wait to see what you do with yours.

Wow! I really like the patina it has in it's raw grungy state. If it were me, I would have given that old lady a good scrub down. Probably a few good scrub downs and then I would have used Daddy Vans Wax to polish her right up. Age ain't nothing but a number. LOL. Daddy Vans Wax is all natural and it smells delightful. I don't use it professionally in my business but I do use it around my house. I like that my if my furkid gets a notion to lick something, it won't be a bunch of garbage, solvent based, scary chemicals. I get mine from Angela A-Z Custom Creations. She is on Youtube and Facebook. Home talk.... I'm not sure... but I am off to see. She is super nice. Can't wait to see the finished product on this great vintage stool. :-)

I recently found one of these at curbside and posted about it. Last night I saw another one at curbside, an made a quick u-turn to get it, however, it seems to be much newer and in great condition. I was surprised when I googled today that they are still available (at Target and other stores). What are the characteristics that make some more desirable that others..

I would think that sanding it would scratch the paint more. I would give it a good cleaning for sure. I know that using crumpled aluminum foil (wet) will clean up the rust from the Crome without scratching it so maybe try that on the painted parts so the color can pop a bit as its neat color then seal it.

Use Kathys' idea with the aluminiun (Australian spelling)foil and water and leave the rest of it rusty and unkempt. Just wash with warm suds, dry in the sun and lacquer the whole thing. Stunning.

WD 40 and steel wool on the chrome parts, I recovered the upholstery with new covers and cleaned the steps with WD40 again it seemed to help the rubber be refurbished. Mine is black upholstery and yellow paint with chrome edging it looks great now and use it all the time. PREV
NEXT