Any ideas how to change these chairs to look more French country?
I have just redone my kitchen to a more elegant French country look. My Mom gave me her oak kitchen table and chairs, however they look more American country. Any ideas how to transform them? My kitchen is light glazed maple cabinets with a back and gold granite top. Most of my accents have a go den yellow or gold.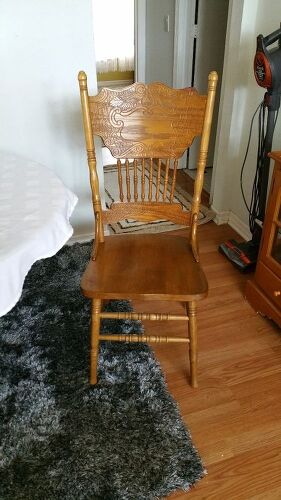 Bonjour je suis en France et voilà ce que j'ai fait. Maïté Vidiani

quadrillage bleu et beige à la peinture acrylique et cire après des rappels de couleurs sur les pied et le dossier. J'ai laissé un peu de bois brut ciré. J'en ai fait une en vert et une en bleu.

Hi Jamie- these chairs are so cute! In order to "French Country" them, you would most likely want to paint and distress them. Perhaps a soft creamy yellow to co-ordinate with the rest of the room. However, if you really don't want to paint them, then I would add some toile cushions-it is available in many, many colors-that would give them a bit of a french look.

Honestly, I'd likely sell this set and buy something else with a more French Country feel. These oak pressed back chairs tend to sell well, and painting them can diminish their beauty and potential resale value. The idea of removable toile cushions is also an excellent one! :)

I would also paint them in a white, pale yellow or pale blue and add a fabric padded seat in a coordinating print.

I would paint them an antique white and then use a paint pen to highlight all the design in the backs by going inside grooves with a contrasting color that matches your décor and then maybe a very light glaze, or if you use chalk paint a good waxing would be good!

Use wood putty to fill in the grooves of the design. Use chalk paint to paint them. You can make some floral seat covers, perhaps even using the same fabric for new curtains for windows. Look for inspiration in magazines.

I agree with the others, but when they get old and losing their thang, make a hole in the seat, the size of a large pot container, and feel it with multi compost and make your self a beautiful , fairy garden, or just a beautiful flower/ shubs, they look amazing, slightly hidden is also great, be is it wants you to find it and look at it......good luck

A friend of mine painted her press back chairs and the table a matte black, and it's beautiful. 7 kids later and it still looks great!

Matte black and heavily distressed !!! With buffalo check cushions ! I painted the identical chairs for a friend once...........in black - and they still look gorgeous !

I have these very chairs only a little darker shade. Had them for at least 30 years and was really tired of the darkness. I recently sanded, primed and painted them a creamy off-white and they are beautiful, if I do say so myself. I did not distress them but I think doing so would give the look you want - French country chic?...Good luck with your project! :)

Hmmm, I have seen these chairs plenty of times. You can breath new life into them by lightly sanding (though not absolutely necessary if you use chalk paint) and painting them white or another light color like ivory or light gray. To get the country look, it will have to come through with your fabric choices. Distressing the chairs, which I always like, will give it a vintage/shabby chic look. Would love to see what you end up doing.

HI! I Just painted my chairs 2 weeks ago! They came out wonderful. If it were me wanting a 'French' feel, I would paint the chairs a nice cream/white. I like the chalk paint because the wax that you use after the chalk paint works really well to seal. However,before sealing, I would 'distress' various parts/sections of the chairs with sand paper. Then I would purchase one of the 'MANY' stencils at a craft store. I would stencil the backs, and the seats. Again, maybe 'distressing' very small sections of the senciled areas. Then seal with the chalk wax. Anyway, that's my idea! Good luck! ~Pamela~

I didn't stencil mine. My chairs are just painted with Valspar Paint. I was going to distress them, but I liked the way they came out and decided to leave tham painted plain. Stenciling was just an idea for you. I've seen a lot of "French" ideas using stencils on Pinterest as well as here on hometalk. I'm not even sure if I've seen stenciling on chairs in Pinterest of here. It was just my vision as to how I would do it if wanting a "French" feel. Check out Pinterest! Put in key words stencil, French, redo, refurbish and see what comes up! I'm guessing you'll see a ton of ideas! PREV
NEXT