To paint or not to paint...
I have two white nightstands that I need to sell. My daughter has outgrown them and they are taking up valuable real estate in the garage. They are lovely pieces, but were damaged during our move and need some repair. Basically, the lower trim on the side of one piece is broken off, they received some bad dents and scratches, and the drawer fronts need to be re-secured. The mirrors and knobs were not damaged. Hubby thinks I should just fix the damage and put them on Craigslist as-is, but I'm thinking about repainting them. Maybe I'm just looking for a new project... Good or bad idea? What would be a good color choice for these nightstands?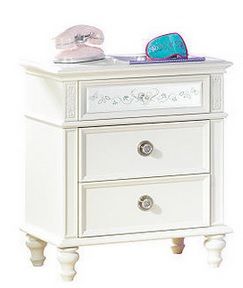 The issue with most craigslist buyers is they are looking for a bargain! What are similar pieces selling for on craigslist in your area? Another way to look at it is, what do you think you could get for them as-is vs. what do you think you could get for them repainted? Will the difference cover the cost of your supplies and time?

Paint them! Use an Annie Sloan Chalk Paint so you don't have to prep or sand. You can get pretty knobs at hobby lobby or most hardware stores for cheap. You'll have new little end tables in no time!

Too nice to sell, but take the legs off of one, attach it to the top of the other. Repair and paint the piece. You now have a jewelry/lingerie chest, or a place to keep accessories for outfits, stockings, scarves, etc. Just a thought.... PREV
NEXT