Found some really neat drawers that came out of dresser. Dresser is missing. Purchased 3 gorgeous drawers and need ideas
I found these beautiful drawers (no clean-up or touch up needed) perfect condition.
For some reason, I couldn't walk away. Just one of those pieces that screamed "take me home" So cheap I couldn't resist. The top two are the same but the bottom drawer is deeper. The photos show them stacked against my bedroom wall. These can be anything from storage to plant container. I really love the shabby chic and can see a plant in the top. Really....... need some ideas for support and decorating. Probably do second one full of magazines. Thanks for looking.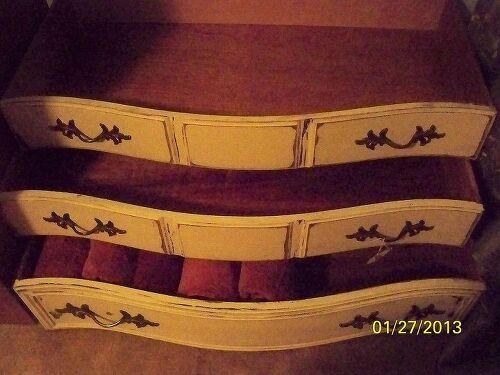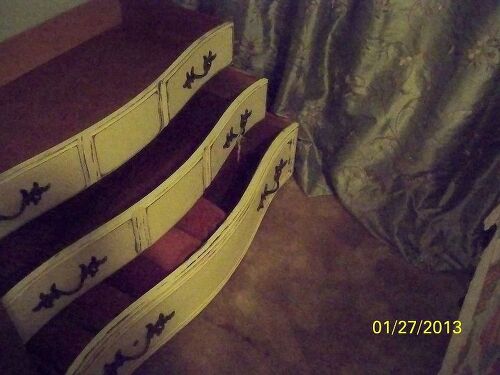 Take the two of the same height, remove the part of the backs that would make it too wide, join together to make display/glass covered coffee table. (Would have to add legs and do some painting to blend sides and legs with fronts). Cut down depth of third drawer, add a back & supports, turn upside down and mount on wall as decorative shelf.

I agree with under bed storage with either use wheels or what i love sliders. if you use sliders use a good size ones .

You could fill them with a foam cushion and stuffing , wrap them in your fabric of choice, add sturdy legs and reinforce the bottom and voila! You have yourself brand new bench seats for indoor or outdoor use!

make it into a table with a drawer for bedside, vanity, living room, entry way/foyer, wherever! build a sort of table for it to slide into and put legs on it. i like that you'd have a table top to put things on (a lamp etc), but also a drawer for storage space. beautiful drawer fronts - i would hate to hide them or put them out of sight! :)




I hope this gives you some inspiration! If you want a live tutorial on how to make the pet bed, tune in LIVE on Hometalk's Facebook page next Tuesday (Feb 21st) at 12pm PST! PREV
NEXT