Found some really neat drawers that came out of dresser. Dresser is missing. Purchased 3 gorgeous drawers and need ideas
I found these beautiful drawers (no clean-up or touch up needed) perfect condition.
For some reason, I couldn't walk away. Just one of those pieces that screamed "take me home" So cheap I couldn't resist. The top two are the same but the bottom drawer is deeper. The photos show them stacked against my bedroom wall. These can be anything from storage to plant container. I really love the shabby chic and can see a plant in the top. Really....... need some ideas for support and decorating. Probably do second one full of magazines. Thanks for looking.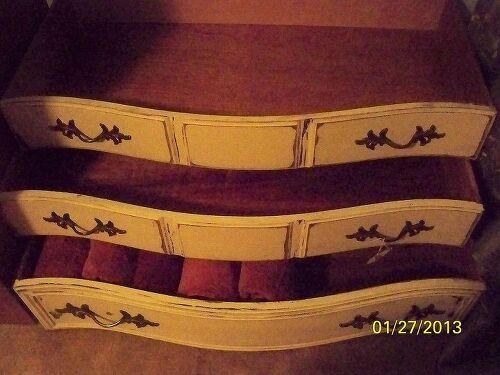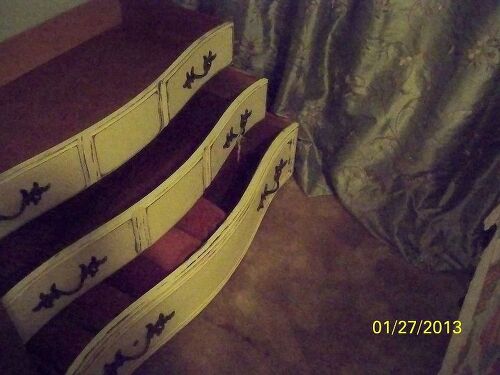 Sherry, I just saw some window boxes made from old drawers on Pinterest. Here's the web link http://tatertotsandjello.com/2012/09/great-ideas-20-home-diy-projects-to-make-now.html

web link http://tatertotsandjello.com/2012/09/great-ideas-20-home-diy-projects-to-make-now.html

I think they look really cool hanging on the wall for shelves. They make really good under bed storage too...but these are way to pretty for that! If they are all the same size...you could build a custom book shelf just especially for them! :)

If you can find any old french provincial style table legs you could make a neat table with a few of them, maybe even a tiered table using 2 drawers stacked/staggered and separated by spindles. Maybe a serving tray or buffet table tray from the smaller ones? adding handles on the sides so that you can pick up and move it. So many creative things to do with them. And I agree, I couldn't have walked away either, I just LOVE the FP look and curved details. very nice find!!

Check out my project I did with drawers from a dresser we couldn't salvage either...http://www.therusticpig.com/2013/01/17/something-old-something-new-part-2/

Here it is on Hometalk if that's easier.. http://www.hometalk.com/858517/a-new-use-for-antique-drawers?cid=251108

If you are a crafter or sewer you could put different items pertaining to one project in each drawer, then tote the drawer to your work area to start your project, when done load you items back and stack with the other two. Might make incredibly sweet pet bed with a pad as well.

I like the idea of using them for storage and shelving. You could put hinged covers on the drawers so that they could be used for storage and the cover will act as a shelf for displays. They could be hung as floating shelves on the wall.

I love all the ideas especially storage. I live in 60 yr. old house with very little built in storage. I have lots of extra towels, magazines and wanted a place with easy access. I've filled them with stuff and topped it off with my favorite books, a nice candle and a few bonsai plants. Pictures are being uploaded. Thanks for looking. Further suggestions are welcome.

These new photos show the room "AFTER" the

Loaded the shelves with magazines,books and lower drawer holds about 15 towels. I have access to my favorite throw and my books are near the bed. This compliments the FP dresser I purchased several years ago-see other photo.

I pulled the drapes back with a tie, to expose lighting on both sides of my bed. Added plants on both sides of the room.

Build a frame for the bottom of the drawer. Find some frenchy looking legs (Home Depot), attach them to the frame, paint to match the drawer, purchase foam and upholster for a cute, cute bench!! I've been looking for drawers to do this exact thing! Be sure and post the finished item...no matter what you choose...would love to see it!

There is one place for storage most people never think of and that is under the sofa! I once had a rather large, ornate mirror I was not sure where I wanted to put it, but I need to get it out of harms way...so under the sofa in the living room it went! If you put these on plyboard and attach small casters, they can be rolled under the sofa for those magazines, knitting, etc. Since these are rather deep but shallow, this would be a perfect place for them!

Bedside tables from the 2 that are the same, you can get long tapered or turned legs from the building supply store. The deeper one can be a storage tray or a breakfast server tray on the bench at the foot of the bed in the same room. Or you can make a small coffee table with a glass top and store interesting antique looking collectibles in it (skeleton keys, vintage pocket and wrist watches, or a Bible opened on a nice page if you have a pretty antique one).

I think using dowels inserted in the corners mounting them as they are pictured with space in-between and using them inside a closet to keep something like pajamas or gowns (even houseshoes) could provide a designated space for something you have yet to store, plus it would look fabulous. Even, divide the drawers space for small items like underwear, to color coordinate them. I would fill them with a high turnover item so dust wouldn't be a problem.

I'd paint with Marine Paint the inside of at least one of the drawers to make it water resistant and use the drawer for my indoor plants especially in winter when I bring in many that need winter protection. Another I would paint the inside with chalkboard paint and hang in the garage with a shelf for chalk - I'd work in a few hooks off the front, now bottom for shopping bags and keys. And finally I'd hang one on the fence with the front of the drawer like a mini roof and the back of the drawer a shelf for flower pots or do the same indoors with a large black and white checked cloth covering the bottom of the drawer that is now next to the wall and paint the rest of the drawer black featuring a plant or vase of flowers on the shelf created by the back of the drawer.

I was thinking after I stare this picture. I was think Why not you put under the bed. Additional wood board and make a dresser into wood? Save $ instead of buy whole wood dresser under bed?

I would add some support to the undersides, then buy or make some legs to the bottom. On one, add a hinged lid, and you can use it for a cute little writing desk. On the deepest one, just use short legs, add a hinged lid, and then put some covered foam on it, and use it as a bench with storage. For the last one, add some legs, build a box around it and a way for the drawer to actually work as a drawer, and make a nice foyer or sofa table out of it.

I love the way you have them sitting on the floor. I would add wood inside the two bottom drawers to make them higher from each other and I would let each one sit just the way you have them pictured above, add plants to the top one and maybe a book, some knick knacks, doily or whatever you have on hand to the 2 below. You might have to brace the top one on the back with some long legs or a full piece of wood. They are very pretty! Just another idea and hopefully you can see this: http://media-cache-ak0.pinimg.com/736x/95/d9/59/95d959bab0200d3d460a6f5d6f8a9df6.jpg

Add some support inside each corner and put some nice turned wood legs then turn it over and use it as a table! I don't know what the bottom of the drawer looks like but if you need to add a wood top I would stain them a dark color and match them with the legs.

I would put legs on each and cut them in graduated sizes, so each drawer (now table) will be a bit shorter... Just like nesting tables.Then paint the insides or put a pretty wallpaper inside. Once thats done, fill them with family trinkets, and place a beveled glass top over each. You'll end up with a beautiful way to display your treasures that is still a functional piece of furniture. They would be especially pretty if you placed each table angled under the next, like a spiral staircase.

Turn them upside down and make tables out of them buy wooden legs and sand restain or paint! You could also make deep shelves out of them.

I Love the coffee table idea. I've seen it done before, and if you paint two of them and maybe replace the handles (only if you want to) and go to a flea market and find some old good things to put inside it, it would look beautiful. Either paint or use a solid color wallpaper on the inside to make it really pop. And don't forget the legs. They make so many different kinds now. You could even put little wheels on the bottom of the legs to roll it up against the wall if you don't have enough room when company comes by. PREV
NEXT