A friend of mine asked me if I could do something with this shelf. It's for her bathroom that is going to be done in browns and light blues. Any suggestions?? I was thinking of re-staining it and spray painting the gold a silver.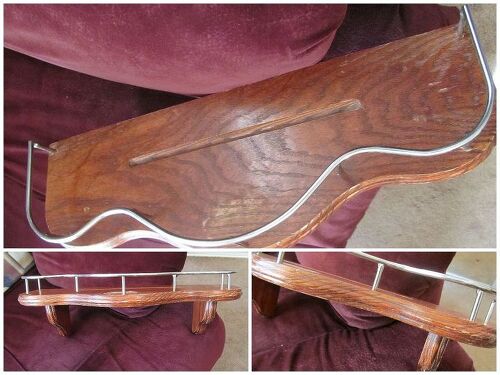 I like your ideas of refinishing and spraying the metal parts silver. I'd see if you could remove two of the metal "balusters" for lack of a better name, on either side of the center "baluster" to allow her to hang a couple hand towels.

I would find out what metal is used in her bathroom fixtures and paint the metal that color. The other piece can be painted or restained however it would depend on the rest of the bathroom, is she going wood at all? or a painted cabinet? Also I like the idea the lady had of removing a few of the metal pieces, however this could also be someplace she could hang many items from depending on where she places in the bathroom, jewelry, specialty bath useful items that can be hung up...

I would sand and spray paint this small project. Paint it choc. brown and use small stencil pattern to add the blue on top of the brown. Then, I would stencil somewhere else in the bathroom to match. Maybe reverse the stencil with the brown or any other choice of color. Even the silver or gold, to match the metals.

Great ideas, Thanks ladies! She's pretty simple, no jewelry or bath specialties. I will share the shelf make-over when I get it all complete.

You could also find a pretty ribbon in her blue color or blue/brown and weave it through the metal "balusters" to add more color.

You could sand it and then paint it a brown color then paint it in a shade of blue she is going to do the bathroom and crackle it. It woyld bring both the colors into her room.. I like the idea of putting a towel holder between the two balisters. You can get a wooden dowel rod to keep with the wood theme of the shelf. PREV
NEXT