I am trying to decide whether to paint my woodwork in my home. I have ALWAYS wanted white trim in my home, but I am feeling a little daunted by the task of painting. Also, our windows are wood except the inside is some type of plastic material. Does anyone know if that can be painted over? The previous owners replaced all of the windows with some type of plastic material window to look like matching wood.
Thanks!! I so want to do it! Also what are you favorite whites? I don't think I want to do a bright white.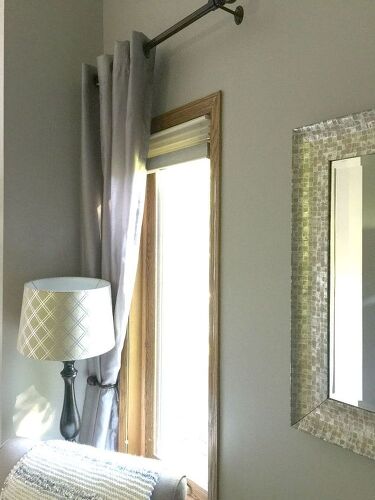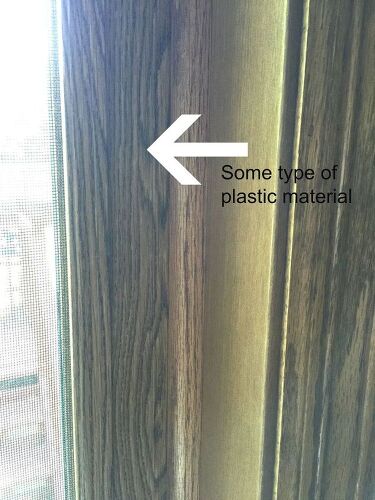 Agree...definitely paint the window trim a semi-gloss white. Of course the wood and the plastic part will need at least two coats of primer to give the paint something to adhere to. It looks like you have a nice light color on the walls ...gray maybe? And the white trim will complete the look and brighten up the entire space. Having painted many rooms in my home over the years, trim included, may I suggest a good quality sash brush such as Purdy to give a super smooth finish...I would never paint anything without a Purdy brush! Good Luck!

I agree with Jan Loehr, but would go further and suggest that you do a small sample in an unobtrusive spot. You definitely will need a few coats of primer - and a whole lot of patience, waiting for each coat to dry properly! I also agree that the quality of the brush (and the paint) will make all the difference. If you can get your hands on a few pieces of the 'plastic' used, for a test paint, that would be great. I suggest a bright gloss white, it should look fantastic.

when i redid my bedroom it's 10by11 i decided to paint the trim the same color as the wall(tan) and then painted the sills and around the inside black

We just painted our wood windows with oak trim in our kitchen sun-room. Lots of primer and topcoats, but what a difference. Go for it

My husband just painted our old ugly window frames in the Master bathroom and it turned out great. It adds so much pop to the room. use a primer then the color. good luck.

The professionals who are turning my dark-stained wood trim white next month said that it's important to use an OIL-BASED PRIMER on the dark wood before painting it. They said LATEX primer will not work well. (I haven't read the comments fully, so forgive me if I'm repeating something.) The new trim we have -- new doors installed throughout the house -- is just unfinished light-colored masonite and light-colored wood, and for that, they said a LATEX primer will work fine. Apparently going light over dark is really tricky. The difference in the house already -- just from switching out medium-oak finished wood hollow-core doors to solid-core white ones -- is just incredible in terms of how much it opened things up. I just can't believe it.

We did our family room and kitchen trim from maple to white (kind of off-white). What a difference ! !! So decided to have the cabinets done as well :0) - a lot of work, had to do a couple of times - but adding Floetrol to the paint reduced the brush and/or roller marks.

It's often best to use an oil-based primer like Zinser Coverstain which will seal over the wood and also allow your top-coat to bond to the vinyl. Don't thin the primer. Do a light coat of primer THEN caulk. Once you prime a window ot the trim, you will see small holes, gaps or cracks that were never noticeable when the window was stained. Follow with a 2nd coat of primer...watch for drips and runs. Use a good quality brush like Purdy and clean it every day when you finish. As you paint, keep a couple grocery plastic bags handy & wrap your brush in it every time you set it down to take a break....it will keep the brush from hardening...stick it in two bags and wrap it around the handle. Use a premium latex semi gloss or gloss paint for top coat. I often use an exterior product like Sherwin Williams Duration on interior trim...especially on my rentals. Try it on a bathroom window and work with finding a color or tint that you really like. Happy painitng

I used oil-based zinser on my window frames, then 2 coats of latex on top. The oak trim was 30 years old and had never had a poly top coat, so was relatively easy to cover, but the cedar around the wood windows kept bleeding through. Had to prime 3x

I use Behr Paint, there is a premium primer that will stick to everything. I use it all the time as a base for on furniture when I am going to paint it

Go for a soft white top coat. Have used Zinzer 1-2-3 and Kilz primers with success. Stick to everything - still have remnants on my hands from a recent priming job!

Use a good primer on all of it and then a nice soft, white latex paint on top of that. It will be well worth the time and energy. I've done it in several different homes and what a difference! Really freshens up the space. Use a semi-gloss so you can easily wipe clean as windows get very dusty quickly. PREV
NEXT