18 Incredibly Easy Ways to Use The Entire Pallet
No cutting required for these effortless projects!
By Hometalk Highlights
Put one by a wall for instant shoe storage
Those slates are the perfect amount of space for stowing shoes. Set one by the door & enjoy!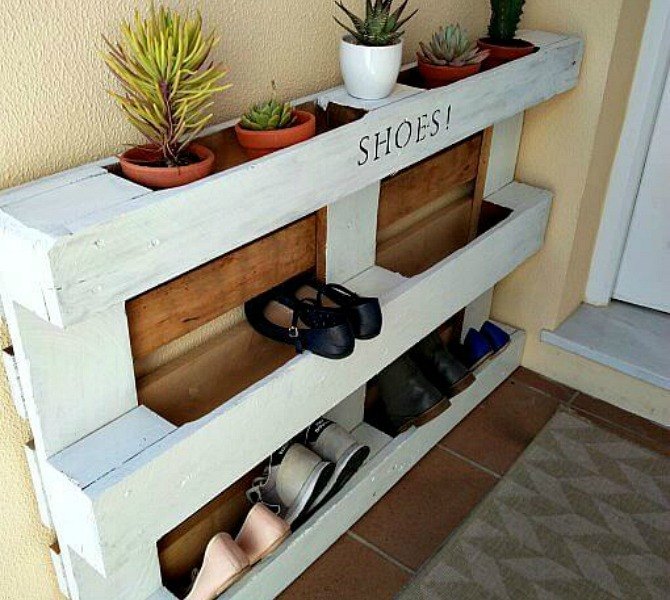 Stand all your various gardening and DIYing tools in a large pallet for the easiest organizer imaginable.
Add tin cans to your pallet to create this sweet, welcoming planter for spring!
Turn a few plain pallets into a simple fun bar for your basement or kitchen.
Pair 2 pallets into a cozy daybed, perfect for adding more snuggle space to your living room.
Create a large wooden fence on the very cheap, by lining your yard with chicken wire-backed pallets.
Get your outdoor space ready for warm weather entertaining, with a simple tiki bar from pallets.
Make a pretty standing garden feature for your outdoor space, with a plant-filled pallet.
This outdoor sectional is made from stacked up pallets, then covered with pretty rounded wood pieces.
Add a garden to your tight spots, like an apartment balcony, with a small pallet-turned-planter.
Add height to a few pallets and top it off with a glass cover, for a storage-friendly table.
Give any seating space a cute and chunky coffee table using two pallets and some paint.
3 Simple Green Ways To Clean In Your Home
Easy, effective and natural!
By Hometalk Hits