How can I decorate my large fireplace and chimney? Answered
We have taken a step back and removed all previous decor from our large fireplace chimney. The surface is stucco. The color, as are the walls, is Sherwin Williams Balanced Beige. The trim is SW Bright White. The hardwood floor is dark cherry. The fireplace has real oak logs but is not used.
There is one recessed light above the fireplace but it causes terrible shadowing. The lighting issue is under review by a consultant. We do no anticipate a quick nor easy solution.
Please suggest how to best decorate our large chimney. NOTE: We do not want a mantel and surround. We envision a large painting or metal tree sculpture. Also, possibly a flat thin (as in depth) horizontal board or metal bar to break up the vertical space.
Please feel free to suggest anything you think will enhance this area. Additional photos and answers to your questions are available.
Thank you.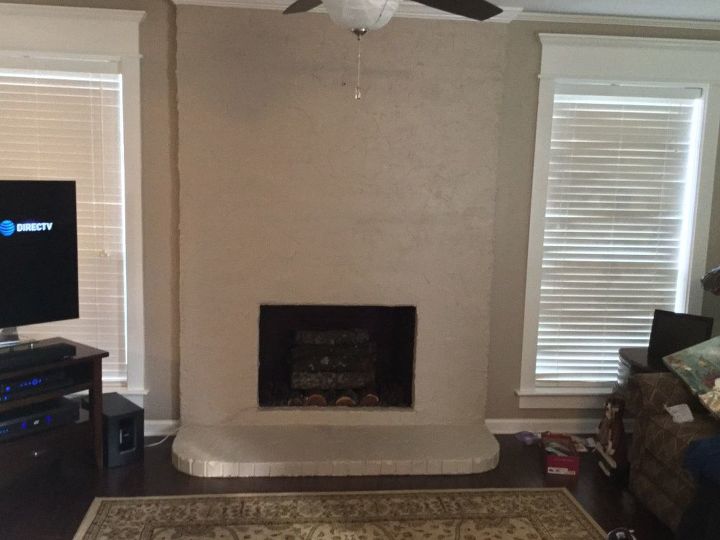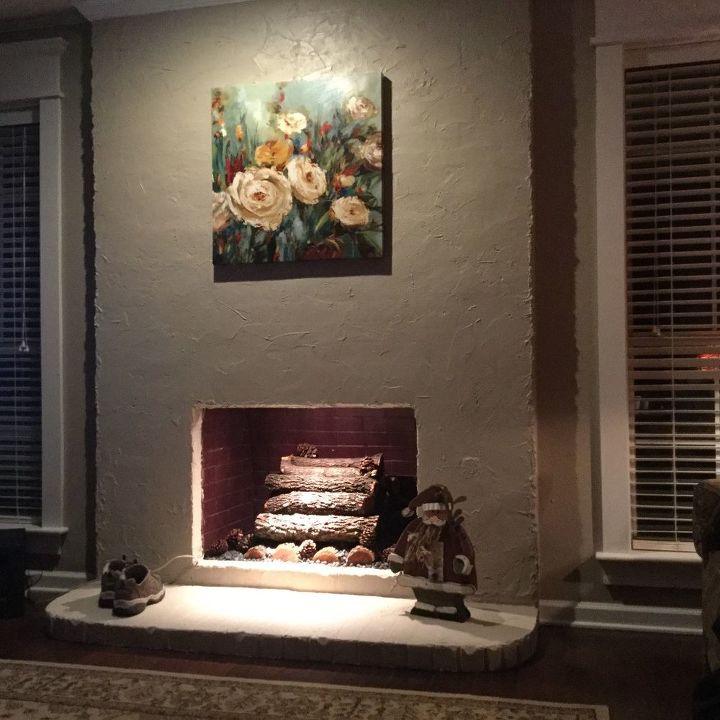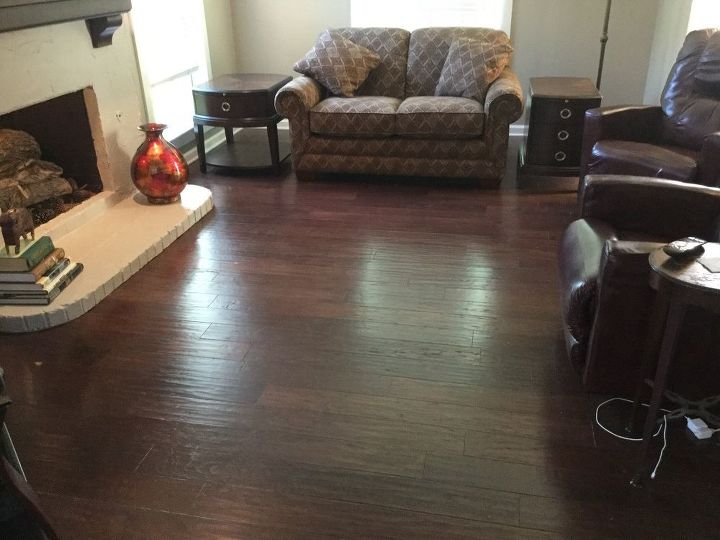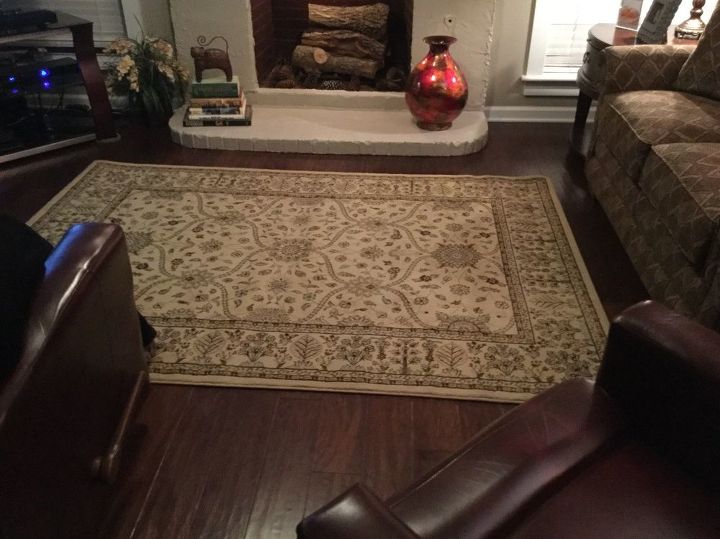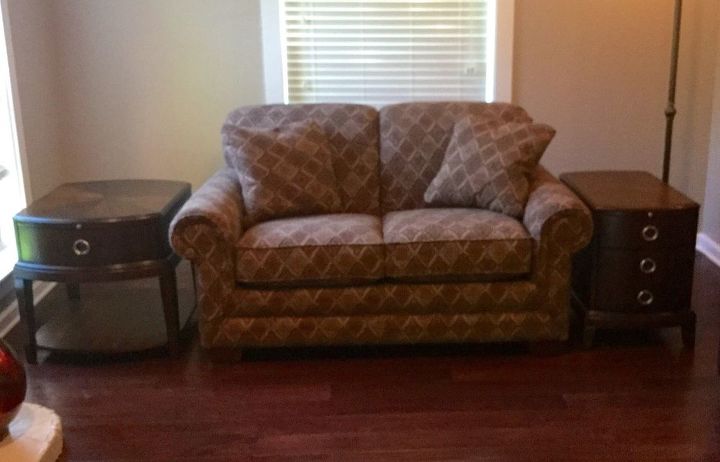 Mbm7480474
on Dec 30, 2016
A fireplace screen is a must. Try Hobby Lobby or some other accessory store for 2 tall wrought iron sconces and put flameless candles in them and a colorful picture in between. Think scale on this large wall. Ter4482294
on Dec 30, 2016
We found this 12 x 24 tile at Lowes and did it ourselves!
Doris Wright
on Dec 30, 2016
Did you guys plaster it? Maybe a plasterer can come in and add some floating shelves at different heights and then plaster it to match/ paint it. That would look great with oversized candles or photos. It would be a mess to remove the plaster, however I am partial to the distressed plaster loo with brick peeing through at certain points....see this example.
https://www.pinterest.com/pin/482377810070760343/
Doris Wright
on Dec 30, 2016
or

Judy Vargo
on Dec 31, 2016
I would get 2 half-round columns floor to top, place them on the wall if room, or on the ends of the fireplace. I would frame the inset with a beautiful metal banding. Fireplace could be painted (fireplace) pumpkin or hunter. You could use half round cornices in solid pumpkin with brass accents to match banding. A decorative rut in a cream and taupe swirl in front of fireplace. Ter4482294
on Jan 02, 2017
Thank my husband and I did it Over a weekend. It is heavy tile, but required minimal cutting and no grout! Just mastic. Also we used satin finish rounded edging on the corners which finished the rough edges nicely.

Lou
on Jan 04, 2017
UPDATE!
An additional problem has arisen. Some of the carefully selected oak logs in the fireplace were infested with termites so they all were discarded. Now we are faced with what to do with the empty firebox. Whatever the result for the entire project I'll be posting picturges.

Lou
on Jan 06, 2017
My wife wants to tile the fireplace wall. We will be shopping for the tile sound.

Elaine Wilson
on Jan 07, 2017
Tile is a great idea and easy to do. Attach the first row along a level chalk line and let it dry, then build up from there. When picking your tile remember the style of your room. Large marble tiles are beautiful but not in a country setting. Remember once they are on there's no changing your mind. We put 1foot by 2 foot black shinny tile on the bumped out wall behind our TV wow what great affect. But the stone version we put on the wall in our condo gave a real warm affect in an all window corner room. Another problem we had was colour. Something might look great at the store but when you get it home the light changes. I suggest you get one or two and bring them home, check the look in your room before you drag creates home only to have to drag them back. Happy tilling!

Elaine Wilson
on Jan 10, 2017
It looks like it is dread colder room. Think about making your fireplace a focal point. That doesn't mean a bright color, remember you have to look at it everyday. If there is a lot of natural light I would sugest a warm brown. Maybe the colour of the floor. If not I would consider a glass tile soft green. I may sound off the wall but the juxtaposition of color will make a very beatiful statement. I can only imagine that your sofa is a beige color. If not you may want to draw the sofa color onto the fireplace.

Lou
on Jan 13, 2017
What you see is a bare fireplace wall. When all is finished we hope to have a attractive fireplac. Please view the following then tell me if you still consider it a 'dread colder room'.
Your comment...