I Mentioned Something in Passing, and My Comment Section Took Off... Answered
I posted a picture of a bead candle holder and in passing, I mentioned a small red bead that came from somewhere and was stuck to stay... Little did I know that the most interesting and heart warming stories would begin to show up in my comment section. Here are a few from the comments that I was able to go back and find... I hope I didn't miss anyone's contribution.
All great artists have used a touch of whimsy in their creations. Maybe a spot of red should be incorporated in all of your creations as a signature symbol.
I think accidents like that make your art piece unique!!
The red bead adds character. When I buy beaded tops, there is always one off color bead, I asked them why. I was told that God is the only one that is perfect.
That one red bead is the Keystone to your votive......:))
There is a saying I read once that the monks in Peru believe this is good as it represents the imperfections of the world.
I've been going Native American style beadwork for many years. One of the unspoken rule is that nothing is perfect, so bead artists often add one mismatched bead. So... Your one red dead bead is just right.
The red bead can now become your personal mark. Love it.
I like the red bead. Just a nice reminder that beauty does not have to be perfect.
I have an old necklace that I love and it has one weird bead in it. Even when I restrung it, I put that bead back in it's place.
Maybe the red bead could be used as an identifier? Prove that this is by you? (Where's Waldo?) LOL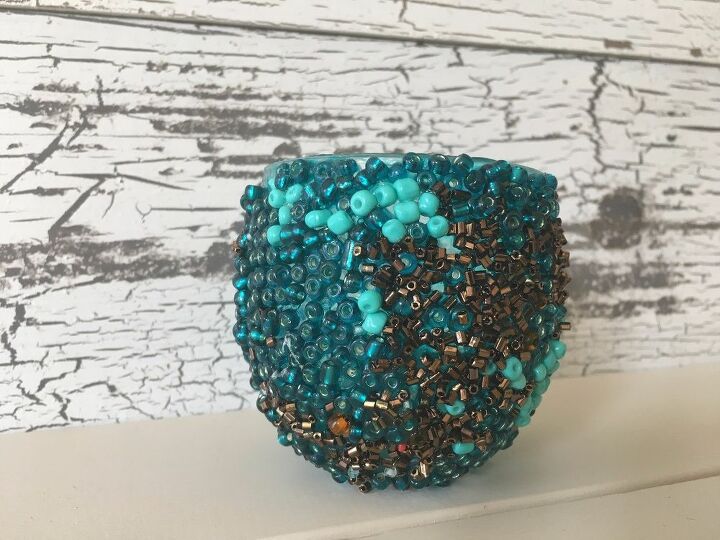 A small red bead came from somewhere and before I noticed it, it had dried on to stay.