"Crafternoons": This Used to Be a Vanilla Bottle- Thoughts?



Answered
Here is my "crafternoons" bottle challenge. I used a vanilla extract bottle for this bottle challenge. I cleaned it all really well before anything. The first step was to paint it using Rustoleum Chalked Blush Pink, once it was completely dry I decoupaged the portion of napkin on and let it dry completely also. Once it was dry I applied two coats of varnish letting each coat dry completely before applying the second. Once this was dry I took a very fine sandpaper 120 grit and gave a light sanding until it eas completely smooth, then I applied two final coats of varnish. I cut the ribbon and put the heart embellishment on tied around the middle, and voila! This can be used as a small vase or just for decoration!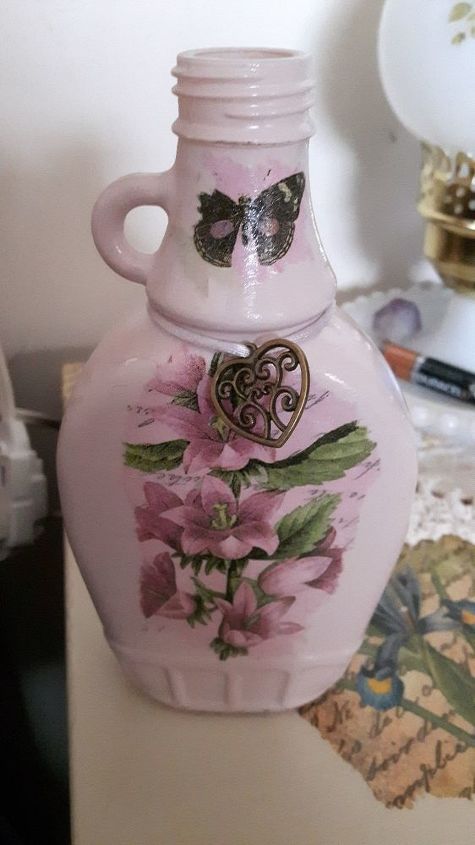 Related Discussions
Gerard
on Dec 28, 2019
Here is my version. I received a lot of compliments.

Lil darlin
on Jan 16, 2019
(Before and after pics)

Louise
on Dec 26, 2018
So many people on this site have given me advice during this project so I wanted to let you know I FINALLY finished!!! A neighbor gave me two of these office chairs s... See more Patsy
on May 10, 2017

Hillela G.
on Feb 10, 2017
My friend made this little man form nuts and bolts, and I LOVE it!!!Have you ever made any projects out of leftover building parts? Jessica
on Jan 14, 2017
This is a drawing that I have done I studied the artist and I did an observational drawing 😀

Louann Crum
on May 25, 2014
This flower volunteered up in my back yard and I have been protecting it from the mower for two months waiting for a bloom. The wait came to an end this week when the... See more